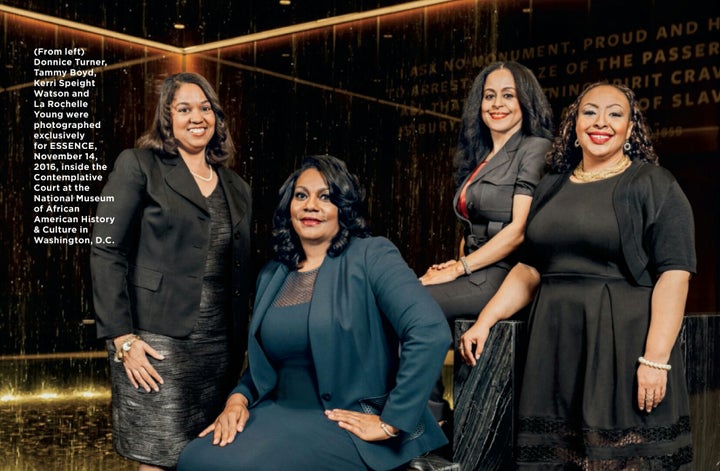 Photo by Jared Soares, courtesy of Essence magazine
The 2016 opening of the National Museum of African American History and Culture is a testament to perseverance—a 100-year succession of coalitions championing the cause to create a symbolic structure, on a national scale, to acknowledge and chronicle the sacrifices and contributions made by African Americans to U.S. history.
Standing front and center of the project's culmination were Congressmen John Lewis (D), Senator Sam Brownback (R), Congressman J.C. Watts (R) and Senator Max Cleland (D). Dubbed the "Four Musketeers," by museum coalition member and Federal Judge, Robert L. Wilkins, in his book, Long Road to Hard Truth, these men are the "face" of the successful bipartisan effort garnering the congressional support needed to approve and fund the institution, pushing it over the finish line.
In any battle, public recognition for the victory is reserved for generals rather than foot soldiers. While the Four Musketeers gained public notice for their efforts, four African American women led the behind the scenes work indispensable to its success. Tammy Boyd, LaRochelle Young, Kerri Speight Watson and Donnice Turner were the staffers assigned to this project for Lewis, Brownback, Watts and Cleland.
Together, they crafted legislative language for the bill, while working the back channels of Congress to build support and remove obstacles to the museum's creation among, special interest groups, key congressional committees, the Smithsonian, and constituents. They were the hidden figures behind the political maneuvering that propelled the project over a century's worth of hurdles.
Currently, former Lewis staffer Tammy Boyd is poised to make behind-the-scenes history again by spearheading the production a documentary on the life of Congressman Lewis, to be directed by Orlando Bagwell.
The film intends to capture the man behind historical events and to illuminate the minds of young people who may use his example to effectively influence social change. Indeed, it would seem that at this critical juncture in our nation's history—where the minds and hearts of our citizens are so polarized—that the wisdom, experiences, beliefs and continuing work embodied by Congressman Lewis are invaluable to the American consciousness.
Interview Segments with Congressman John Lewis, his former staffer Tammy Boyd, and Federal Judge Robert L. Wilkins
Why is the museum important to our society?
Boyd: This museum is important because while there were several regional museums, there was no museum on the national level recounting the contributions of African Americans.
Congressman Lewis: All Americans need to know the truth about the history of African Americans in this country. It is not only the story of one community, but a story that affects all Americans. Black people have given their very lives to build this nation, and every American needs to know and understand that. I believe the truth about our history can have a powerful healing and cleansing effect that will help pave the way for reconciliation and greater self-esteem.
Judge Wilkins: It is important for many reasons, one is to acknowledge the sacrifices as well as the contributions made by our ancestors to this nation and to provide visitors with a contextual framework to better appreciate African American history―especially young African Americans who may gain insight about the perseverance and dedication necessary to effect change in their personal lives or the social causes they are fighting for.
Do you believe that knowing (or not knowing) ones history impacts self-esteem?
Congressman Lewis: Yes, definitely. Young people especially need to know the accomplishments of their ancestors. It inspires them to achieve because they come to believe that if their ancestors can be successful and make progress, so can they.
Boyd: Yes, absolutely. Understanding the contributions, resilience and brilliance of African Americans serves as a compass for young people to deciding their future path. That's why the movie Hidden Figures was so powerful. For example, to know that African American mathematicians at NASA were pivotal in the quest to put a man into space inspires young people to go into STEM careers.
Judge Wilkins: Yes. My early years attending predominately non-black institutions along with observing poverty or lower middle-class life, inspired feelings of being "less than." As I became better acquainted with my own [African American] history, it became apparent that it is less about not knowing how to do and accomplish certain things and more about circumstances.
What do you have to say about being a woman working on Capitol Hill? Did you feel you and your work were respected?
Boyd: Working as a woman on the Hill is complex. In short, I do believe our work was respected—mainly because we effectively utilized the platform our bosses had, by developing a strategy for moving the museum project forward.
As women, we were the one's working behind the scenes, keeping people updated, and executing the day to day strategy. We were working across party lines, working with huge institutions like the Smithsonian, working out of the public view, but in a sense doing much of the important work.
Congressman Lewis, what was the value of having a Tammy Boyd on your team for the museum project?
Tammy Boyd played a major role in moving the legislation forward. Without the hard and difficult legislative work that was required to pass the authorizing bill, the museum would not exist. It was not easy. There were people who did not want the effort to succeed, but Tammy and these four women gave it all they had. They became an unstoppable team that helped push our efforts to the finish line. It required dedication, skill, and persistence.
I understand that the next big project (from Tammy Boyd) is to produce a documentary on Congressman John Lewis. Why is the John Lewis documentary important?
Boyd: John Lewis is one of the last living icons of the Civil Rights movement. He has used public service as a platform from day one to push forth civil rights issues. It is important to chronicle his life not only for historical purposes but also for current day issues. Lewis connects us to the past, firmly anchors us in our present realities and provides a vision and the effective tools needed to influence policy and social change in 2017 and beyond.
Judge Wilkins: John Lewis is history. He made history with his sacrifices, service, and vision to fight for civil rights. He had the vision to understand that the museum was important and refused to let it die. It is important for people to hear these stories. People need to know and learn how others demonstrated resiliency and courage. It's not something that everyone gets…how to be courageous, how to stand up, even if people disparage you, you are willing to pay the cost. It is important for people to see contemporary examples of this.
Calling all HuffPost superfans!
Sign up for membership to become a founding member and help shape HuffPost's next chapter
BEFORE YOU GO