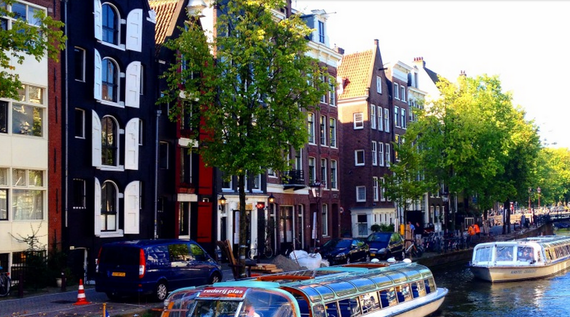 By College Tourist; Author: Marilyn La Jeunesse, New York University
Take a break from the coffee shops and famous museums and explore another side of this beautiful city.
Amsterdam is a vibrant, colorful city that plays host of a variety of slanted Renaissance-era residences that align the city's winding canals. It's one of those cities that everyone should see at least once in their lifetime. Picturesque bridges connect the city together, and houseboats covered in freshly boomed flowers float in the slowly moving water in the canals below.
This beautiful city was originally a fishing village, but quickly became the center of the world's economy in the 17th and 19th centuries. It's ports and canals were a fundamental part of international trade at the time.
The Venice of the North, as Amsterdam is rightly nicknamed, has upwards of 4.5 million visitors annually. And while a major portion of these people have their hearts set on visiting the Anne Frank House and Van Gogh Museum, only a few know where the true gems lay in the Dutch Metropolis.
Calling all cat lovers, this museum was made for you. Devoted to works depicting cats, this art museum boasts hundreds of paintings and drawings from famous artists. Some of the most famed artists featured in the museum are Pablo Picasso and Rembrandt. A few furry felines wander the halls of the museum as well. The museum itself is located inside a 17th Century house that was once the filming location for Ocean's Twelve.
Waterlooplein Flea Market
The oldest flea market in all of Amsterdam, Warerlooplein is the perfect place to shop for secondhand clothes or unusual knick-knacks. From vintage finds to antiques, there's a plethora of goods to be found in this treasure trove. There are over 300 stalls on any given day. The market, although crowded with people, is low on many people's lists of things to do. But, it's definitely worth a visit.
This image was taken from the outside of the Condomerie in Amsterdam.
Marketed as the world's first condom specialty shop, the Condomerie is one of the most unique shops you'll ever visit. The shop is stocked full of condoms of every flavor, color and style. They even have fair trade condoms, if you're in to that sort of thing. Aside from the plethora of condom choices, Condomerie offers several novelty items and condom art. Located in the Red Light District, this shop is unusual, but has a great message.
How can you travel to Amsterdam and not try panenkoeken of any sort? Pancakes! is one of the newest eateries in the city, and has quickly built a name for itself. The menu covers a wide breadth of pancake options and flavors. From a pancake pie to their American version of the food, there is no pancake left overlooked. What sets their panenkoeken apart from other Amsterdam restaurants is that their pancakes are cooked a little thinner and are generously topped with sweet or savory toppings. This is a perfect spot for breakfast, lunch or dinner!
Welcome to the only floating flower market in the world. Here, the bright, freshly bloomed flowers are sold from houseboats lining the canals. The stalls even sell bulbs, which can be exported so you can enjoy them at home. To date, 15 florists come together everyday of the week to bring the locals (and visitors) the best of their crop. They also sell adorable souvenirs if you decide buying flowers isn't a good idea. Visually appealing and fragrant, this market is one you'll be talking about for a while.
Not only is this the oldest riding school in the Netherlands, it is one of the last remaining city riding schools in Europe. In the upper level of the school is a beautifully decorated foyer whose essence captures the look and feel of the 19th Century bourgeois. Here you can enjoy a coffee while watching the local children taking their riding lessons. In the back of the main building, visitors are allowed to roam the stables, where upwards of 55 horses and ponies are housed. And, yes, you're allowed to pet the majestic creatures.
Also referred to as the SoHo of Amsterdam, these nine streets are comprised of a variety of specialty shops. From handmade jewelry to adorable vintage shops, there's so many places to peruse in this small area. In addition to the shops, The 9 Streets are also a great place to find authentic Dutch restaurants. This gem is located just around the corner from Dam Square, so after you're finished your shopping spree, you can continue your museum tours.
If you've ever been curious about what life is like inside a houseboat, fear no more, this is the museum you've been looking for. Visitors can have all their questions answered as they tour the inside of an actual, lived in houseboat on the canals of Amsterdam. Located near the Anne Frank house, this is a quick, cheap stop that will give you an insiders view on life in Amsterdam.
Schreierstoren, also known as the Weeping Tower, is Amsterdam's older defense tower. Many sailor's wives waved good-bye to their husbands from the tower as they set off on their ships, towards the sea. The Weeping Tower was also the point at which Henry Hudson left to found New Amsterdam, aka the Big Apple, in 1609. Today, the tower is filled with housing memorabilia and has a cafe, where you can grab a quick drink before continuing on your journey in Amsterdam.
If you've found yourself sampling beer at the Heineken Experience, you might as well take the time to travel to De Pijp. In English, this bohemian neighborhood is called The Pipe. In this residential area you're sure to experience the Amsterdam not many people take the time to see. Young students, artists and students dominate the area. If you stop by before 5pm Monday-Saturday, make sure to check out Albert Cuypmarket, a street market with over 300 stalls.