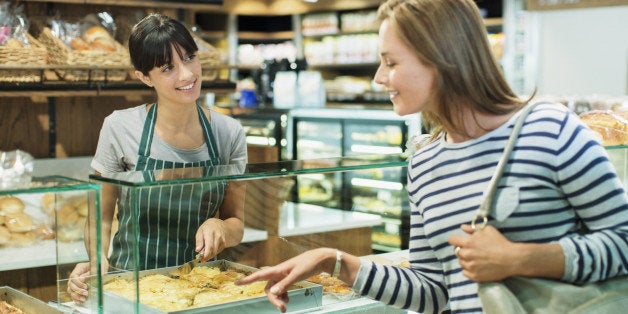 On a bright and sunny morning a few weeks ago I walked into a coffee shop down the street from my apartment. I ordered my usual double shot of espresso, iced. As I waited at the end of the bar I watched the barista take the lid off of my cup. While resting her hand on the counter she inadvertently put the lid face down in a pile of crumbs only to place it back on my cup. I quickly explained to her that I couldn't drink the coffee and got in to the, "I have celiac disease, I promise I'm not being picky, I hate to ask you to make it again," conversation that so many of us dread. Thankfully this woman understood and very kindly agreed to make me a new cup of coffee. But still, the incident got me thinking. How many other times has something like this happened? What if I just didn't notice before? How many times could this happen again?
This is what is so difficult about being gluten-free, the lack of industry knowledge about celiac disease and what it means for a product to really be gluten-free. In my coffee example, it is not the product that is the problem; instead, it was the means of preparation. Another challenge is that it can sometimes be hard to know when you've been glutened. More often than not I have a very violent reaction when I am glutened. However, there are times where I just feel incredibly drained or "out of it," and the signs aren't necessarily as apparent.
Ever since the coffee incident I have had countless similar experiences. Last night for example, as I browsed the shelves at my local Whole Foods looking for flax seeds to put in my morning smoothie, I was shocked to find the gluten-free flax nestled in between active wheat gluten and sitting under shelves of flour. The bags of flour were completely dusted with what I can only assume is wheat flour, which sprinkled down onto the gluten-free products, thus rendering the gluten-free products sharing the same space NOT gluten-free after all.
I was completely disheartened by this. If Whole Foods isn't safe, then what is? I know that sounds silly, but really, how many other stores, shops, restaurants out there are not educated about what it means to be gluten-free? And I am not talking about the fad of being gluten-free, but to be gluten free because of a medical necessity. And let me take this moment to say that if you are gluten free by choice, good for you! I support you 100 percent. I personally think that no one should consume gluten. However, I hope you can understand that while your choice has created much awareness, and for that I thank you, it also can make the lives of people with celiac disease more dangerous.
We need to have training programs, really in-depth programs, to educate individuals working in the food and beverage industry about what it really means to be gluten-free. Not just that the product itself is, but that the shelves and their hands, gloves, tools, and workstations are completely gluten-free as well. Hopefully, more in depth education will rectify these issues. This type of training is critical in a world where diagnosis rates are rising, and many people do not even know they have celiac disease. And thanks to a lot of hard work the celiac disease diagnosis rate may reach 50-60 percent by 2019.
So if you are reading this and you are a restaurant or grocery store owner, staff member, or anyone else who may need to deepen your understanding of gluten free procedures; or if you want to broaden your knowledge for your clients and customers with celiac disease, please feel free to contact me at hannah.crane@nyu.edu. I would be more than happy to provide you with an in depth awareness training straight from the mouth of a consumer with celiac disease.