A reporter covering recent LGBT strides toward equality recently asked me, "Are you surprised at how fast things are moving?" When I replied that I think they're actually moving pretty slowly, he looked at me quizzically. After all, the past four years have been one victory after another, celebrating marriages and serving openly in the military, right?
It only appears to be happening quickly because of all the heroes during the past six decades.
We're familiar with the 1969 Stonewall riots, now memorialized in annual Pride celebrations. But 18 years earlier the Mattachine Society, and then the Daughters of Bilitis a few years after that, started building a grassroots movement of gay people to increase understanding and stop discrimination.
Fighting the "no gays in the military" rule wasn't new: Forty-six years before President Obama certified the end of "don't ask, don't tell," members of those groups picketed the White House and the Pentagon to protest gays being excluded from military service and federal employment.
Did those 46 years pass by quickly? Not for the protestors, most of whom did not live to see that day. Leader Frank Kameny, a veteran who in 1957 was the first to challenge being dismissed from government service for being gay and took his case to the U.S. Supreme Court in 1961, died a few weeks after the repeal took effect.
Nor did time pass quickly for those who served under either policy: the initial ban, officially established in 1916, or the equally harmful "don't ask, don't tell" of 1993.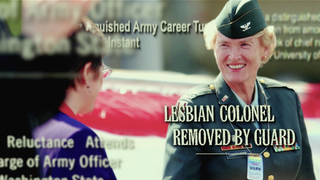 Some soldiers bridged both: Col. Grethe Cammermeyer, Chief Nurse of the Washington National Guard, was asked her sexual orientation during a 1989 security-clearance interview. Her honesty yielded a three-year investigation that culminated with her dismissal in June 11, 1992, 30 years to the day that she had joined the Army. She wrote about the trial in her autobiography Serving in Silence, and her experience was made into a 1995 television movie, Serving in Silence, executive-produced by Barbra Streisand and starring Glenn Close.
Another National Guard nurse, Col. Pat Thompson, retired 11 months after President Clinton announced DADT. Throughout her career she'd deflected the typical "why aren't you married?" questions as she rose through the ranks, becoming Chief Nurse of the Army National Guard. Like many other lesbian or gay military couples, she and her wife, Barbara Brass, wrestled with heart-wrenching choices, which they share in the film-in-production Surviving the Silence: Love and Impossible Choices.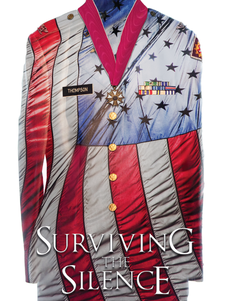 In early interviews, Thompson recalls thinking, "How can I choose between who I am and the work I am called to? How can I ask Barb to choose between being with me and openly working for equality? How can we be 'together' yet be apart?"
Although they developed a secret code to communicate when their phone conversations could be tapped, Barb still struggled:
It was bad enough being apart, but wondering if someone had caught on to us amplified my anxiety: Will they report us? Were unknown investigations going on? This all-consuming drive to be closeted permeated our lives. All the hiding and fear gave us a subtle, underlying sense of shame.
The two nurses' worlds collided when Thompson, still in the closet, was tasked with presiding over the dismissal hearing of Cammermeyer, recently forced out of the closet. The result was a foregone conclusion: Military regulations required that Cammermeyer be discharged.
When I first learned about this, I was (internally) indignant and self-righteous: "How could any LGBT person possibly do so such a thing to another?!" It turns out I was also shortsighted.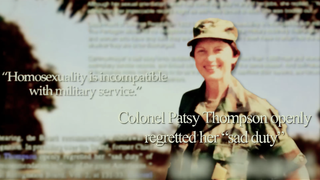 As I set aside my 21st-century rush to judgment. I listened and learned. What first appeared as cowardice was actually extreme courage. Don't take my word for it; here's what Cammermeyer had to say during Surviving the Silence interviews:
Pat faced an impossible choice: she could have come out, and then there would have been two of us dismissed without recourse; she could've presided over the board but not pushed for anything beyond the inevitable discharge so she could avoid any suspicion being cast in her direction; or she could fulfill her duty in a way that allowed me the best possible defense then and in the future. She chose to be brave.
So, by staying in the closet, Thompson actually did the most good? Yes, said Cammermeyer. "By presiding over the board in the courageous manner she did, Pat had a profound impact on my ability to get into federal court and make my reinstatement possible." Cammermeyer returned to the National Guard in 1994 and was the highest-ranking openly gay or lesbian servicemember while "don't ask, don't tell" was in effect, until her retirement in 1997.
But wait, there's more. Cammermeyer added, "In setting all those things in motion, Pat played an important role in enabling us to move forward to finally get the repeal of 'don't ask, don't tell.'" Though I was asking the questions, I'd just been schooled by Col. Cammermeyer.
Who knows how many stories like this one have gone untold; how many lives were wrecked by policies rooted in pure prejudice, whether they were discharged or in hiding; and how many closeted servicemembers worked from the inside to dismantle, brick by brick, the DADT wall?
There will be no parade for them, no magazine covers, not even a footnote in history. Yet I hope we remember them, these invisible brave ones who silently worked behind the scenes for so long. They too have given us this day when we can celebrate three years of the formal end of "don't ask, don't tell" and the policies that preceded it.
CORRECTION: An earlier version of this post erroneously stated that Frank Kameny died a few months after the repeal of "don't ask, don't tell" went into effect. In fact, just three weeks passed between the enactment of DADT repeal on Sept. 20, 2011, and Kameny's death on Oct. 11. The post has been updated accordingly.
Calling all HuffPost superfans!
Sign up for membership to become a founding member and help shape HuffPost's next chapter