Club 82 was a notorious nightclub in New York City from 1953 to the early 1970s and was home to a famous revue of female impersonators. Club 82, like many "gay" establishments during that time, was reportedly owned and operated by the mafia. And while the majority of the entertainers were gay, the club actually catered to a heterosexual clientele and became quite popular with the Manhattan party set who desired a wild night out on the town. Famous actors such as Judy Garland were known to frequent the club and there is a long-standing and scandalous rumor that Errol Flynn once pulled out his penis and played the piano with it during one raucous night of revelry at Club 82! The top female impersonators from around the country vied for a chance to perform at the club and several of the entertainers held steady jobs there for decades.

But there was also a dark side. Club 82 became infamous after the alleged mob-hit and murder of the club's manager, Stephen Franse, on the night of June 19, 1953. And intimidation and control over entertainers and their livelihoods was a constant hardship made worse by the corrupt Cabaret Card system that was enforced in New York City from the time of Prohibition until 1967 (the archaic system was finally abolished after Frank Sinatra famously refused to apply for a cabaret card or work in New York City under the system). Sadly, over the passage of time, many of the original Club 82 entertainers have died and the few who remain are often somewhat hesitant to speak freely about their time there. Thankfully, with some determination and a bit of luck, I was put in contact with Tobi Marsh (his stage name). Tobi worked as a female impersonator at Club 82 in the early 1960s, and though initially still somewhat cautious, he was thankfully willing to share his story with me and shed some light on the hidden history of Club 82.
Tobi was born in the pre-Stonewall era on October 14, 1938 during a time in which the concepts of gay self-identity and gay equality had yet to be conceived and homosexual people were legally discriminated against and persecuted. Nonetheless, Tobi defiantly started working in female impersonation shows at a very early age and would join the world renowned traveling troupe of female impersonators, The Jewel Box Revue, at age 18. During this time Tobi honed his craft while working alongside and befriending many of the leading female impersonators of the era, as well as the famed drag king of the Jewel Box Revue, Storme DeLarverie (who is credited as being one of the first to fight back against the police when they raided the Stonewall Inn on the night of June 27, 1969).

Tiring of life on the road, Tobi set his sights on New York City and landed a job with the Club 82 Revue in the early 1960s. The Revue was directed by Kitt Russell, who popular radio gossip commentator Walter Winchell had named "America's top femme mimic" in 1951. Kitt's rehearsals were said to be "grueling." Music for the show was performed live, there was no lip-syncing, and the choreography was often complex. The costuming and stagecraft was also top notch and the shows became known for their high production value. It was basically the modern equivalent of putting on three Broadway shows a night in an underground-club setting. So it shouldn't be surprising that although the performers were often friends, competition and in-fighting ("catfights" as Tobi calls them) were common. And though Tobi remains understandably hesitant to speak on-record about some of the darker aspects of working at Club 82, he doesn't shy away from acknowledging the toll it took on him. Tobi once told me, "Working in that club killed a part of me. What little innocence I had left, died there."
Fortunately for Tobi, and gay people everywhere, times were changing. Cabaret performers in New York gained an unprecedented freedom and control over their careers with the demise of the Cabaret Card system in 1967. And with the advent of the modern gay rights movement in 1969 drag/female impersonation began to be viewed as less subversive and became more accepted by mainstream audiences, consequently, underground clubs like 82 started to lose their appeal. While the changing times would bring Club 82's 20 year reign as a New York City nightclub hotspot to an end, it would also open up a whole new realm of possibilities for professional female impersonators. Tobi appeared in full drag to play the role of Fritzi alongside Troy Donahue in the cult-classic film, Sweet Savior, in 1971. Tobi would also go on to successfully tour throughout Europe, working at club Chez Nous in Berlin, Madame Arthur's in Amsterdam, Le Carousel in Paris, and continued to work in "show biz" well into his 50s before his eventual retirement.
Gay people and our contributions to society are often intentionally left out of the historical record. But Tobi's life story is living history -- a proud history of talent, determination, and defiance against impossible odds that has been hidden for far too long.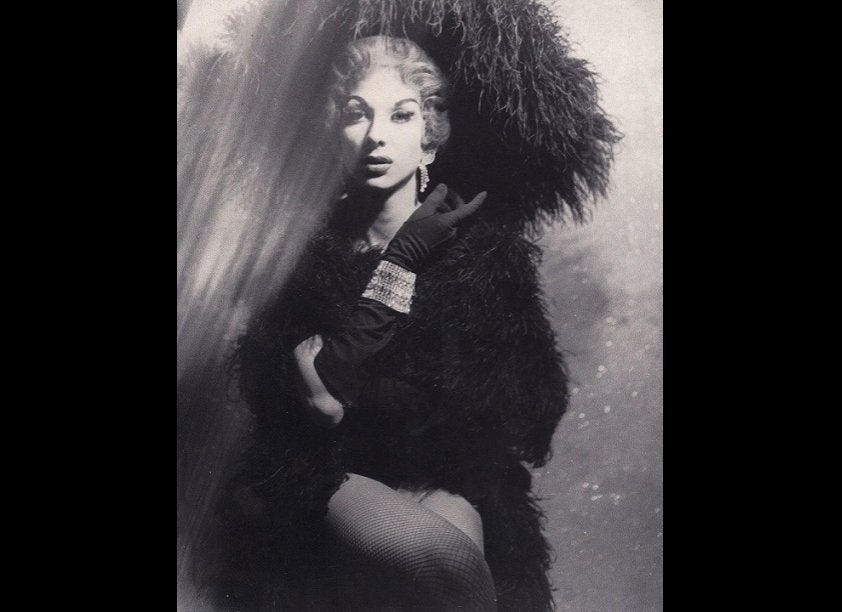 Tobi Marsh & Club 82
Support HuffPost
Every Voice Matters
Popular in the Community