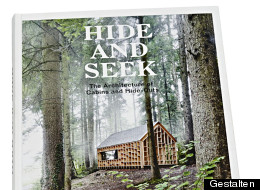 We all dream about getting away from it all. But to where? And what are we going to do when we get there, pitch a tent?
Thankfully, a new book from Berlin-based design house Gestalten focuses exclusively on hideouts and includes everything from spectacular homes nestled in forests to cozy bungalows perched on mountaintops. Architecturally, these homes experiment and solve problems; aesthetically, they soothe the soul and embrace their coexistence with nature.
"The successful hideout not only pulls on our heart strings and conjures an instinctual feeling of longing, but also helps us reclaim our sense of wonder toward the world around us," architect and professor Sofia Borges writes in the preface. And the 256 pages in Hide and Seek: The Architecture of Cabins and Hide-Outs ($60) don't disappoint, with beautiful photographs that show how, "with the right concept, decor and atmosphere, even small or basic designs become stunning sanctuaries."
To the lucky homeowners: Oh, how we envy you. Here are five of our favorites:
1. Garage, Puget Sound, Washington
There is no auto repair done in this garage. No, this space, called Garage, by Seattle-based Graypants, Inc., is for repairing the soul. Built at the edge of the Puget Sound, it repurposes a neglected garage into a multi-functional living space, complete with pop-up beds hidden beneath the floorboards. Outfitted with glass walls and a wood-burning stove, this hideout is perfect for watching the seasons change. It won Graypants three architectural awards, and is also the setting for a trippy promotional video.
Photography: Amos Morgan Photography, copyright Gestalten, 2014.
2. Casa Pezo, Cretas, Spain
Photography: Christobal Palma, copyright Gestalten, 2014.
3. Bivacco Luca Vuerich, in Friuli-Venezia Giulia, Italy
More than 8,000 feet above sea level, along the Ceria-Merlone trail in the Julian Alps, exhausted trekkers can find respite in this A-frame cabin designed by Giovanni Pesamosca Architetto. It was named after a 34-year-old climber who was killed in a 2010 avalanche. His family commissioned the house and built it on the Foronon Buinz Mountain in a single day. At 16 square meters, these are tight quarters, but up to nine campers can sleep through winter's harshest winds there.
Photography: Flavio Pesamosca, copyright Gestalten, 2014.
4. Sledge-Project, Qaasuitsup, Greenland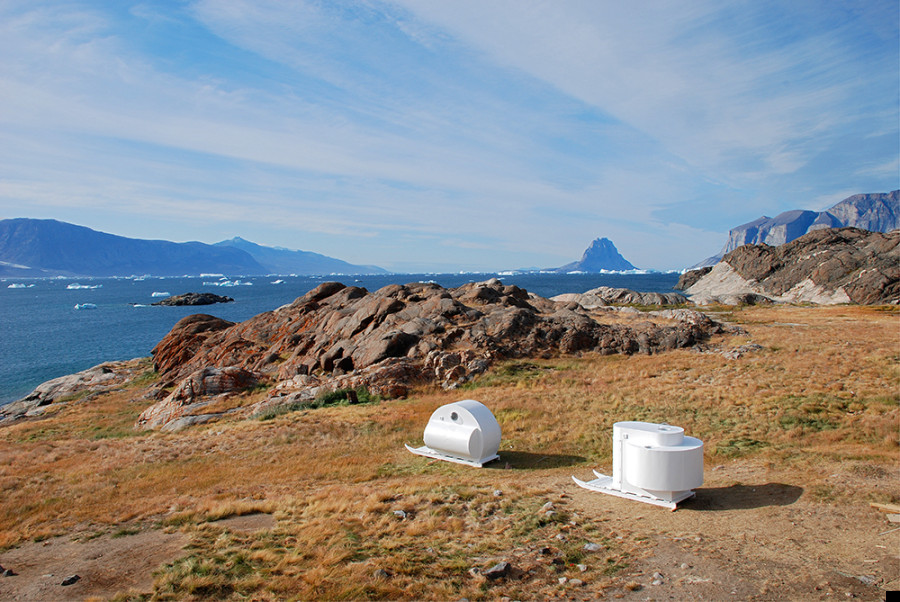 Photography: René Kristensen, Rob Sweere, copyright Gestalten, 2014.
Are they from the future, or another planet? Designed by Dutch artist Rob Sweere and commissioned by the Uummannaq Polar Institute, the two rooms in Sledge-Project can host six residents each and can be pulled by dog or person across the arctic sea ice. They're insulated, provide facilities for cooking, sitting and sleeping, and were built for an organization that pairs troubled children with local hunters to "learn the ways of the wild," the book states. There's no access to electricity, and any water is taken from the ancient glaciers surrounding the island.
5. Portable House ÁPH80, Madrid, Spain
Have your own remote destination in mind? Madrid-based studio Ábaton designed a series of portable homes, called ÁBH80, for simplicity and mobility. In keeping with the company's philosophy of well-being and environmental balance, it says these homes are "easily transported by road and ready to be placed almost anywhere." The tiny domiciles offset spatial efficiency with an indoor feeling "of fullness," and the wood used inside is from regulated forests that will be regrown. It takes six to eight weeks to manufacture all the pieces, but only one day to assemble them. If you're in Spain and have your escape already picked out, prices start at around $28,000. The kit can also be shipped to a number of countries, including the U.S. See them in action here.
Photography: Juan Baraja, copyright Gestalten, 2014.
Pretty Porches
Popular in the Community