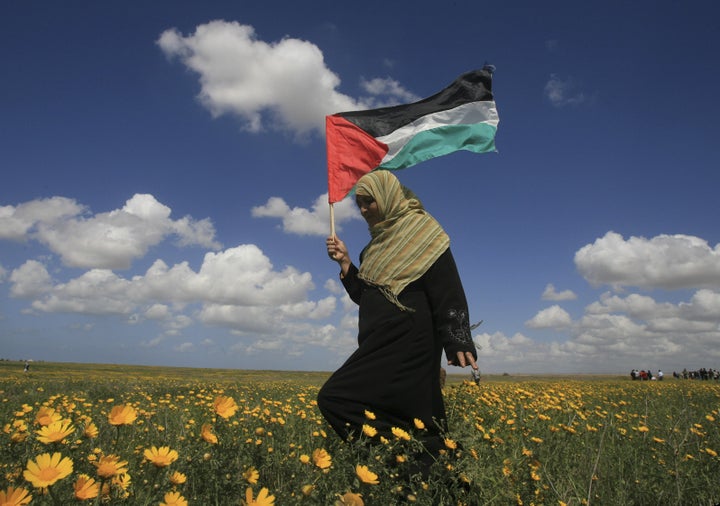 Tel Aviv - In the past six days I've talked with more Palestinians than many Israeli Jews meet in a lifetime. Observers on all sides of the conflict say that's no accident. Both official Israeli policy and mainstream news coverage collude to isolate, if not negate, "others."
"A lot of Israelis don't see Palestinians," said Tamer Massalha, a lawyer whose focus is international humanitarian and human rights law. "Or the only time they do see them is if they are soldiers at the checkpoint. And then they see thousands of them. One is shouting, one is crying -- and that's not the best way to see people."
After the second intifada and a series of suicide bombings, Israelis set up checkpoints and built a separation wall to ensure their physical safety. In a nation not much bigger than New Jersey, huge swaths of land have been cut off from each other. Some villages are split in two, and family farms have been severed from their fields and orchards.

West Bank Palestinians, who had worked, shopped, and socialized in Jerusalem, Tel Aviv and other cities inside the Green Line, now spend hours trying to cross over into Israel. Many no longer do. Meanwhile Israelis have been forbidden to enter the West Bank unless they are going to Jewish settlements. Compounding the physical separation is an absence of rounded reporting. Arabs are most frequently covered when they resist, rebel and riot. At best, they're enemies; at worst, they're terrorists bent on Israel's destruction.

'Israelis are pathologically afraid of Arabs," said Lisa Goldman, a Canadian-Israeli journalist. "It's the way the mainstream media portrays them and then the Department of the Interior prevents Israelis from having anything to do with them."
But the Palestinians I met this week, whether Muslim or Christian, living in Israel or the West Bank, didn't seem menacing. Students, professors, lawyers and activists all expressed a desire for justice, equality and the chance to live in peace. Most cited UN Resolutions 194 and 242, as well as international law, as the basis for their aspirations. And all seemed reconciled to the fact of Israel's existence.
Noor Atamny, a 19-year old student at Al-Qasemi Academy in Baka, an Arab town in Israel, wants to teach English to middle school students. Soft spoken and conservatively dressed, Atamny appears to be the embodiment of a traditional Muslim upbringing. But her pitch perfect English includes references to "Friends," Brittany Spears and, of course, Oprah.

"When I was 13, I heard Oprah say, 'Do not wait for opportunity to look for you, you look for opportunity," Atamny recalled. "This was an inspiration for me."

Visiting the US last summer, Atamny was surprised when small children, pointing to her headscarf, asked if she was a ninja. In Israel, some people assume much worse.
"Once when I was six years old, a Jewish man stared me down and I felt scared. I said, 'Mommy, why is he doing that?' and she said, 'Maybe it's your headscarf' and I said, "Why should that make a difference?'
"I think some people are really, really nice and others are not."
Atamny, like most young women studying at Al-Qasemi, knows that her professors do not look favorably on political activism. The college seeks to educate mainstream teachers for Israeli schools, and winning the confidence of the state's educational administration is key to their ability to place graduates. When asked about the ongoing conflict, Atamny concedes, "it's complicated."
Massalha, the lawyer who advocates for Arab citizens in Israel, is older than Atamny and less circumspect about his opinions.
"There's a lot of Islamophobia in Israel," he said. "Israelis don't want to frame the conflict as based on justice and injustice. They see it as East versus West or Islam versus the free world."
Massalha admits that Islam is on the rise in many Palestinian communities. But he sees it as a reaction to the failure of secular politics to prevent the erosion of Israeli Arabs' living conditions and civil rights. Despite their status as tax-paying Israeli citizens, Palestinians receive a disproportionately smaller amount of government services than does the Jewish community. (Palestinian Arabs represent approximately 20 percent of Israel's population.)
But Massalha has not given up hope. He edits a literary journal that welcomes Jewish and Arab voices. Cultural Guerilla is an experimental venture that encourages political activists to engage in a different type of struggle.
Similarly, Nula Deeb -- despite ongoing obstacles and debilitating disappointments, continues to work with Jewish colleagues. Deeb runs Kayan, a feminist organization in Haifa that seeks grassroots change. Her most recent campaign was for public transportation in two Arab-Israeli towns.
"The lack of transportation in Arab sectors keeps women and children stuck at home," Deeb said. "We started in a village of 20,000 where ten out of every twelve women had no drivers' licenses and no access to public transportation."
Deeb won that battle but there's a larger one that she confronts almost daily. Even as the political climate between Jews and Arabs deteriorates, she continues in coalition with Israeli Jewish women. She refuses to succumb to anger or bitterness.
"It's an individual choice to keep myself sane, to not be a racist, she said. "I find a few people to work with and to share dreams with. That, for me, is a political act."
Popular in the Community