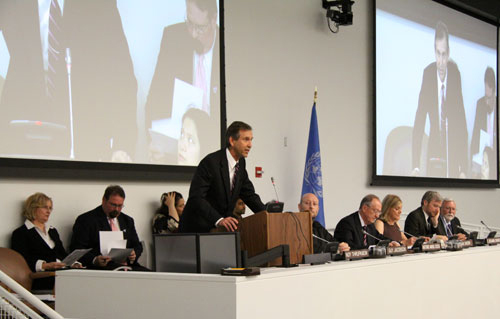 The Schuster Institute for Investigative Journalism at Brandeis University cosponsored a first-ever United Nations panel discussion about how the news media is exposing and explaining modern slavery and human trafficking -- and how to do it better. Below are the transcript and video from that conference, held at the United Nations headquarters in New York City on June 16 and co-sponsored by the United States Mission to the United Nations and the United Nations Office on Drugs and Crime.

Take a look as some leading media-makers and policymakers debate coverage of human trafficking. What hinders good reporting on human trafficking? What do journalists fear when they report on slaves and slavery? Why cover the subject in the first place? What are the common reporting mistakes and missteps that can do more harm than good to trafficking victims, and to government, NGO, and individual efforts to end the traffic of persons for others' profit and pleasure?

Among the main points: Panelists urged reporters and editors to avoid salacious details and splashy, "sexy" headlines that can prevent a more nuanced examination of trafficked persons' lives and experiences. Journalists lamented the lack of solid data, noting that the available statistics are contradictory, unreliable, insufficient, and often skewed by ideology. As an example, the two officials on the panel -- Ambassador Luis CdeBaca, head of the U.S. Office to Monitor and Combat Trafficking in Persons, and Under-Secretary-General Antonio Maria Costa, executive director of the U.N. Office on Drugs and Crime -- disagreed on the number of rescued trafficking victims. Costa thought the number was likely less than half CdeBaca's estimate (from the International Labour Organization) of 50,000 victims rescued worldwide.

How do the local media in your area rate when it comes to good coverage of human trafficking? Write to us at schusterinstitute AT brandeis.edu with examples of the good, the bad, and the truly ugly.
*Due to technical difficulties with equipment in part 1, welcoming remarks by Ambassador Rick Barton and some of those by Florence Graves were not captured in the video of the panel discussion.
U.S. Representative to the Economic and Social Council
Founding Director of the Schuster Institute for Investigative Journalism, Brandeis University
Office to Monitor and Combat Trafficking in Persons
Former ABC News Correspondent and Daily Beast blogger
Executive Director of UNODC
Documentary filmmaker and U.S. State Department Global Hero Award recipient
Schuster Institute Senior Fellow and author of "A Crime so Monstrous: Face-to-Face with Modern-Day Slavery"
Related
Popular in the Community