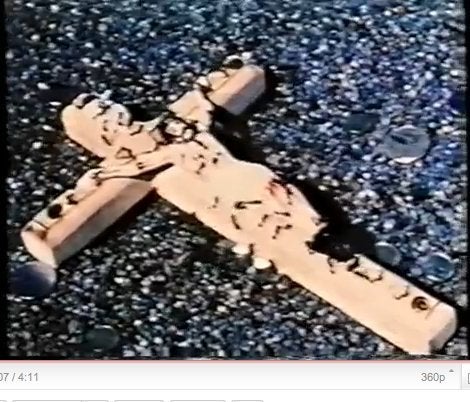 "This is a museum that gets $5.8 million in taxpayer dollars and in the middle of a high deficit, 15 million unemployed Americans, they decide to have money to spend like this. This is a museum that, by the way, has next to it a display of the American presidents, on the other side, Elvis, and then you go through this -- which is really perverted, sick stuff -- ashes of an AIDS victim, in a self-portrait, eating himself. Male nudity, Ellen DeGeneres grabbing her own breast - lots of really kinky and really questionable kind of art."
Kingston continued, explaining his concern that federal funds, though not at all related to the materials in the gallery, were being used to subsidize the building that the specific piece was housed in:
"They claim that this is not paid for by tax dollars, yet this is a public building with a publicly paid staff, public heat and air-conditioning, if you will, public security. So there's no question the taxpayers are subsidizing this. It's no different than the Pentagon going out and paying $500 for a hammer or the National Park Service paying $300,000 for an outhouse."
GOP leaders John Boehner and Eric Cantor spoke out against the display Tuesday, an exhibition entitled "Hide/Seek." The video in question was created by AIDS victim and late artist David Wojnarowicz.
"Smithsonian officials should either acknowledge the mistake and correct it, or be prepared to face tough scrutiny beginning in January when the new majority in the House moves [in]," Boehner spokesman Kevin Smith said.
Cantor also demanded its replacement, and called it "an obvious attempt to offend Christians during the Christmas season."
The Catholic League piled on the criticism of the video, which was originally intended to run from Oct. 30 to Feb. 13. as part of an exhibit that cost of $750,000, money that, according to the Washington Post "was funded by the largest number of individual donors for a Portrait Gallery show" and "underwritten by foundations that support gay and lesbian issues."
More from the Post's report:
The Catholic League objected to the "homoerotic images" and said the exhibition offended Christians. Donohue, in an interview Tuesday after the video was removed, said he had watched it on YouTube and that "the material is vile."

He called on the House and Senate appropriations committees to reconsider future funding for the Smithsonian.

"My immediate concern has been relieved. But this is hate speech," [Catholic League President] Donohue said. "It is designed to insult. This is a sad commentary on the judgment of the Smithsonian."
With Kingston's announcement, it appears that Donohue's calls for a probe may be heeded, despite the fact that no federal funds actually go toward the commissioning of specific works of art.
Popular in the Community