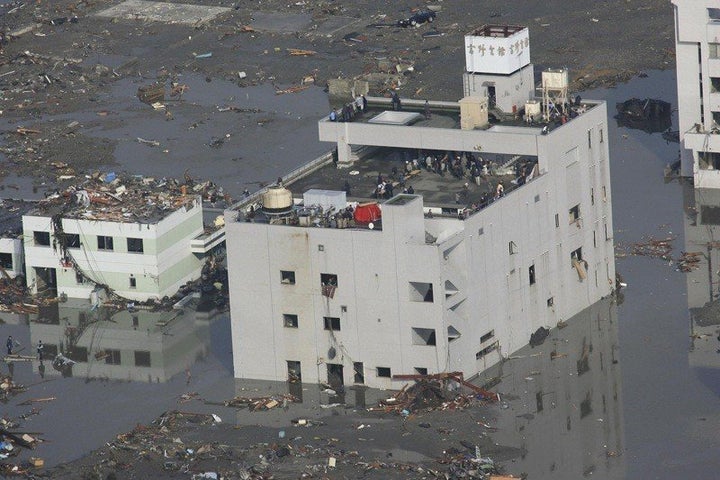 When 43-year-old Hideaki Akaiwa returned to his northeastern hometown of Ishinomaki, Japan it was already a disaster zone flooded in water and loose rubble. His first thoughts were to locate his mother and wife of 20 years -- and fast. Unable to wait for relief workers to arrive, Akaiwa quickly grabbed his scuba gear and prepared for a swim he will most likely will never forget.
The Los Angeles Times reports Akaiwa was at work when the tsunami hit. He rushed back home, only to find his neighborhood completely overrun in up to 10 feet of water.
After retrieving some scuba gear, Akaiwa took to the water in search of his loved ones. On Saturday, Akaiwa successfully reached his home and located his wife.
"The water felt very cold, dark and scary," he recalled. "I had to swim about 200 yards to her, which was quite difficult with all the floating wreckage."
But Akaiwa's job wasn't complete -- he still needed to find his mother. Akaiwa checked his local City Hall and nearby evacuation centers, but found no luck. Finally, on Tuesday, Akaiwa returned to the neighborhood she was last seen and found her on the second floor of her flooded home.
The Star reports, even with his family safe, Akaiwa continues to scour the streets on the lookout for other tsunami survivors who need help. In his red fanny pack, he carries half a bottle of tea, some water, two packages of cigarettes, a flashlight, Swiss army knife and a lighter.
"My supplies," he said. "I have to get back out and keep looking."
REAL LIFE. REAL NEWS. REAL VOICES.
Help us tell more of the stories that matter from voices that too often remain unheard.