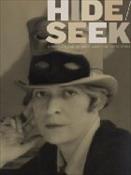 Catalogue cover for Hide/Seek: Difference and Desire in American Portraiture at the National Portrait Gallery
Monday's news that the Andy Warhol Foundation, a major funder of the National Portrait Gallery's controversial "Hide/Seek" show, may pull the plug on all future support for Smithsonian exhibitions is just the latest example of out-of-proportion responses by defenders of artist David Wojnarowicz's work. The foundation threatened to deny future sponsorships unless a single Wojnarowicz video that the museum removed under pressure on Nov. 30 is reinstated.
The pro-video vitriol almost matches in irrationality the hysteria of the video's vilifiers. What's worse, Joel Wachs, president of the Warhol Foundation, told the New York Times that he is "hopeful that others will follow suit," withholding funds from the entire Smithsonian Institution because of a disagreement over the removal of one four-minute video from an otherwise groundbreaking show. At least the pro- and anti-video factions agree on one thing: They both seem to want to hobble the Smithsonian -- by withholding private and public funds, respectively.
With little leverage over the politicians who blasted the show as (among other things) "an outrageous use of taxpaper money," the supporters of Wojnarowicz's tough, provocative 1987 video, A Fire in My Belly, have taken to blaming the victim. The National Portrait Gallery and the Smithsonian -- a federal institution with three Senators and three Congressmen on its board (not to mention the Supreme Court's Chief Justice and the Vice President of the United States) -- are to be praised, not excoriated, for their courage to go where other museums have feared to tread, taking on a subject that dared not say its name. ("Difference and Desire" is a discreet reference to homosexuality.) Instead, they're being berated for showing insufficient courage and succumbing to bullies.
This is not the first time that a national cultural institution has seen fit to rethink a show deemed too hot for federal property. A 1995 photography show on slavery -- The Cultural Landscape of the Plantation, offended some Library of Congress employees and was taken down by that federal institution the same day it was put up. (It was later mounted instead at the local Martin Luther King Library). And who can forget the National Air and Space Museum's drastic revision of a 1995 show about the Enola Gay (another controversial "gay" show?), the plane that carried the bomb to Hiroshima at the end of World War II?
I think that any museum under private, rather than governmental, auspices would have been wrong to pull a work that stirred up some controversy. What I'm trying delicately to suggest is that federal institutions may not be the most appropriate venues for highly provocative or likely-to-offend takes on emotionally charged subjects. The likelihood of goading conservative politicians into cracking down on the arts more broadly makes such undertakings in D.C. uniquely risky. With Congress on the brink of a dramatic shift in its balance of power, this was arguably the right show in the wrong place at the wrong time.
The most effective strategy for those who equate the prudent pulling of one video with "censorship" is not the feeble gesture of showing Wojnarowicz's relatively insignificant four-minute cri de coeur in multiple venues, as is now happening. (There's even a new ad hoc website, hideseek.org that keeps track of the growing list of "Belly" screenings around the country.)
What museums should do, in addition to issuing statements that criticize the video's removal from the National Portrait Gallery's show, is not only show the video. They should show the show.
If possible, the National Portrait Gallery should offer "Hide/Seek" as a traveling exhibition, giving other institutions the chance to explain to their regional constituencies (and political leaders) why this project is worth doing and seeing. With all its notoriety, this show (which features such celebrated names as Eakins, Bellows, O'Keeffe, Rauschenberg, Johns and Warhol) is sure to draw a crowd (think Mapplethorpe, also in "Hide/Seek"). Alternatively, other museums could craft their own shows and interpretations of this under-explored topic.
One thing seems certain: Far from recoiling from this controversy, Wojnarowicz, who died of AIDS in 1992, would have relished it. In a 1989 video, in which he decried the decency standards for federal arts support embodied in that year's Helms Amendment, he stated:
If, at this point in time, images and words that can be made by an individual have such power to create this storm of controversy, isn't that great? It means that control of information has a crack in its wall.
Calling all HuffPost superfans!
Sign up for membership to become a founding member and help shape HuffPost's next chapter