When you ask employees at nonprofit organizations about job satisfaction, more often than not they will give you a positive response; for these mission-oriented workers, purpose is paramount. When asked about their plans for retirement, however, nonprofit employees express insecurity and uncertainty about the future.
In a coast-to-coast survey of 1,000 nonprofit employees conducted by our two organizations, TIAA-CREF Institute and Independent Sector, job satisfaction approached 60 percent. Roughly 45 percent of these employees said they felt unsure of their ability to plan for a financially secure retirement. As a result, about half of those surveyed have considered leaving the nonprofit sector for better pay. As our study points out, the combination of lean organizational budgets and a culture of sacrifice historically has been seen as leading to lower nonprofit salaries and benefits relative to other sectors. This leaves nonprofit employees harder pressed to pay bills today, much less accumulate savings for the future.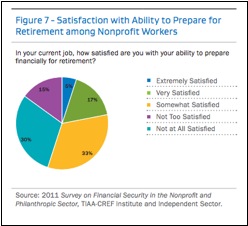 For many late career (50 and older) employees, the anxiety is acute, fueled by fallout from the recession - increased debt, the decline in value of their homes and 401(k)s -- and by longer lifespans which mean potentially more time spent in retirement. That said, a range of research shows that retirement insecurity is, in fact, an issue for all age groups. Daring to Lead, a 2011 study by CompassPoint Nonprofit Services and the Meyer Foundation, found that early career employees (21-34) rank nonprofit retirement insecurity as the number one impediment to accepting a job in the nonprofit sector.
As our joint study noted, a central question for the nonprofit sector is whether these concerns could lead to a brain drain over time by inhibiting recruitment and retention. An additional question is whether senior workers and leaders will be able to retire or work on a preferred part-time basis; if they feel a financial need to remain in their positions, that could inhibit the advancement opportunities of younger workers and create a further incentive for their departure. Answering these questions requires sector leaders' attention and action.
Most employers are at a loss as to how to address the growing retirement insecurity challenge. One of the most telling juxtapositions in our research revealed that three out of four employees surveyed do have a retirement plan, but are not sure if they're saving enough or saving wisely. The good news is there are retirement plan options employers can choose to help solve this disconnect. Several are highlighted in the chart below. Together, these plan features can help overcome the savings inertia saddling our nonprofit workforce.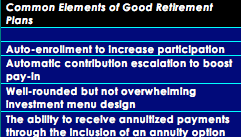 In addition, nonprofit sector and organization leaders can do more to address worker uncertainty about adequate savings by offering retirement planning information, education, and advice for their employees. The TIAA-CREF Institute-Independent sector study found that 68 percent of those interviewed had not received retirement planning advice during the last three years.
A good plan can be greatly enhanced by a communications strategy that reaches out to individual employees. The Foundation for the Carolinas, a community foundation serving individuals and groups in thirteen counties in North and South Carolina, emphasizes not just employee education, but also objective, personalized advice, driven by the best interests of the employee. This helps build a foundation for increasing worker confidence in their retirement planning and saving.
For more details and insights into promising solutions for America's nonprofit retirement problem, listen to the Webinar "How Financial Security Impacts Nonprofit Career Decisions," with experts from Independent Sector, TIAA-CREF Institute, Foundation for the Carolinas, and the Pension Rights Center. You can also view the full survey report prepared by TIAA-CREF Institute and Independent Sector.
Related
Popular in the Community