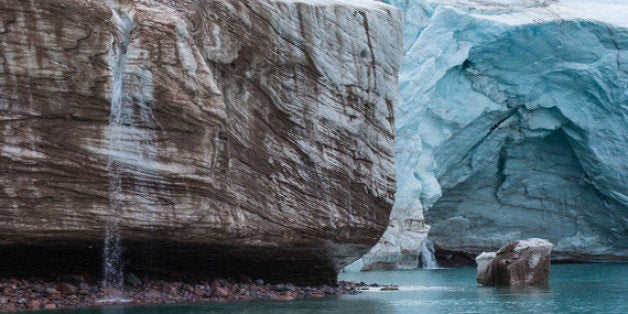 By Jennifer Kingsley, Lindblad Expeditions-National Geographic naturalist, radio producer, and author of "Paddlenorth: Adventure, Resilience, and Renewal in the Arctic Wild."
A true adventure involves surprises, and sometimes they are more beautiful -- and alive -- than you could have imagined. For example, Ellesmere Island.
When National Geographic Explorer headed north last summer, Ellesmere wasn't on the itinerary, but when sea ice forced us to forge a new plan, it didn't take long for all of us polar types to agree: north, north, north!
Ellesmere is the northernmost island in the Canadian Arctic Archipelago. Its tip reaches 83 degrees north. We wrapped around its southeast corner and steamed towards the pole. We had two days to explore.


The coast of Ellesmere Island during long evening light. The bright glacier edge, where ice meets water, looks tiny, but it can be 10 stories high.
The edge of Ellesmere was like one continuous glacier. Ice flowed down every mountainside like icing off a warm cake. The edge of that ice, where it sheared off into the water, looked so thin and fragile. It wasn't until we got closer that I realized it was ten stories high.
The first day was dedicated to the ice: hiking to it, cruising around it, finding places we could touch it. I counted 12 separate glaciers encircling the ship.
It wasn't until the second day that my vision of Ellesmere took on a new dimension.
I spent the second morning on the bridge with my roommate. She's a Viking archaeologist (these are the types you pal around with on the Explorer). We were admiring a mountainous island at the mouth of a fjord when she gasped its name, "Skraeling Island...it must be." We had reached place of pilgrimage for Viking lovers. We went on deck so I could take her picture.
At that latitude, above 78 degrees north, evidence of both Inuit people (called Skraelings by Vikings) and Viking visitors have been found. Greenland and Canada are only 30 miles apart up there, so it makes sense that Vikings tracing the coasts -- from Europe to Iceland to Greenland in a few hundred years -- would make the leap.
When we went ashore, the place came alive. Right from the beach we were surrounded by evidence of Inuit camp life: food caches, kayak racks, tent rings. Everything made from stone. It was easy to imagine people there, calling to each other, looking after sled dogs, heading out to hunt. And sometimes, the Vikings in their boats or camps not too far away.
It's difficult to know the details of that history, but without taking an unexpected turn we would never have encountered it. We stayed as long as we could, until we could no longer avoid heading south.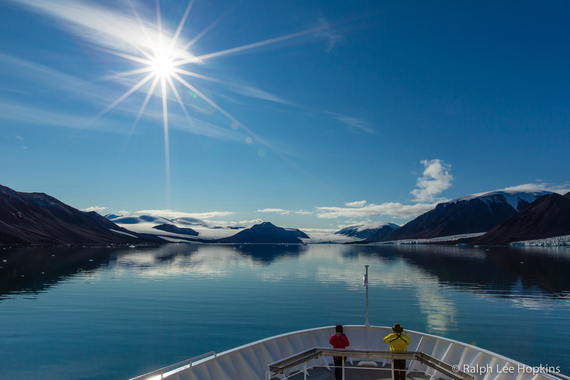 Our first approach into the fjord systems of Ellesmere; view from above the bridge on the National Geographic Explorer.
Photos by Ralph Lee Hopkins, Director of Expedition Photography for Lindblad Expeditions-National Geographic.
Related