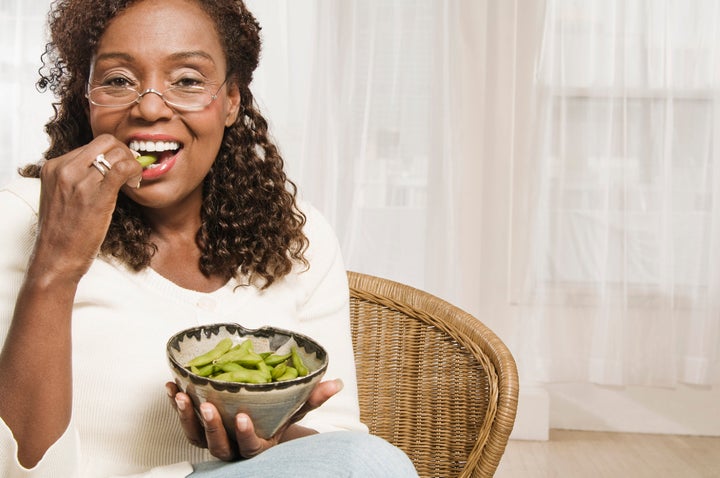 If you have ever been ordered to get your cholesterol down, you may have been told to adopt a diet low in saturated fat. But new research suggests simply limiting saturated fat may not be the best bet for cutting cholesterol. Adults who ate a diet rich in nuts, soluble fiber, soy and plant sterols saw a far greater drop in low-density lipoprotein, or "bad" cholesterol, than those who followed a low-saturated fat plan.
Researchers in Canada looked at 351 men and women who were on the verge of needing medication to help control their cholesterol. For six months, one group of participants followed a so-called standard therapeutic diet -- i.e., a diet low in saturated fat. They were advised to focus on foods like low-fat dairy, whole grain cereals, fruits and vegetables.
Two other groups were advised to adopt a diet enriched with foods previous studies have suggested can help reduce cholesterol, including nuts, oats, barley, soy milk, tofu, peas, beans and lentils.
The results were pronounced: Those who focused on adding the four cholesterol lowering food groups reduced their bad cholesterol by 13 to 14 percent. Those who followed the conventional low-saturated fat diet experienced a far smaller reduction of around 3 percent.
"The takeaway message is that there are simple things people can do to lower their cholesterol that don't involve medication," said Dr. David Jenkins, of St. Michael's Hospital in Toronto and the study's lead author. He explained the results were on par with the cholesterol-lowering effects of the first generation of statin drugs.
So how can you work these cholesterol-lowering foods into your life?
In order to add soluble fiber, Vandana Sheth, a registered dietitian and spokesperson for the American Dietetic Association, suggests eating oat and barley and stocking up on fruits and vegetables like okra, eggplant and berries.
Plant sterols and stanols -- substances that occur naturally in foods including fruits and vegetables, but in small amounts -- are regularly added to products like margarine and orange juice, which she advised giving a try.
For nuts, Sheth suggested snacking on a small handful of walnuts or adding almonds to a salad. She cautioned, however, that nuts are dense calories-wise and should be eaten in moderation.
When it comes to soy, the story gets slightly murkier. As U.S. News has reported, previous studies have suggested that soy protein does not make a significant impact in lowering cholesterol. Other studies have suggested that eating too much soy could be detrimental to fertility.
But eaten in moderation, soy can provide positive health benefits, Sheth said.
"Since most studies that raised concerns about soy intake were connected to soy isolates and processed forms of soy, it is best to enjoy soy in its natural and least processed forms," she said. "Edamame, tofu, tempeh, miso [and] soy milk are less processed than soy cheese [and] soy meats."
Of course, patients should consult with their practitioner before settling on a cholesterol-lowering plan. And the new Canadian study does have its limitations. Because participants ate a so-called "portfolio" of various cholesterol-lowering foods, the authors were not able to parse out the exact lipid-lowering effects of specific foods.
But the authors of the new study, which was published in the Journal of the American Medical Association, write that it does highlight the potential value of combining certain foods to lower bad cholesterol without relying on drugs.
"People want to take control of their health," Jenkins said. "You can enrich your diet with these cholesterol-lowering foods and see a marked difference."
Popular in the Community