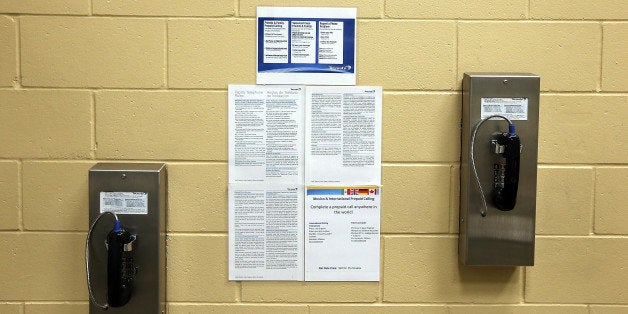 There are approximately 2.3 million Americans currently serving time in our country's prisons and jails. In order to stay connected, the majority of those incarcerated -- and their families, friends and legal representatives -- often have no choice but to pay exorbitant per-minute rates, connection fees, and service fees to companies that provide inmate calling services.
The costs of these calls far exceed the actual cost of the call and take advantage of the lack of choices people in prison have in reaching family members and legal counsel. While prisons and private service providers enjoy the profits of these exorbitant charges, the burden is borne largely by, and at the expense of, incarcerated individuals and their families.
As efforts to reform the criminal justice system continue to grow in magnitude and scope, efforts to reform our sentencing laws are important, but not enough. We must also reform the way prisons operate and the way the imprisoned prepare to reenter society. Therefore, while it may seem not seem like a major issue on its face, the unnecessarily high cost of inmate calling charges is an injustice that must be addressed so that inmates can stay in touch with their families and plan for successful reintegration into society. That's why we are joining together to address this issue.
This month, the Federal Communications Commission (FCC) is poised to implement regulations that would ensure just and reasonable phone rates for incarcerated individuals. Under Commissioner Clyburn's leadership in 2013, the United States took important steps in the right direction to achieve this goal; however, more work remains to be done.
Currently, the prison calling system continues to leave millions of Americans paying their dues to society either struggling or unable to stay connected with the outside world. There are fees to open a calling account, fees to add money to the account, and fees to close an account when inmates are released.
These charges often weigh most heavily on inmates' families, who may have also lost the primary earner in their household with their family member's incarceration. Many families report paying providers $400-$500 a month, or over $5,000 a year, just to stay in touch with their loved ones -- double or triple the average American's monthly phone bill. We recently heard from a NAACP pro bono lawyer who paid $56 for a four-minute conversation from an incarcerated client.
Because there is only one call provider per facility, rates often go unchecked. In fact, many call providers have payment arrangements with correctional facilities whereby the facility receives a "cut" of the provider's earnings -- in one case, as high as 96 percent of gross revenue. These profit-sharing arrangements, known as "commissions," create perverse incentives whereby prisons don't seek the lowest rates for inmate calling services, but rather the provider that offers them the largest slice of the pie.
Ruth Amsani Perry, who pays these high phone rates to stay in touch with her incarcerated husband, paints the problem this way: "I understand [inmate call providers] need to make a profit, but there is a clear difference between profit and exploitation."
Reginald Dwayne Betts, a Yale Law student, Soros Fellow, published author, poet, and teacher began an eight year stint behind bars at age 16. The Supermax prison where Betts served his sentence was too far away for family to visit regularly, so phone calls made a world of difference. "Those calls meant I got to be connected to a world that wasn't governed by violence," said Betts, "And that helped me come back. My family knew me while I was in prison, so when I came out I wasn't a stranger returning -- I was a son."
For Betts' mother, call payments became a significant expense, a price many parents of incarcerated people simply cannot afford.
Currently, 1 in 28 American children, and 1 in 9 African-American children grow up with an incarcerated parent. In prison, Betts, who knew plenty of fathers, and is now a husband and father of two young boys himself, stresses the importance of a parent's presence: "Kids need to hear your voice. They don't understand cost. But cost means calls to kids are often the first to fall by the wayside." Calling costs are not the only reason families torn by incarceration fall apart. But if straws break a camel's back, Betts says, "Prison phone rates are one of those straws."
Bethany Fraser, whose husband has been behind bars the last three years, knows how painfully high phone rates make it difficult her and their two sons to stay connected. "Choosing between essential needs and keeping kids connected to their parents is a choice no family should have to make."
Each year, approximately 700,000 inmates are released from prison after paying their debts to society. A study by the Justice Department found that three out of four ex-offenders were re-arrested within five years of their release. Yet studies consistently show that meaningful contact behind bars can make a real difference in maintaining family ties, promoting rehabilitation, and reducing recidivism. In other words, high inmate calling rates stand in the way of formerly incarcerated people turning their lives around and not committing new crimes.
In his 2004 State of the Union Address, then President George W. Bush affirmed that "America is the land of the second chance -- and when the gates of the prison open, the path ahead should lead to a better life."
When President Obama commuted convictions of 46 drug offenders earlier this year, he also affirmed that "we have to ensure that as [inmates] do their time and pay back their debt to society, that we are increasing the possibility that they can turn their lives around."
The ideal that America is a place that values second chances is both bipartisan and rooted deeply in our country's history, and the opportunity and ability to turn one's life around is a fundamental principle of justice and of the American Dream. Unfortunately, it seems this principle of American values has gone missing from our broken justice system. Fixing the way inmates interact with the outside world is an important step in restoring it.
Calling all HuffPost superfans!
Sign up for membership to become a founding member and help shape HuffPost's next chapter