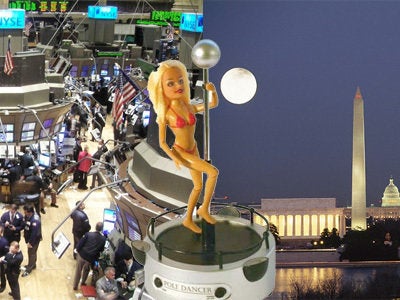 There has been some responsible reportage on the plight of New York-based strippers during the Wall Street crisis of late -- it seems that the high-end customers have been lighter lately, and the tips have been coming in smaller denominations -- and even some mention that Hugh Hefner is facing the music and considering layoffs for a few Playboy bunnies.
Thankfully, the Washington Post has found a source to make sense of it all. What does it all mean?
Renowned defense lawyer Edward W. Hayes, a self-described night owl, long ago developed two measurements for gauging the ups and downs of Wall Street: the HEGI and the HESI, which stand for High End Girlfriend Index and High End Stripper Index. When the financial sector's business is good, he said, the traders and bankers spend huge sums on high-end girlfriends and in the VIP rooms of Manhattan's pricey strip joints.

Now, said Hayes, who represents many of the woman in the business, he is seeing evidence of the downturn.

"The strippers are getting killed -- it's terrible," he said. "It really started in the last month. What they really need are the guys who go in and spend $500."
REAL LIFE. REAL NEWS. REAL VOICES.
Help us tell more of the stories that matter from voices that too often remain unheard.