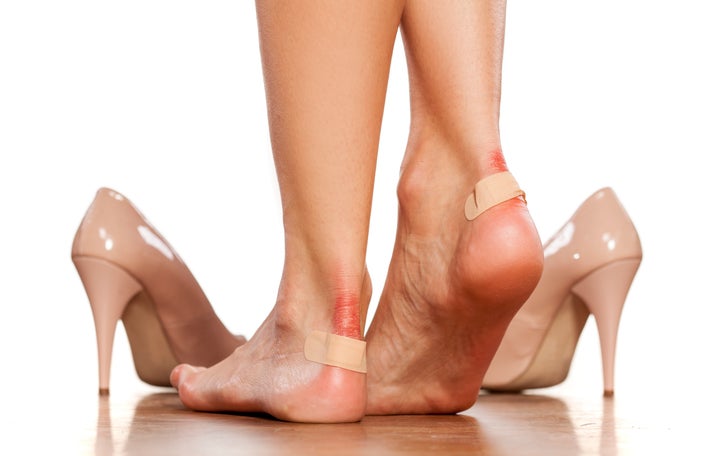 British Columbia's government announced Friday that it has deemed requirement of high heels unsafe based on the risk of injuries, as well as the damage that comes from prolonged wear.
"This change will let employers know that the most critical part of an employee's footwear is that it is safe," Shirley Bond, minister of jobs, tourism and skills training and minister responsible for labour, said in a release. The regulation "ensures that workplace footwear is of a design, construction and material that allows the worker to safely perform their work and ensures that employers cannot require footwear contrary to this standard."
Under the new regulation, employers must consider specific safety factors when choosing mandatory footwear codes -- factors such as uneven terrain, ankle protection and foot support, and tripping hazards. But besides protecting employees from health risks, the release also notes that British Columbia's Human Rights Code already protects against gender-based discrimination, which can include enforcing a dress code based on gender.
The news comes nearly a year after a photo of a Canadian woman's bloody feet and accompanying story went viral. The woman was allegedly "berated" for changing into flats at her restaurant job, despite the fact that the heels she had been required to wear were making her feet bleed and causing one of her toenails to fall off. At the time, the restaurant in question told The Huffington Post its policy surrounding dress code had recently changed, making flats an acceptable option and nixing its requirement that heels be over 2.5 inches.
Dress code regulation has come under scrutiny in other places around the world, too. In May 2016, a U.K.-based woman who was working as a receptionist was sent home for not wearing heels. The experience prompted her to start a petition that garnered over 150,000 signatures and was brought to Parliament.
The government concluded that "dress codes which require women to wear high heels for extended periods of time are damaging to their health and wellbeing in both the short and the long term in the U.K.," but that there were "not currently enough disincentives to prevent employers breaching the law." In short, while the government acknowledged the issues with enforcing dress code, the repercussions are not yet harsh enough to make companies stop using them.
In the United States, there is some disparity on federal and local levels. The Equal Employment Opportunity Commission states that "an employer may establish a dress code which applies to all employees or employees within certain job categories," with exceptions made for a person's religion or disability.
The New York City Commission on Human Rights, on the other hand, announced new guidelines in December 2015, which say dress code enforcement based on gender "may be a violation of the law."
It's hard to believe that we're still talking about whether or not a woman should be forced to wear certain shoes in the year 2017. But British Columbia's news is at least a more comfortable step in the right direction.