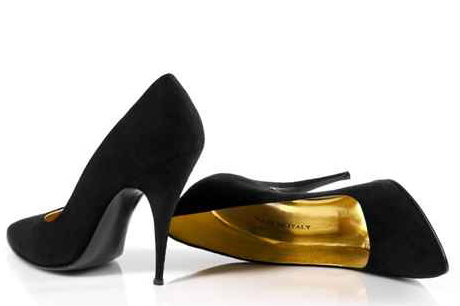 Women's footwear has its own history. "Heels" as a type has fallen in and out of popular fashion several times since WWII, most notably in the late 1990s when lower heels and even flats prevailed. Now we hear that "flats are back!"
"Whereas heels were once integral to power dressing, flats now connote a liberation from that stereotype. As clothes have become more gender-neutral, the need to announce our femininity with a percussive soundtrack has vanished," writes Sadie Stein.
Wow! This sounds progressive. Who could have predicted that flats and other
"sensible shoes" would become symbols of power in the working world?
OK. And so...how many of you believe this? I don't.
I might if I saw "Donna" and "Jessica" in the TV series, Suits wearing flats. Sarah Rafferty who plays Harvey Specter's loyal secretary is 5'9" (1.75 cm) and Gina Torres who plays his law partner is 5'10" (1.78 cm). When these stunning amazon women sashay down the hall wearing Jimmy Choo, Dolce & Gabbana or Manolo Blahnik stilettos -- which they do in every single episode -- we don't have to wonder what the subliminal message is as they tower over the men in their privileged universe of corporate law.
This is how branding and marketing experts got away with the fatuous claim that "high heels" on women is empowering. Forget about potential sprains or fractures. Or that wearing high heels contributes to a woman's vulnerability by making it literally impossible to run. Forget about degenerative changes in the knee joint or venous hypertension in the lower limbs. Suits boss, "Jessica Pearson" -- arguably the best-dressed character in television -- is Number One and we are reminded of this every time we see her. She is always, not just the smartest, but the tallest person in the room.
High-heeled shoes have a long history. In the early 1700s, France's King Louis XIV would often wear shoes with elevated heels, some as tall as five inches. The king decreed that only nobility could wear heels and that no one's heels could be higher than his own. During the French Revolution, high heels became associated with unearned wealth and the leisure class, since it was widely recognized that performing manual labor was impossible with shoes that no one could walk on.
The stiletto has its own history. Initially, these dagger-like shoes were a symbol of a woman's sexual power, designed to arouse men so that in their earliest incarnation they were associated almost exclusively with "bimbo" fashion.
As it happened, the stiletto high heel got a new life when marketing and branding professionals shrewdly linked "sexy" with capability and capacity. By the time Sex and the City entered our lives, (1998) the tapered 4" (10 cm) stiletto was competing with 5" (13 cm) and the shoe, no longer a "bimbo" icon, was firmly entrenched as the right look for the modern, well-dressed career woman. Evidently, women earning high salaries in highly skilled occupations needed high shoes to demonstrate it. Thus, this unsafe foot apparel suddenly represented authority and power.

Think back to 2006 when The Devil Wears Prada took us into the life of Andy, (Anne Hathaway), a new college graduate who lands a job as a beck-and-call assistant to Miranda Priestly, (Meryl Streep) the narcissistic boss of a haute couture fashion magazine. Thoroughly embarrassed by Andy's appearance and lack of fashion sense, the very first thing her colleague (Emily Blunt) does is hand her a pair of stilettos. Eventually, Nigel (Stanley Tucci) becomes Andy's tutor and she learns how to dress for the job. We see her teetering on four-inch high heels as she literally runs from one errand to another, including an acrobatic feat of balancing four cups of Starbucks coffee.
Andy has to dress according to fashionista guidelines. Practicality and comfort are not part of the equation. "... to ask why women subject themselves to the pain of pinched toes and wobbly ankles misses the point of haute couture fashion," comments New York Times writer, Roberta Smith in her review of a current exhibit in the Robert E. Blum Gallery at the Brooklyn Museum: Killer Heels: The Art of the High Heeled Shoe. (September 10, 2014-February 15, 2015.)
"Haute couture," she says "has always been more provocative than practical."
Stiletto high heels have always been provocative and never safe. Think back to 1993 when supermodel Naomi Campbell tripped and fell on the runway while modeling Vivienne Westwood's Super Elevated Gillie heels. Nobody even pretends the high high-heels are safe. But as UK shoe designer, Terry de Havilland has said, "people say they're bad for the feet but they're good for the mind. What's more important?"
Marketing and branding professionals understand this far better than we do. The average female consumer is powerless against the influence of trend-setters, taste-makers, merchants of cool and the arbiters of fashion. Pitted against this corporate capitalist machine, we have little free will. The need to "fit in" and be "fashionable" trumps individualism as conformity-with-one's-peers is elevated to an essential component of mental health.
Evidently, fashion is cyclical and now "flats are back!" This means that women who want to be fashionable in the workplace can be appropriately chic in no-heeled shoes by Giuseppe Zanotti, Charlotte Olympia or Alexander McQueen not to mention neon-hued sneakers and flat-heeled boots from Marc Jacobs or Chanel. Or in their less expensive copies.
Flats, sneakers/trainers and flat-heeled boots. It's a welcome change. But will they really -- really? -- compete with 3"- 4"-5" high heels? Are we seriously ready to make a convention out of accessorizing dresses and skirts with flat shoes?
Ask the arbiters of fashion. They're the ones in charge and they can make anything seem desirable.