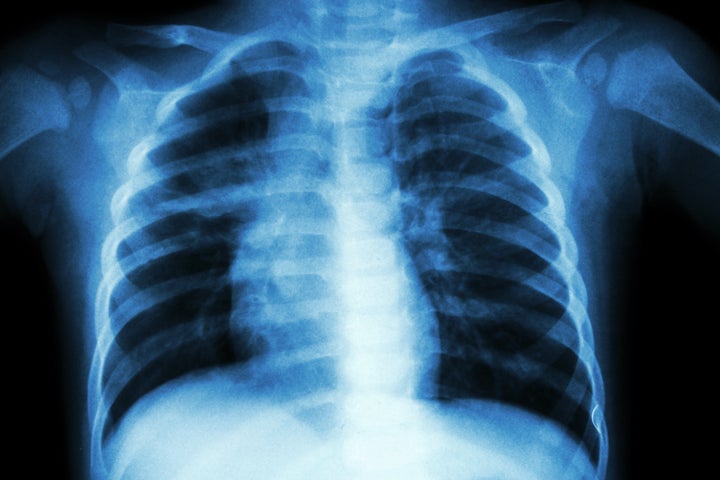 Prevailing in the fight to end TB
The spotlight on the fight against tuberculosis (TB) has never been as bright as it is right now. The first World Health Organization (WHO) Global Ministerial Conference on Ending TB is set to bring together Ministers of Health from all over the world, engaged partners, and representatives of other sectors on 16-17 November in Moscow. This historical event will be followed in 2018 by the first-ever UN General Assembly High Level Meeting on TB which will elevate efforts to combat TB to the level of Heads of State. This momentum started building with the G20 and BRICS declarations this year which highlighted actions to address the TB epidemic. In my career with the WHO Global TB Programme, spanning over two and a half decades, this is the first time I have seen such an awakening to tackle this ancient plague.  Finally! I must say - as it has been frustrating to work on stopping the top infectious killer in the midst of, too often, what I would term indifference.
This momentum is critical as evidenced by the new 2017 WHO Global TB Report launched this week. TB remains the top infectious killer, ranking above HIV/AIDS and malaria. TB is also the main cause of deaths related to antimicrobial resistance and the leading killer of people with HIV. Each day, nearly 5000 people lose their lives to TB and close to 30 000 people fall ill with this preventable and curable disease. While a few countries are making progress in combatting this disease, progress in most countries is stalling or is not fast enough to reach the global "End TB" targets. Persistent gaps in TB care and prevention, as well as in investments for implementation and research, are such that, without an acceleration of efforts it will not be possible to succeed. Meanwhile, multidrug-resistant TB (MDR-TB) continues to be a public health crisis and a health security threat. WHO estimates that there were 600 000 new cases with resistance to rifampicin - the most effective first-line drug, of which 490 000 had MDR-TB. We see little progress in addressing the emergency and globally only 20 percent of people with MDR-TB are detected and treated. At this pace, we are losing human lives and allowing resistant strains to continue spreading in the population.  
If you track this new data against the trajectory set to reach the targets of the End TB Strategy, we are clearly lagging behind. To give you an example, in 2016, TB incidence was reported to be falling at about two percent per year and mortality was declining at four percent. According to our "End TB" projections, incidence should have dropped by 2.45 percent and mortality decline should have been double at 8.37 percent. We urgently need to intensify action now to get on track and drive down deaths and suffering.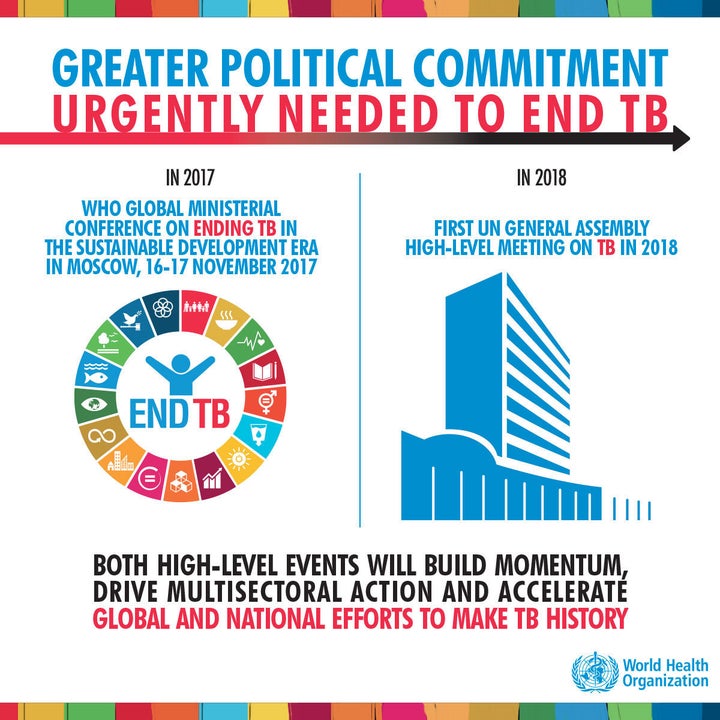 We have been stressing on the solutions to end TB for the past many years. What has been lacking is political commitment followed by action and investments to ensure these solutions actually get implemented effectively.
For instance, the gap in detection has been around the same - at four million missed cases - over the few years. Under-reporting and under-diagnosis of TB cases continues to be a challenge, especially in countries with large unregulated private sectors and weak health systems. India, Indonesia and Nigeria account for almost half of this global gap. Over the past two years, India has made excellent strides in engaging the private sector backed by political commitment at the highest levels, and is narrowing the gap in detection. This needs to be replicated across other countries.
Second, as mentioned already, only 1 in 5 of the 600,000 people who needed MDR-TB treatment had access to it in 2016. Good part of the reason is that only a small proportion of TB patients get a drug susceptibility test, despite availability nowadays of modern and rapid molecular tests. As a result, only a small fraction of drug-resistant cases are diagnosed. In addition, even among those diagnosed and treated, globally only 54 percent were cured, although we know from clinical trials that treatment programs, if well structured, could do much better. The hope is that the momentum around AMR with the G20 declaration this year will have an impact on MDR-TB as well. Likewise, the commitment by the BRICS to face the TB and MDR-TB epidemics much more assertively, including investments in research, is promising but needs to become concrete.
Third, of the almost half a million reported cases of HIV-associated TB, 15 percent were not placed on antiretroviral therapy (ART) as recommended by WHO. This is the result of lack of adherence to the policy of testing all TB patients for HIV to then be able to offer life-saving interventions like ART. We need therefore to expand urgently ART coverage by facilitating collaboration between programs and health care workers. Likewise, coverage with TB preventive treatment especially for people living with HIV and children needs to be expanded from current one million to all in need.
Fourth, we urgently need new diagnostics, drugs and vaccines to emerge from the research pipeline if we want to end TB by 2030. This is a sine qua non for the future of TB prevention and care. Without revolutionary new diagnostics for latent infection and disease, without shorter and simpler treatment regimens for latent infection and disease, and without, eventually, an effective vaccine (pre- and post-exposure) we cannot reach the global targets.
Fifth, the fight against TB has to be fought on several fronts beyond the health sector. Action is required to address the risk factors and determinants of the disease. To start understanding better what causes the epidemic in different settings, for the first time, the Global TB Report 2017 presents information from a new multisectoral monitoring framework that identifies linkages with the TB epidemic across seven Sustainable Development Goals (SDGs). Analysis of the latest status of the health and non-health indicators for the 30 high TB burden countries show that for most huge challenges exist that will impede the achievement of the SDG targets.
The common denominator on all actions is the need for increased resources that follows political commitment. Increased resources are fundamental to accelerate progress. For TB care and prevention, investments in low and middle-income countries fall almost US$2.3 billion short of the US$9.2 billion needed in 2017. Closing this gap requires more resources from both domestic sources (especially in middle-income countries like the BRICS and other emerging economies) and international donors (especially in low-income countries that still largely depend on the influx of aid money). TB research and development also remains severely underfunded. At least an extra US$1.2 billion per year is required to accelerate the development of new tools.
This is why I am so pleased that we finally have the spotlight on TB.  We have unprecedented – never in the history of TB - political momentum with two high-level events to help us take the faster route to end TB, thus avoiding millions of unnecessary deaths, stigma, and discrimination.  
As I release this report in Washington DC, this moment is poignant for me. This is the 22nd report I have launched since joining WHO in 1991 and this is my last report as I prepare to leave WHO next month. However, I prepare to leave with great hope. Hope - that we are finally at the turning point on the fate of the TB epidemic- and that we will ultimately prevail.
Calling all HuffPost superfans!
Sign up for membership to become a founding member and help shape HuffPost's next chapter
BEFORE YOU GO