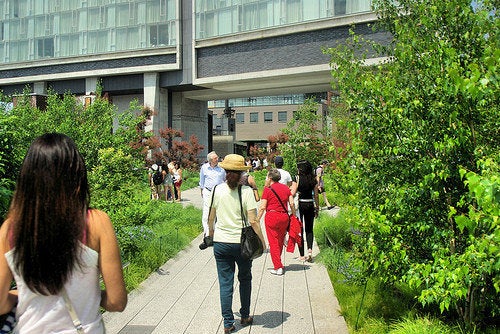 What once was a decaying eyesore is now a hugely successful financial engine in the Meatpacking District. The High Line, an old elevated rail bed turned world-class park, has generated $2 billion in private investment and 12,000 new jobs in the area, including 8,000 new construction jobs.
Opponents of the proposed park, with whom mayor Giuliani was sympathetic, feared it would hurt the surrounding businesses. But the opposite has happened -- in a big way.
Co-founder of Friends of the High Line Robert Hammond told the Times that this economic jumpstart exceeded even his own expectations. "We talked about a High Line district and that it would be good for the local economy," Mr. Hammond recalled. But, he added, "we had no idea that it would happen this fast. If you had said then that 10th Avenue would be a location for some of the world's best chefs, it would just be ludicrous."
Now hotels and boutiques want to be as close to the park as possible, seeing as 2 million people visited the park last year. The boost to the neighborhood certainly made up for the city's $115 million investment into the project.
"This is something I don't think anyone expected," Mayor Bloomberg said. "I don't think anyone expected this economic impact."
Related
Popular in the Community