The High Park Fire delivered a devastating blow to residents and firefighters Friday as it grew to 75,537 acres and consumed as many as 10 more homes. Containment -- which firefighters had been gaining on -- fell from 60 percent on Thursday to 45 percent as of Saturday morning.
"We thought the worst was over because they said it was going up Rist Canyon," Judy Devore, resident of Larimer County, told 9News.
But unfortunately conditions got much worse Friday -- The Denver Post reports that the fire, already the most destructive in Colorado history having destroyed a total of at least 201 homes, is now the second largest fire in state history due to Friday's growth -- second only to the 2002 Hayman Fire.
The blaze moved northward after some embers that blew from the main fire sparked a spot fire north of Poudre Canyon -- by Friday evening the spot fire had grown to at least 2,000 acres.
The Larimer County Sheriff's Office ordered 998 evacuation notices to homes in the region.
Under a Red Flag Warning from the National Weather Service -- which went into effect at noon on Friday and remains in effect through Saturday evening -- temperatures rose to 84-degrees in the fire area, gusts blew at more than 30 mph and relative humidity was at only 5 percent.
The fire crossed the Narrows in Poudre Cannyon, The Coloradoan reported, burning through subdivisions in the region. According to InciWeb.org, hot shot crews were attempting a direct attack of the raging spot fire, but due to the intensity and rapid spread both the hot shot crews and engines involved in structure protection in Glacier View had to pull back for safety reasons.
According to InciWeb.org, altogether firefighters have now put in nearly 250,000 hours of work on this fire, almost 18 years worth, with only one reported firefighter injury.
Reporters were given a tour of a burnt out community along Larimer County Road 29C, Missile Silo Road on Wednesday. 9News' Kevin Torres spoke with firefighters in the area who spoke about the devastation and the time it will take for the area to recover -- at least a generation, firefighters said. Patrick Love of the Poudre Fire Authority told Torres, "Most of us will be dead before things look the way they used to."
1,859 firefighters battle the blaze, burning since June 9 and now on its 15th day, with the help of 15 helicopters, 5 heavy air tankers, 135 fire engines and 11 dozers. The cost of the fire to date is $25.5 million.
The massive fire has now burned approximately 117-square-miles -- to put this size into perspective, that's approximately the same size as the cities of Boulder, Broomfield and Fort Collins, Colorado combined.
At 11:53 p.m. Fire officials issued PRE-evacuation orders for the Bonner Peak area, including the area from Springs Ranch Road on Hwy 287, north to CR76H, west to CR37, south to CR74E, south to CR74E and back east to Hwy 287.
At 7:43 p.m. Fire officials issued evacuation orders for residents along County Road 74E from Hewlett Gulch Road east to County Road 37. (6 contacts)
At 7:15 p.m. Fire officials issued an immediate evacuation along Highway 14 from Hewlett Rd and Wild River Rd, east on Hwy 14 to include Falls Creek Dr, all of Poudre Park, Wonderful Place, Ray Shoaf Lane and east to Manners Lane. This includes all homes addressed on the north and south sides of Hwy 14 between Hewlett Rd and Manners Ln. Evacuees are asked to go to Cache la Poudre Middle School and use 80c as the egress road. (159 contacts)
-An evacuation order was issued at 2 p.m. for all of Glacier View, including Kelly Flats Road. Traffic on 74 E is one way to the east. No westbound traffic is allowed past Mile Marker 1. This includes all residents of Glacier View filings 1-8, homes north of County Road 74E to include Green Mountain Dr, Mount Axtell Dr., Mount Moriah Rd., Mount Simon Dr., and all connecting roadways in that area. Residents should evacuate to the Cache la Poudre Middle School at 3515 West County Road 54G LaPorte, Colo. (733 contacts)
PRE-evacuation notifications sent to residents along Colorado Highway 14 from the Pingree Park Road on 6/19, west to Glen Echo (mile marker 90), and north on CR69 to Goodell Corner. The pre-evacuation notice was issued in response to a new spot fire north of Highway 14 along the northwest fire perimeter. The Shoreline Drive area is also in a pre-evacuation.

Evacuation orders remain in place for the following areas:

Mandatory evacuation orders were issued on 6/17 for residents in the Hewlett Gulch subdivision area. The area runs from the Glacier View 9-12 filings (already evacuated) east to the Hewlett Gulch Trail, north to CR 74E and south to HWY 14.
An evacuation order for the 9th, 10th and 11th filings of Glacier View, to include the area west from Eiger Road to Rams Horn Mountain Road and north from the Mount Blanc Guardian Peak area to the north end of Mount Everest Drive, was issued. Evacuations were also ordered along Many Thunders Road and south into the 12th Filing of Glacier View. The road block is located at Eiger and Many Thunders Mountain Road. An additional roadblock is located at Green Mountain Drive at CR 74E.
Pingree Park Road, Hourglass and Comanche reservoirs, east on Buckhorn Road up to and including Pennock Pass, NE to junction with Stove Prairie and Hwy 14; West to junction with Highway 15 and Pingree Park Road
County Road 44H (Buckhorn Road) from County Road 27 to Pennock Pass and residents to the south approximately 3/4 - 1 mile.
Areas south and west of Bellvue to include the Lory State Park area, the Redstone Canyon area and Buckhorn Road up to the Stove Prairie School.
Poudre Canyon from MM111 to MM114 on Highway 14. (Stove Prairie to Hewlett Gulch Trail)
The area between CR 27E and Stove Prairie Road and south through the entire Rist Canyon area including Davis Ranch Road, Whale Rock Road.
South on County Road 44H 3 miles to just north of Stringtown Gulch Road, Paradise Park Road, Moose Horn Lane, Magic Lane and Spencer Mountain Road.
Old Flowers Road from Stove Prairie Road to the 8000-block of Old Flowers Road.
Stove Prairie Road north along County Road 27 to Highway 14, east along Highway 14 to approximately mile marker 111, southeast to Rist Canyon Fire Station 1, then back west to to include Wilderness Ridge Way, Rist Creek Road, Spring Valley Road and County Road 41 and all of the roads that run off it.
Otter Road off of CR 27 (not a new notice; additional listing for clarification).
King's Canyon area and Boyd Gulch Road
Satanka Cove
For official fire maps and live updates from the ground of the many Colorado wildfires currently burning, visit InciWeb.org.
LOOK: Dramatic photos, video of the High Park Fire
Related
Before You Go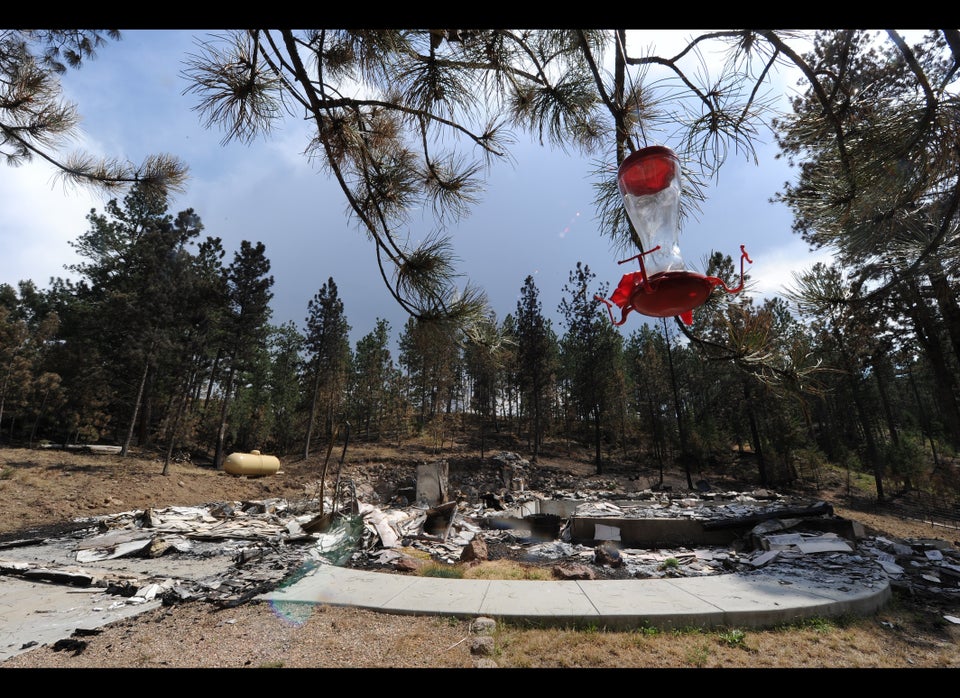 High Park Fire, Northwest Of Fort Collins, Colorado
Popular in the Community