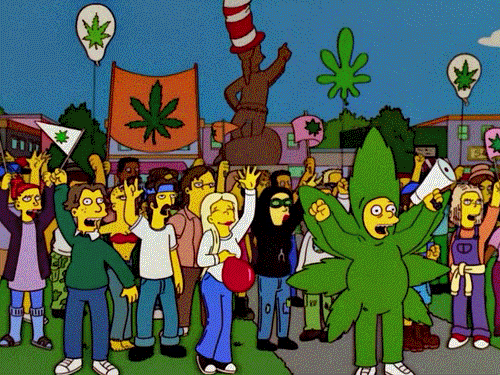 It helps alleviate pain of chronic illness, one of its isolated compounds helps hurry the mending of broken bones, and it makes eating Funyons a transformative experience. But medical marijuana's greatest benefit may be that it prevents numerous cases of pain-killer addiction and death.
A new study released by the University of California-Irvine in conjunction with the RAND corporation, a non-profit global think tank, shows a correlation between states that have legalized marijuana and reduced rates of opioid addiction. They studied treatment admissions for opioid addiction and opioid-related deaths in the eighteen states were pot is legal. They also factored in the impact of dispensaries that were open for business.
In the 18 states that had legalized medical marijuana and established shops, researchers saw a 16-percent drop in opioid-related deaths and a 28-percent drop in opioid-related clinic admissions. Here's the big deal, however: In the six states where doctors could prescribe pot but no dispensaries were open, there was no sign of a drop in either admissions or deaths.
"Using both standard differences-in-differences models as well as synthetic control models, we find that states permitting medical marijuana dispensaries experience a relative decrease in both opioid addictions and opioid overdose deaths compared to states that do not," the researchers wrote in the story abstract. They surmised that the dispensaries didn't cut down on opioid prescriptions, but rather reduced the number of illegally-obtained opioids because they turned to pot instead.
According to the National Institute on Drug Abuse, more than two million Americans suffer from some degree of addiction to opiates such as vicodin or oxycodone. The high number of cases is the result of such factors as the over prescription of painkillers and the fact that many see them as an experience-heightening party drug. Opioids are highly addictive because, among other reasons, they alter brain chemistry. Rehabilitation is a long and intense procedure; backslides are common.
Anti-legalization activists often say that dispensaries create a culture that fosters addiction, what with their easy-to-obtain cards and broad supply of cannabis-infused delicacies. And earlier this year dispensaries were divided on the subject of legalization: Partly for monetary issues, but partly because medicinal dispensaries didn't like what recreational shops would result in. Regardless, this study proves that the very existence of dispensaries encourages would-be pill poppers to seek out other, gentler substances.
Popular in the Community