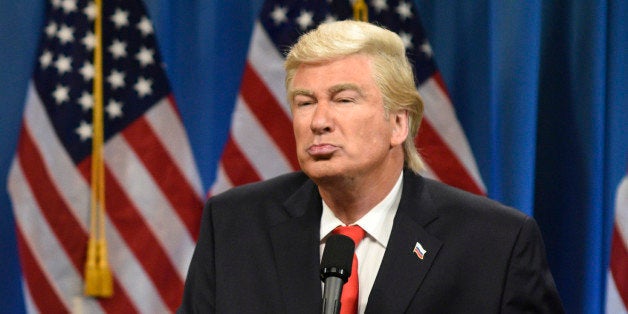 Here's a known fact: President Donald Trump has a very, very fragile ego. There is no limit to his butthurt when challenged or mocked, and if you have a large platform, you're in a unique position to chip away at whatever shred of sanity he has left.
White House sources recently told The Washington Post that Trump became "visibly enraged" after learning the Women's March dwarfed the crowd at his inauguration and that his joyful mood turned into "flashes of anger" less than 24-hours after he took office.
It's also very clear Alec Baldwin has lodged himself under Donald Trump's thin skin, and he's only just getting started. Baldwin's portrayal of Trump on Saturday Night Live is not only awe-inspiring and hysterical, it's the perfect vehicle to showcase much-needed resistance, and most importantly, it drives Trump mad. We all know it drives him mad because he takes the bait and angry-tweets about it every time.
When Congressman John Lewis said he would be boycotting the 2017 inauguration ceremony because Trump's presidency is "illegitimate," Trump responded with another childish tweet saying the civil rights icon was "...all talk, talk, talk - no action or results. Sad!"
Examples of Trump's petty, immature hissy-fits are all over the Internet, and they provide everyone with a glimpse into the kind of prodding that really eats at him. He desperately believes he's entitled to respect, and when he's mocked, ridiculed or challenged, he has a measurable, negative public reaction. If his reaction is private, there are always White House sources ready to spill the beans.
Imagine if ten or twenty high-profile liberals make a daily effort to pick on him. He won't be able to control his rage and that could lead to his ultimate demise.
Whether it's in the form of mocking or unrelenting insistence that his presidency is illegitimate, high-profile personalities hold the key to his undoing. A small, petty man on the inside, Trump behaves like a big, angry schoolyard bully who feels empowered when he brandishes his big stick. However, like all bullies, when he's challenged by ballsy dissenters, he crumbles like a stale taco bowl.
This tactic is not about being mean; it is about giving the bully a taste of his own medicine and crippling his limited ability to focus. The key is to hit him with one thing per day - give or take. It could be a tweet or a Facebook post, or a video. It's about picking one subject that will drive him bananas and then staying on message. It might also be in addition to any kind of legislative pushback or resistance. The sole purpose of this mission would be to get under his skin - much like Baldwin so brilliantly does on SNL, or when Trump was heavily pushing the birther rumor, Bill Maher demanded he provide his birth certificate to prove he isn't part orangutan.
Senators Al Franken (D-MN) Elizabeth Warren (D-Mass), Bernie Sanders (I-VT) Corey Booker (D-NJ), California Lt. Gov. Gavin Newsom and Chicago Mayor Rahm Emanuel are great examples of government officials who can relentlessly troll Trump on a daily basis - whether it's about policy, unconstitutional actions or simply reminding him that his position is not legitimate. Trump and his team provide us with more than enough mock-worthy material to work with, and that makes the task easy!
George Clooney, Rosie O'Donnell, Rose McGowan, Meryl Streep, Jane Fonda, Bill Maher and George Takei all have the unique ability to get under his skin with a simple comment on social media - and their fans will make sure Trump sees all of it. He does love Twitter, you know.
Most of the personalities mentioned have already been outspoken, but I'm suggesting a daily and unrelenting campaign. Whether it's about civil rights, a piece of legislation, or something as silly as his hair, I am calling on our famous, beloved personalities who can, and in my humble opinion should, make the most of their power to help save our wounded democracy and bring down the man who refuses to say one negative thing about his bestie, Vladmir Putin.
Calling all HuffPost superfans!
Sign up for membership to become a founding member and help shape HuffPost's next chapter