Four South Carolina students recently spelled out the word "rape" with spray painted letters on their chests as an apparent joke during a football game for their district's annual Breast Cancer Awareness Night.
The incident occurred during Westside High School's football game Friday against rival high school D.W. Daniel. Kyle Newton, the director of external affairs for the school district, told HuffPost that the four boys (two sophomores and two seniors) were part of a larger group that spelled out "BUMP CANCER" for the awareness event.
"Before the game started, the students essentially started playing scrabble by spelling out different words from 'BUMP CANCER' and taking pictures. One of those was RAPE," Newton told HuffPost in an email. "The principal was informed later that night about what had happened, and worked to identify the students."
The picture of the four boys was shared on Snapchat with the caption "What we do to Daniel," referring to the D.W. Daniel team they were playing.
"Using the threat of rape, even as analogy, is not behavior that any school or any parent should (or hopefully would) condone," the post read. "Rape culture in high school and college is a real threat to many students. The juxtaposition of a violent message with the breast cancer awareness symbology is of particular concern."
"The assumption these young men seem to have made is that their position and privilege allows them to make 'jokes' about rape as a viable threat. We trust that the school administration, the district and the parents involved would never condone either that implicit attitude or the behavior itself," the post continued. "We are puzzled, however, that no action seems to have been taken at the game, when these young men were standing proudly in front of attendees, the teams, and the coaching staff."
The group added that most of the students from Westside High who have seen the photo "seem to be appalled," which it found "encouraging."
All four students and their parents met with the administration Monday morning and were informed of their punishment, Newton said. Due to privacy concerns, the school district is not disclosing how the students were punished.
"We are very disappointed in their actions," Newton said. "At best, what they did was extremely offensive ― at worst it could be traumatic to those who have suffered sexual assault. There is no place in any school or in any community for those types of actions."
Related
Before You Go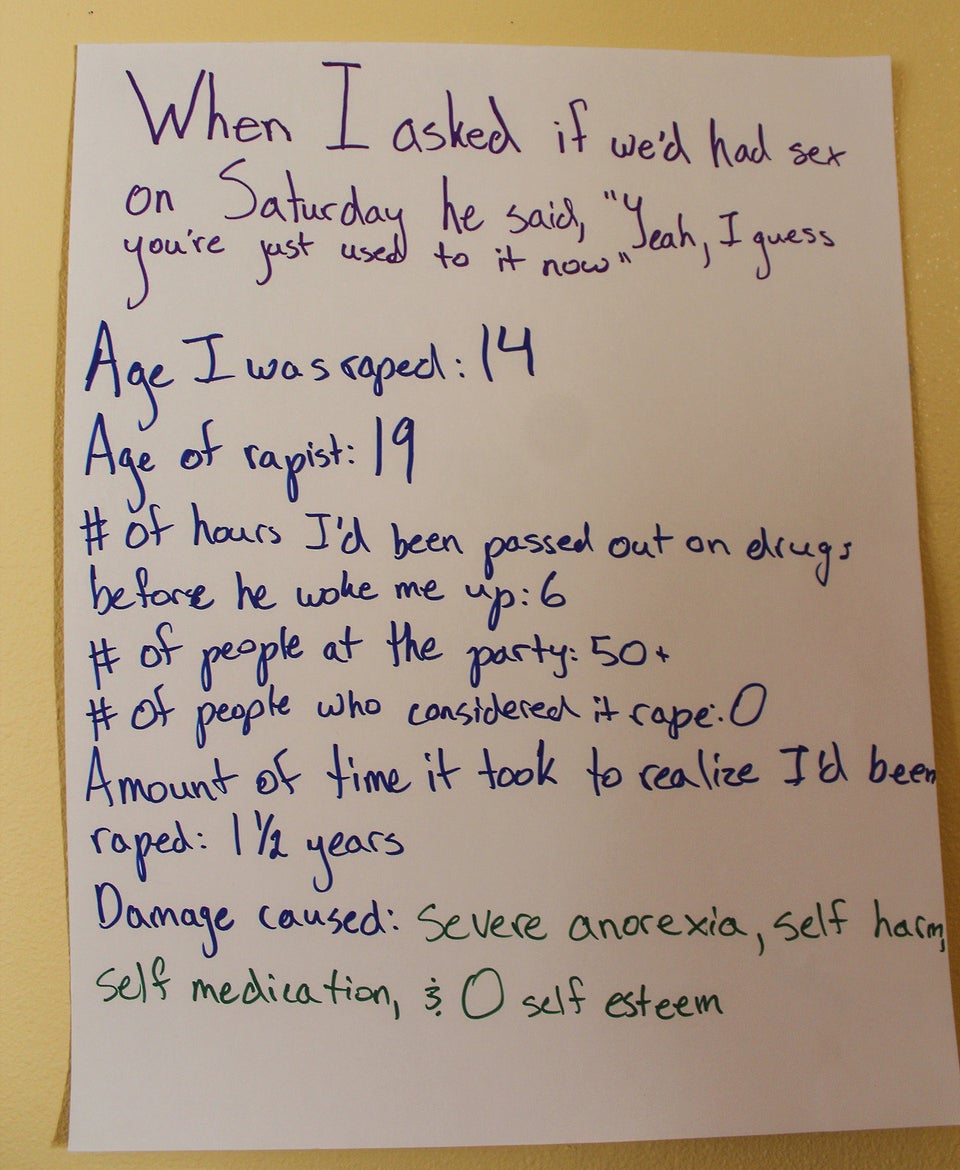 Images From 'Surviving In Numbers' -- A Project Highlighting Sexual Assault Survivors' Experiences
Popular in the Community