1. Scott, you have been a filmmaker for quite a while and I'm sure you have used some very high end systems. For this particular video though you used the Canon 80D. For those who are aspiring filmmakers looking for their next camera system and intimidated with the price and difficulties of high end systems such as RED, Canon 300's, and Sony FS7's, do you think cameras like the Canon 80D represent a new starting point for videographers looking at getting in to the industry and creating videos?
There is no doubt that cameras like the 80D are going to be the new starting point for young filmmakers. The 80D specifically delivers so many high end specs that filmmakers look for in a camera, and at such a reasonable price point. Not to mention how easy and user friendly the camera is - it's certainly a great starting point for emerging filmmakers and photographers.

2. One of the key features of the Canon 80D is the dual pixel autofocus system which pairs nicely with the articulating touch screen. Did you spend any time using the autofocus system on the 80D and if so, what are some of your thoughts?
The dual pixel auto focus is easily one of my favorite features. I put the AF to work constantly when using the camera for vlogs and behind the scenes work because it's perfect for those run and gun scenarios. It's so fast and so accurate it's mind blowing. When I used the 80D on my latest High Dance Battle video, I decided to use it on some of the dance sequences, paired with Canon's 18-135 zoom lens. Again, I was blown away by how accurate and fast it was. Many of those shots used with the auto focus ended up in the final film.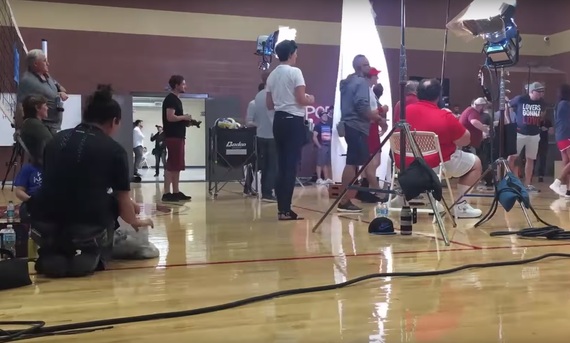 3. Canon is not only a great camera company, they also make great lenses. In addition, the Canon EOS Lens mount is a popular mount for some amazing lenses from other camera manufactures as well as Canon's own Cine line. What lenses did you use for this project and why.
So I really wanted to test the 80D's limitations on the lens side as well. So I used everything from the 18-135 kit lens that comes with the 80D, all the way through Canon's high end cine lenses. The camera performed incredibly well under all scenarios but I was absolutely blown away by the image quality the camera produced when the cine lenses were on. One of my main setups was the 80D with a 35 mm or 24 mm cine lens and a MoVi M10. This was my main workhorse setup that covered a lot of the narrative portions of the movie. My second setup was on a tripod with the 80D with the 18-135 zoom and the servo power adapter to turn the zoom lens into a motorized servo zoom. I loved this setup for the quick action/dance scenes where I relied on snap zooms and fast focus pulls (via the auto focus and touch screen). For the final shot of the film where everyone dances together, I decided to jump onto Canon's 16-35 L Series on the MoVi to get a little bit wider and have more range in movement. This setup worked perfectly.

4. One potential limitation of the Canon 80D is the inability to shoot 4k. In your experience, do you see this as an issue and do you think there is a need to shoot in 4k?
Truthfully, I find that 4K is the direction digital filmmaking is heading. 6K, 8K, and so on will eventually be important as well. But right now everything is moving 4K. Cameras, monitors, TV's, etc. While the 80D has many strengths, if Canon were to add the ability to shoot 4k I think it would be an even greater game changing camera. It already is for young filmmakers on a budget, but 4K opens up a lot of possibilities. For instance, I try and shoot all of my content in 4K because I want my footage to be viewed in higher resolutions on bigger screens because I put so much focus on shooting high quality content. I also license my footage for companies to showcase 4K and that's become an important part of why I shoot such high resolution.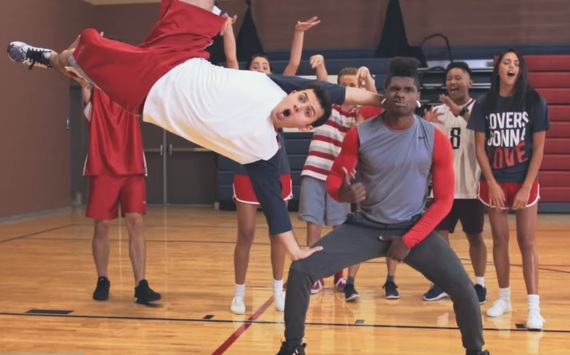 5. The Canon 80D is a very compact camera and lightweight as well, especially compared to many of the higher end camera systems you typically shoot with. How did this alter your setup and did working with a compact 80D allow you different options such as gimbals and creative shots that would have been more difficult with a larger setup?
Shooting on such a lightweight camera definitely opened up a lot of possibilities. Having such a lightweight setup meant I could shoot longer takes, try more creative moves and ultimately it just sped up my entire process. What would have been a 10-12 hour shoot, turned into a 7 hour shoot because of how quickly and smoothly everything went. This was definitely due to the fact that the 80D was a very fast camera to setup and ultra lightweight. I tried a crazy shot at the end of the film where after the group dance I tilt up to the ceiling and spin 360 degrees and land back on the ground where the dancers are now in a whole new setup. This never would have been possible on a heavier cinema grade camera. Shots like that made the film so much more unique and creative in my opinion.
REAL LIFE. REAL NEWS. REAL VOICES.
Help us tell more of the stories that matter from voices that too often remain unheard.