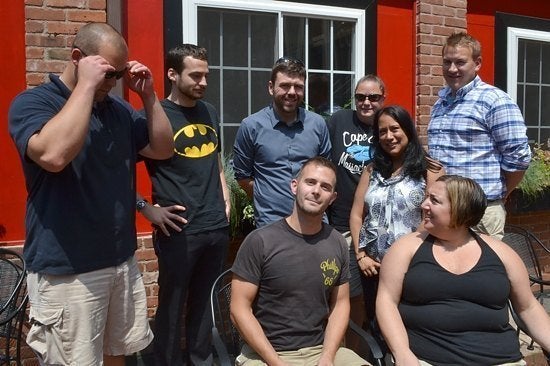 New Haven's turning one of its low-performing schools over to its teachers and the teachers' union in an experiment that shatters traditional definitions of American school reform.
Officials announced the news at a Wednesday afternoon press conference at High School in the Community (HSC).
Meanwhile, news swirled around the school as teachers found out their fate. All 31 teachers at the school had to reapply for their jobs. On Wednesday, some 21 teachers won the right to stay; the rest were guaranteed jobs elsewhere within the district.
Moods were mixed around the hallways.
A crew of younger teachers said they're looking forward to the flexibility to write their own curricula and continue working as a team.
Veteran calculus teacher Rob Orciuch refused to reapply for his job: After 32 years of teaching, he said, "I have to sit and beg for my job? I'm not going to take it." He'll be sent to work at another school.
The changes are taking place as HSC becomes New Haven's sixth "turnaround" school. (One, Hill Central, is technically a federally sanctioned "turnaround," not part of the city plan.) As part of the city's school reform drive, New Haven has designated some lower-performing schools as "turnarounds" in order almost to start from scratch and try new ideas. School leaders can change strict work rules that apply at traditional schools.
Labor unions nationally have cast a wary eye on such experiments, including those that turn control to charter organizations (as New Haven did with Roberto Clemente Academy). In fact, the city's local teachers union president, Dave Cicarella, had previously asked the city to take a "time out" this year from naming new turnarounds.
However, in the case of HSC, the city is turning management of the school over to the union itself, the New Haven Federation of Teachers.
The move reflects New Haven's effort to include teachers and their union in school reform experiments rather than fight with them. The union's national parent, the American Federation of Teachers, played a direct role in striking a landmark 2009 labor contract with the city that allowed for changes like a new evaluation system for instructors and administrators and a streamlined method for getting rid of failing teachers. Both city leaders and national AFT President Randi Weingarten have tried to make New Haven an example of how school systems and unions can work together rather than fight each other to change and improve public education.
The HSC announcement also represents a return to roots of sorts for the national union. The late longtime AFT President Albert Shanker and his union were the original proponents of charter schools as a method of allowing experimentation in public education. But then unions largely became critics of charters when they concluded that corporate interests were using the idea to eliminate teachers' rights and input into how schools are run.
Weingarten wasn't at Wednesday's announcement. She contributed this comment to the official press release: "Today's announcement continues New Haven's commitment to put educators and school support staff at the center of decisions."
"This is an exciting opportunity to have the school run by those who know how to do it best, the teachers," stated AFT Connecticut President Sharon Palmer.
Teachers have had a lot of say in how HSC runs since its founding more than four decades ago as an experimental school. (The word back then was "alternative.") It has always been teacher-run, at least day to day, in some fashion. At times teachers have rotated as HSC's "facilitator," rather than principal. The early versions of the school became the subject of a book by a former HSC teacher-turned academic named Edison J. Trickett.
Going forward the word at HSC will be "turnaround." And some new ideas will be tested.
Such as: Having students move from stage to stage of their education when they're ready. Not just graduating from one year--freshman, sophomore, etc.--to the next.
At the end of each stage, students will compile "portfolios" of their work. When those portfolios are deemed indicative of mastering their level of education, the students will then move to the next stage. They may be in high school three years, or six years, instead of the usual four. They'll graduate when they're ready.
HSC will adopt a law and social justice theme. It will invite law firms and law schools to participate in the program.
Chris Kafoglis, a math teacher for eight years at Wilbur Cross High, will join HSC in a new position of "chief academic officer." He'll work with the current leadership of the school, teachers Erik Good and Paulette Jackson, who have taken on the roles usually performed by a principal.
Union President Cicarella noted that while some charter schools hand-pick their students, HSC will keep its current students. Because the school is a magnet, students are admitted through a lottery.
Cicarella said he knows of eight or nine union-run schools nationwide, including in Denver and New York City. In running its own school, the union is returning to the roots of charter schools, he said: "Charter schools were made to be an incubator of change"--not a separate system that creams kids from the traditional district.
To allow for the turnaround, union leadership and the district will sign a special Memorandum of Understanding outlining the terms of running the school.
TEACHERS WELCOME FLEXIBILITY
Teachers at HSC said they voted on the upcoming changes in a staff meeting; all but one teacher voted yes.
"It's a natural fit for us--we've always been a teacher-run school," said math teacher Riley Gibbs.
Wayne Austin, who also teaches math, said he is looking forward to greater flexibility: Teachers will be write their own curriculum, within the bounds of state law, instead of answering to the district's central office. "We'll be more in charge of what kids are learning."
Austin pulled out a timeline of HSC's history. The school was founded by teachers at Hillhouse frustrated with their administration. It opened as a "school without walls" in a firehouse with 100 students.
"Now we're writing the next chapter," he said.
Some turnarounds are "thinly veiled effort to get funds," noted science teacher Paul Jones. He said teachers understood that if they wanted extra resources, "we'd have to make a change."
After Wednesday, their final paid day of the school year, some teachers who are staying at HSC gathered at O'Toole's bar downtown for an end-of-year celebration.
Stephen Zepecki, who's in his first year at HSC and sixth year teaching, said he decided to stay at the school "because of how cohesive the staff is." Teachers communicate well and work as a team, he said.
Veteran math teacher Rob Orciuch declined the invitation stay under the new HSC regime. He returned to his classroom, where he was playing classic rock and packing up his classroom. He straightened out a picture of Yankees great Mickey Mantle on his board. Mickey would remain; the rest of his stuff would follow him wherever he ends up next.
Orciuch has taught for 14 years at HSC, at times serving as the school's business manager and disciplinarian. He said he knows why HSC was the only school to sink in its ranking this year, falling from Tier II to Tier III (out of three tiers in which New Haven ranks schools). Orciuch said over the years the student population at HSC has changed; kids are less prepared now when they enter the door. More kids in his calculus class enter with poor literacy skills, he said: "They can't read the problem."
"I'm not saying some of the teachers aren't culpable," he said, but he feels teachers are unfairly blamed.
"That's why we had to reapply," he said. "I'm not going to take it."
Orciuch said he'd rather try serve out the rest of his career at another high school than be blamed for low test scores. He said he feels bad for the teachers who reapplied for their jobs. Of the 10 who are leaving, three or four reapplied and were not asked back; two decided not to interview; and the rest are retiring, according to school officials.
On his way out the building from the press conference, President Cicarella came across one of those teachers not asked back.
"Good luck with your school," she said.
Officials also announced at Wednesday's press conference that HSC will formally apply to become part of the state education commissioner's new "network" of struggling schools to get special attention and help. The commissioner in question is Stefan Pryor, a former New Haven City Hall aide who helped found the Amistad charter school in town.
If accepted into the network, HSC stands to receive up to an extra $2 million over three years.
Commissioner Pryor plans to pick up "a small number" of schools to debut as turnarounds in the fall, and up to 25 over three years. So far New Haven is one of nine school districts that have expressed interest in becoming part of the network.
State Sen. Toni Harp revealed Wednesday that legislators added a special note into a 468-page catch-all "implementer" bill approved in special session last week to make sure New Haven was in the running.
The state's sweeping education reform bill, which paved the way for state-sanctioned turnarounds, enabled outside not-for-profits to run the schools--but left it unclear as to whether a teachers union would be allowed to do so. Harp said the legislature cleared up that ambiguity in the implementer bill.
With that "ambiguity" cleared up, HSC has a good chance of winning approval, according to Senate Majority Leader Martin Looney.
"We expect that a school in New Haven will be one of the early identified schools in the network," said Looney, who represents New Haven.
New Haven school reform czar Garth Harris said while the teachers contract stipulates that the city announce turnarounds by March 15, "the state legislation was an opportunity we couldn't pass."
Related
Popular in the Community