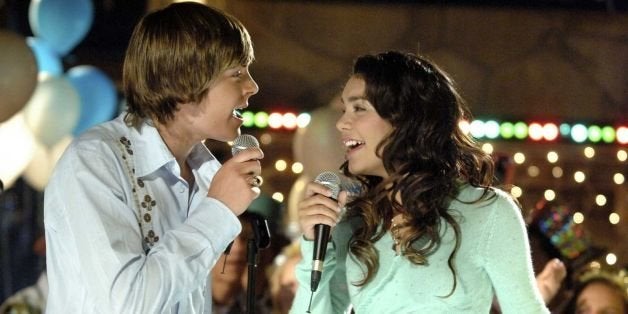 Every fan of the "High School Musical" trilogy clutched their pom poms earlier this week when Zac Efron (aka Troy Bolton, duh) said he would be up for a reunion movie.
So as we anxiously await the inevitable "High School Reunion Musical" movie, we decided to dust off our Wildcats jerseys and grade all of the musical numbers from the first three movies from F to A+ (and we didn't include reprises because there are only so many hours in the school day):
30. "Humuhumunukunukuapua'a" ("HSM 2")
Points for costumes, but all in all forgettable.
29. "What I've Been Looking For" ("HSM 1")
A little too cute.
28. "We're All In This Together (Graduation Remix)" ("HSM 3")
Nice and sentimental, but nowhere near as good as the original.
27. "When There Was Me And You" ("HSM 1")
The least memorable of Gabriella's (Vanessa Hudgens) confessional solo numbers.
26. "The Boys Are Back" ("HSM 3")
Troy and Chad (Corbin Bleu) dancing around a junkyard. That's really all you need to know.
25. "Now or Never" ("HSM 3")
The opening number to third movie is epic, but there are better basketball numbers ahead.
24. "Fabulous" ("HSM 2")
There's a pink piano in a pool. 'Nuff said.
23. "Work It Out" ("HSM 2")
The best you can do with a song about a Summer job.
22. "Scream" ("HSM 3")
Troy is frustrated ... so he angry dances around his high school at night.
21. "Get'cha Head in the Game" ("HSM 1")
The song that introduced us to the Wildcats.
20. "Senior Year Spring Musical" ("HSM 3")
A medley of songs from the movie you're already watching? Okay.
19. "You Are the Music In Me" ("HSM 2")
Just a nice, sweet duet between Troy and Gabriella
18. "All For One" ("HSM 2")
The most epic of epic pool parties.
17. "Start of Something New" ("HSM 1")
Literally just a karaoke duet, but our first introduction to Troy and Gabriella.
16. "Walk Away" ("HSM 3")
Also known as Gabriella's moving away montage song.
15. "Right Here Right Now" ("HSM 3")
Treehouse love duet alert!
14. "Everyday" ("HSM 2")
The "Breaking Free" of "HSM 2." Obviously not as good, but still pretty great.
13. "Can I Have This Dance?" ("HSM 3")
Who doesn't want to be part of a rooftop garden dance sequence?
12. "Bop to the Top" ("HSM 1")
Another Sharpay-Ryan number but this one is catchy as hell.
11. "Stick to the Status Quo" ("HSM 1")
We doubt your school cafeteria was this much fun.
10. "High School Musical" ("HSM 3")
Basically the theme song for the entire series. Ends the trilogy on a high note.
9. "I Want It All" ("HSM 3")
The best of the Sharpay-Ryan numbers. Plus the budget for this sequence alone is more than the entire first movie's.
8. "Just Wanna Be With You (Final Performance)" ("HSM 3")
Troy and Gabriella show their love in the school musical. So. Meta.
7. "Gotta Go My Own Way" ("HSM 2")
The best of the Gabriella confessional numbers.
6. "A Night to Remember" ("HSM 3")
Ranks as one of the best prom musical numbers ever.
5. "Bet On It" ("HSM 2")
A number set on a golf course should not be this good.
4. "I Don't Dance" ("HSM 2")
Dancing and baseball? Home run on this one.
3. "We're All In This Together" ("HSM 1")
The message of all the movies is summed up in this earworm of a song.
2. "What Time Is It?" ("HSM 2")
An over the top and glorious way to convey the feelings of the last day of school before Summer vacation.
1. "Breaking Free" ("HSM 1")
No crazy dance routines or elaborate sets. This rousing number is just Troy and Gabriella, but it perfectly sums up the potential of youth and young love.
REAL LIFE. REAL NEWS. REAL VOICES.
Help us tell more of the stories that matter from voices that too often remain unheard.
BEFORE YOU GO