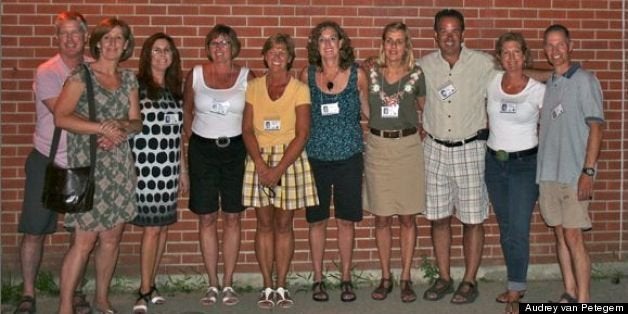 We are coming up to the season of high school reunions. Have you ever gone to a high school reunion? I think back about my 10-year high school reunion and remember how it was all about what we were doing with our lives, what college we had gone to, where we were living and the career paths we chose. I was thinking that going to a high school reunion in my 50s would be somewhat the same.
Last year I went to my 32nd high school reunion and I was so off base about what it was going to be like! My friend, Heather, put it beautifully, "Combining turning 50 and a [high school] reunion provides an opportunity to reflect on who we were, see more clearly who we are and once again choose who we wish to be.... It has taken us this long to feel comfortable in our bodies even if the roots are grey, the laugh lines are carved a little deeper and we keep patting our head looking for our glasses."
And that is just it -- I am sure everyone tried to lose a few pounds, bought some new clothes and came looking their best, but that was so not the focus of the whole reunion. It was to see people who knew you when you really did not even know yourself and seeing you for who you now are. I was able to connect with friends from long ago and I am so glad I did. Some of these people were a big part of growing up and helped make me who I am today. For that I am thankful.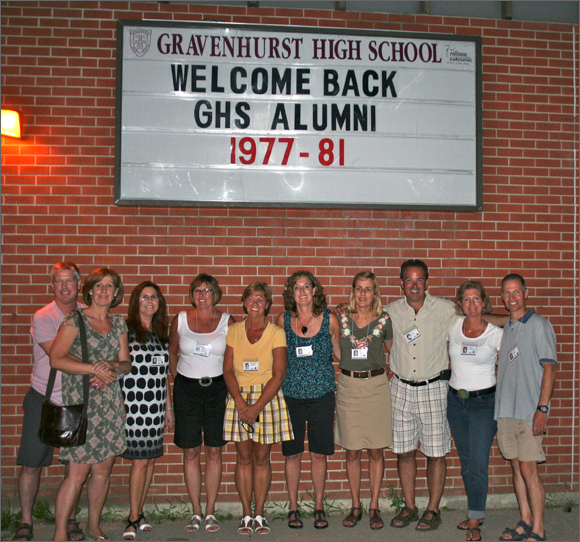 My friend Dave (far left) shared with me years ago a passage and I believe it sums up this high school reunion beautifully.
When someone is in your life for a REASON, it is usually to meet a need you have expressed outwardly or inwardly. They have come to assist you through a difficulty, to provide you with guidance and support, to aid you physically, emotionally, or spiritually. They may seem like a godsend, and they are. They are there for the reason you need them to be. Then, without any wrongdoing on your part or at an inconvenient time, this person will say or do something to bring the relationship to an end. Sometimes they die. Sometimes they walk away. Sometimes they act up or out and force you to take a stand. What we must realize is that our need has been met, our desire fulfilled; their work is done. The prayer you sent up has been answered and it is now time to move on.
When people come into your life for a SEASON, it is because your turn has come to share, grow, or learn. They may bring you an experience of peace or make you laugh. They may teach you something you have never done. They usually give you an unbelievable amount of joy. Believe it! It is real! But, only for a season.
LIFETIME relationships teach you lifetime lessons; those things you must build upon in order to have a solid emotional foundation. Your job is to accept the lesson, love the person/people (anyway); and put what you have learned to use in all other relationships and areas of your life. It is said that love is blind but friendship is clairvoyant. - Author Unknown

Dave reminded me of this in his toast at the reunion, "This weekend provides the "reason", and those who are here give us the "season", but hopefully many of you will remain in my "lifetime" of friends." So perfectly stated. I did rekindle friendships that I thought were only high school friendships. And it simply feels wonderful!
Here are some other thoughts from some grads about the reunion:
We could not wait to leave this place and now you can't get us out of here.
Seeing people for the first time in 32 years and quickly feeling like I had only been away a couple of weeks... sharing a special bond that only our GHS mates could provide.
Talking to everyone both old friends and people I did not know in high school and enjoying it all equally... no more cliques, no pettiness, nothing but friendship and joy.
I'm so proud of our class. We were the best ever.
I think that I will need a liver detox. But it was well worth it to see everyone. I don't know if it was possible to have cried more from emotion or laughing.
It did the "soul" good to reconnect with people you shared a past with and who helped shape who you are! We were all so lucky to have had what we did in each other and our teachers! Our experiences shape who we are.
What a wonderful weekend. Start to finish, it was a blast. Words can not explain how much this meant to me.
Our Principal, John Brownlee's toast to "great memories, rekindled friendships and the best class of GHS." (I think he says that at all the reunions)
The tribute to all those teachers and student who have passed.
People we could not track down through all our resources but who showed up anyway.
The incredibly beautiful women in our class (I particularly liked this comment, ahem!)
Seeing The Reverend Simmons on the boat cruise and offering to hear my confessions (I had to decline as we only had 2 hours).
DANCING DANCING DANCING!!!
Affirming old friendships and creating new ones that will last a lifetime.
Hearing people's facial expressions (gasps, yells) as they reconnected with people they have not seen since high school.
Seeing everyone smiling, laughing and crying with joy all weekend.
Not wanting it to end.
"When does the planning start for the Depends reunion?"
It is during our high school years that our friends become critical in shaping who we are. This is the reason why high school reunions are so popular. But my advice would be, forget about going to one shortly after you are out of high school. Everyone is too focused on themselves and still comparing themselves with everyone else. Go to a high school reunion when you are in your 50s, 60s and beyond. You will have a lot more fun and no one cares what you do for a living, where you live and, most definitely, what college you went to. All anyone cares about is hearing your life stories, to share in your sorrows as well as your joys, and to simply reminisce.
It's a beautiful thing, this growing older stuff.
PHOTO GALLERY
Milestones Through the Years
Calling all HuffPost superfans!
Sign up for membership to become a founding member and help shape HuffPost's next chapter