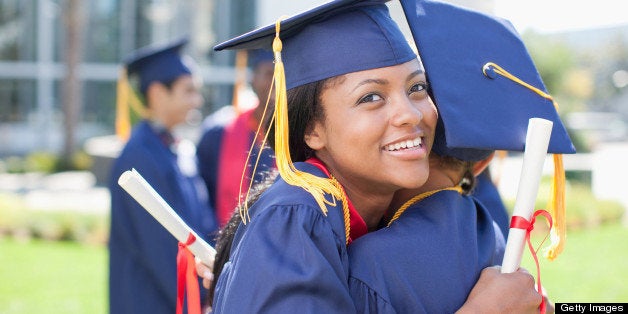 Congratulations pre-collegiettes! You're almost out of high school and on to bigger and better things! But before you figure out your arrangements for next year and start meeting your future peers, there are a couple of loose ends you need to tie up at the end of your high school career!
1. Write thank-you notes to your teachers
This is especially important for teachers who wrote you recommendations letters for college. Teachers are often underappreciated, and they'll be happy to know they made an impact in a student's life!
Claire O'Connell, a freshman at Wesleyan University, suggests making these letters personal. "Give genuine expressions of gratitude to these teachers instead of tacky, generic messages that come in Hallmark cards." List specific times when a teacher has helped you over the years, like when they went over essays with you after class or helped you during a tough time academically or personally.
Katelyn Lanier-Moylan, also a freshman at Wesleyan University, has another vital piece of advice. "Don't write hate notes! A disliked teacher at my high school received an anonymous hate note at the end of senior year, and [my classmates and I] felt terrible. Even though we weren't huge fans of his teaching style, he was still trying really hard and didn't deserve something so mean!"
By the end of high school, you may have some beef with a couple of friends (or frenemies, for that matter). If you're up for it, talk to them and figure out what went wrong. You don't want to go to college with baggage. Clearing the air will make you feel lighter and more ready to take on the life that's ahead of you!
Katelyn explains that there are two ways to really deal with tension at the end of your senior year. "Either make amends, or decide that it's not worth your time and just move on from it. This is really depends on the situation, but you should try to clean everything up by the end of high school!"
If you feel like it would provide closure, Claire definitely recommends talking to people you had issues with in the past. "The point of the conversation shouldn't be to hash out old arguments but to get to a place of mutual understanding and resolve. For example, if someone excluded you from your group's get-togethers last year, don't say, 'You messed up, you were so exclusive and mean!' Be constructive and show a willingness to move forward. Instead, try saying something about how you feel like, 'I felt hurt and excluded from the group last year, but I definitely want to move past it and for us to be on good terms.' Then, listen to what the other person has to say!"
3. Show your friends you care
The weeks leading up to graduation may be the last time your close friends are all together. Many people leave for vacation or a college summer session right after high school ends, and you might not get to see them then for a while.
Katelyn recommends creating small but meaningful gifts for your friends, like homemade, Pinterest-worthy trinkets. "I gave all of my closest friends gifts at the end of the year, most of which were pictures in cute handmade frames. It's an easy, cheap way to show them that you care! They're also great because your friends can take them to college!" Other gift ideas that can be dorm-room ready? Make a colorful pillowcase, or decorate a storage drawer or other small piece of furniture!
Claire ends her advice on getting closure with a final note. "You do not have to be best friends after making up with someone! But just try to be on good terms with everybody, especially when there are so many festivities and occasions when you have to see people at the end of school!"
Calling all HuffPost superfans!
Sign up for membership to become a founding member and help shape HuffPost's next chapter
BEFORE YOU GO
PHOTO GALLERY
Feminist Colleges