Heidi Peterson arrived at Pinnacle High School in Phoenix on Oct. 11, 2014, to pick up her daughter, who we'll call Carly, from a school dance. She couldn't find her.
As Peterson and school staff searched, the 16-year-old, who has special needs, appeared at Peterson's truck with skinned knees and dirt on her face. Peterson said she questioned her daughter about what happened to her, and she replied, "Mom, he told me to stick his penis in my vagina." Peterson was in shock.
"I thought I was going to pass out," Peterson told The Huffington Post. She said Carly was quiet and appeared confused about what had happened to her during the dance.
Peterson alerted a police officer stationed at the school, and additional officers were called. Carly showed her mother, an assistant principal and the officers where the incident had taken place, which was near a concrete barrier by the football field. Peterson then took her daughter to have a forensic examination and get a rape kit done -- which included medical personnel taking bodily fluid, hair and fiber samples from her underwear, as well as taking photographs.
During the Phoenix Police Department investigation Carly told interviewers that she and a boy went outside during the dance and "humped," and had both oral and vaginal sex, but she wasn't sure about the boy's identity other than that he was a student. The girl had a feeling "that this was not going to be good" when she went outside with the boy, according to the police report on her case. Carly described to investigators that she told the boy "no," and that she wanted to go back to the dance, but she wasn't sure if he might have had a weapon on him.
Pinnacle officials did not inform students or parents that a student had allegedly been sexually assaulted during a school event, at a location adjacent to school property. "That was a huge problem for me," Peterson said. The school also did not start its own investigation to find out who the boy involved was, Peterson alleged in a complaint she filed with the Department of Education one year after the alleged assault.
In February 2015, a detective from the Phoenix police called Peterson after months of investigating to tell her the lab results found that there was semen on her daughter's underwear, according to a recording of the phone conversation. The police said, however, they did not have enough evidence to support a charge of sexual assault, even though the boy hadn't been identified and so they hadn't interviewed him. "This case can be reopened if new information becomes available," the police report said.
Having exhausted all of her options with the cops, Peterson wanted to invoke protection for her daughter -- under the federal gender equity law Title IX -- to have Pinnacle take action to ensure she wouldn't encounter her alleged assailant.
High schools clearly do not have the same investigative abilities as law enforcement. Yet under Title IX, schools receiving federal funding must eliminate a hostile environment stemming from gender-based violence. And the Education Department has told schools since at least the Clinton administration that a single incident of severe sexual harassment -- such as an assault -- can constitute a hostile environment. So when a high school gets a report of a student-on-student assault, it's typically supposed to do its own investigation.
While police records show Pinnacle officials cooperated with the criminal investigation, Peterson maintains the school did not look into it on their own. In April 2015, a 16-year-old boy came forward to school officials and admitted he'd had sex with Carly, who her mother said has the intellect of a 12-year-old, but insisted it was consensual. The school told the police, who interviewed the boy. He told the police the same thing he told the school, that he and Carly had had consensual sex. The police decided to keep the case closed.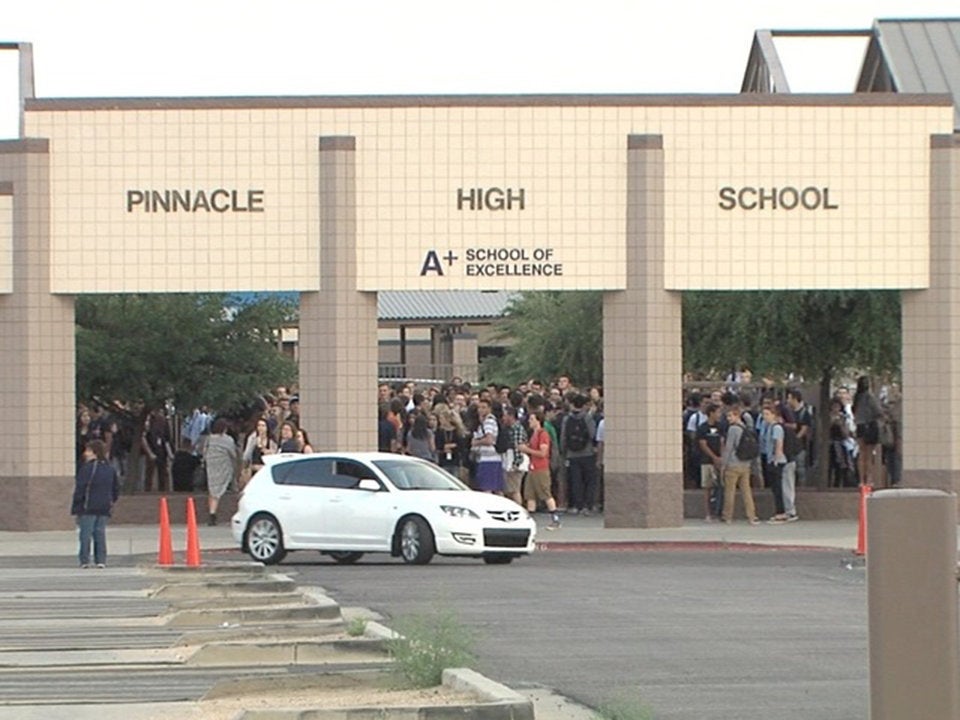 The police told Peterson, she said, but no one from Pinnacle called her directly to let her know that the boy had broken his silence. Speaking for Pinnacle, the Paradise Valley Unified School District declined to say if they ever punished the boy, but said in a statement that it "followed all proper protocols." They added that the school has "had nothing but the best interest of the student in mind." Peterson said she opted to transfer Carly out of the school in the fall of 2015 as she lost faith that officials had her daughter's best interests at heart.
The Education Department's Office for Civil Rights opened an investigation into Pinnacle in January over the handling of this case, but the school hasn't told the community or parents. The school district told HuffPost in a statement that Pinnacle might tell the community about the investigation when it's completed, "if it makes sense to do so."
Rising Number Of Sexual Assault Investigations
For all the national scrutiny of colleges mishandling rape cases, advocates working on the issue frequently say high schools "are in the dark ages" in comparison, and federal officials are taking notice.
The Education Department's Office for Civil Rights has opened 210 investigations into higher education institutions' handling of sexual assault cases, up from 55 in May 2014. But over roughly the same period, the number of K-12 schools and school districts under similar investigations by federal officials has climbed from 23 in July 2014 to 83 as of this month, including Pinnacle.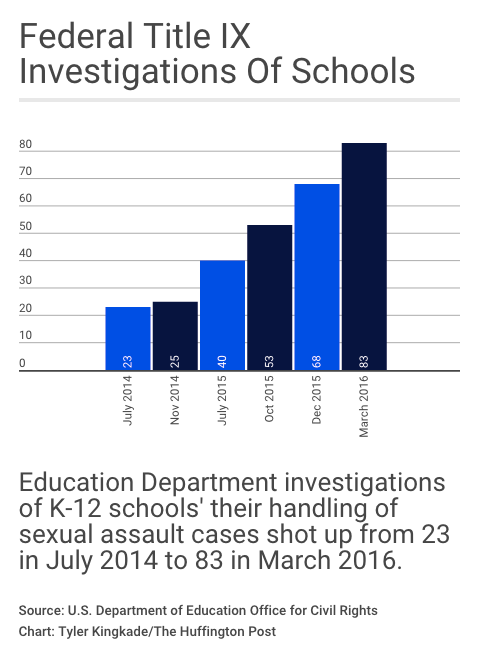 On Friday, a group of advocacy organizations, including the National Women's Law Center, Girls Inc., the American Association of University Women and Stop Sexual Assault In Schools, are meeting with White House officials to make recommendations for how to address sexual violence at the K-12 level.
"However bad you think that a college campus' lack of accountability is on these cases," said Colby Bruno, senior legal counsel at the Victim Rights Law Center in Boston, "I think go back 15 years before and that's what you're looking at for high schools."
A common complaint in a number of cases nationwide that were reviewed by HuffPost -- through interviews, confidential complaints, open records requests and in police and court documents -- is that high schools fail to look into reports of student-on-student sexual assault cases at all. Some schools explain this by stating they won't take any action against an accused perpetrator unless police tell them a crime was committed, though experts say this runs counter to federal law under Title IX.
"It's about preserving everybody's right to an education free from discrimination, and that's a very different process than the criminal process and the standards are different," noted Neena Chaudhry, an attorney with the National Women's Law Center. But many schools do not even know who on their staff is in charge of Title IX, according to NWLC.
Title IX is over 40 years old and hasn't changed. The Supreme Court affirmed in a landmark 1999 case that schools must address student-on-student harassment under the law, with sexual assault considered the most egregious form of harassment. The Education Department's Office for Civil Rights issued guidance in 2010 and 2014 further stating what schools should do in cases of student-on-student sexual harassment or assault.
At a minimum, the school should ensure an alleged victim and their accused assailant do not come in contact with each other, and any ongoing bullying related to an allegation of assault should be stopped too. Schools can also conduct their own investigations and discipline a student as it deems necessary, which may include suspending or expelling them.
As the Education Department put it in a 2014 document, "even if a criminal investigation is ongoing, a school must still conduct its own Title IX investigation."
"However bad you think that a college campus' lack of accountability is on sexual assault ... go back 15 years before and that's what you're looking at for high schools.""
At North Central High School in rural Indiana, the principal told one girl's family they would wait until the criminal investigation was done "to determine our course of action." That girl, who we'll call Hannah, reported to police on Nov. 5, 2015, that two boys at the school raped her the previous December. One of the boys was also accused of sexually assaulting another student, who we'll call Ashley, a few months earlier, in May 2014. Ashley filed her police report in September 2015.
When Hannah's family pressed to have North Central at least put the boy on social probation, so that they wouldn't see him at after-school activities, the principal responded in a Nov. 24 email, "we are prohibited from restricting anyone's attendance" at those events until they got more information from police. The other boy accused by Hannah had dropped out of school before prior to her report to the police.
The Sullivan County prosecutor in Indiana declined multiple requests for comment, but both girls families said his office has told them their cases are still open.
"I just honestly wish he'd get arrested," Hannah said in an interview, speaking of the boy still in school. "I mean that's the law, if you rape someone you should be arrested for it."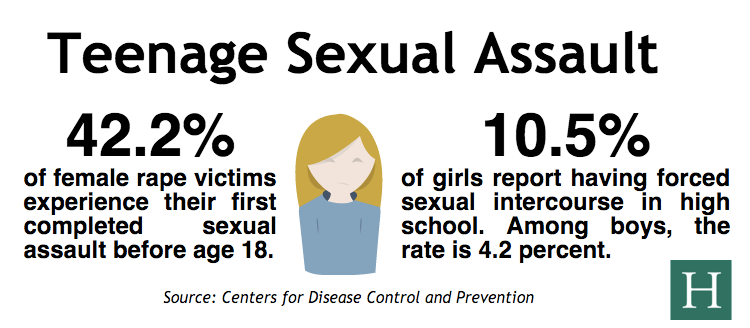 "I totally understand the inclination to say, 'Oh that's a police matter, we're going to sit back and wait,' but that's a pretty fundamental point that folks have to understand," said Abby Raphael, a former prosecutor who served as a school board member in Arlington, Virginia, for eight years. Schools can begin their own investigation and issue any sanctions they deem appropriate, regardless of what law enforcement is doing, Raphael noted.
Hannah and Ashley's families say the burden was placed on them to rearrange their schedules by taking some classes after school or at home, rather than moving the accused into a different schedule. They also say they were subjected to ongoing bullying from classmates, who sided with the boys accused of sexual assault.
The Education Department opened a Title IX investigation of North Central in January, as a result of Hannah's family filing a complaint with the Department against the school. The school declined repeatedly to comment for this story.
"Like so many K-12 schools, this Indiana district was uninformed about its Title IX responsibilities," said Esther Warkov, a co-founder of the activist group Stop Sexual Assaults In Schools, which helped file the complaint against North Central. "It failed to realize that a report of sexual violence is not only a criminal matter: it's also a civil rights matter."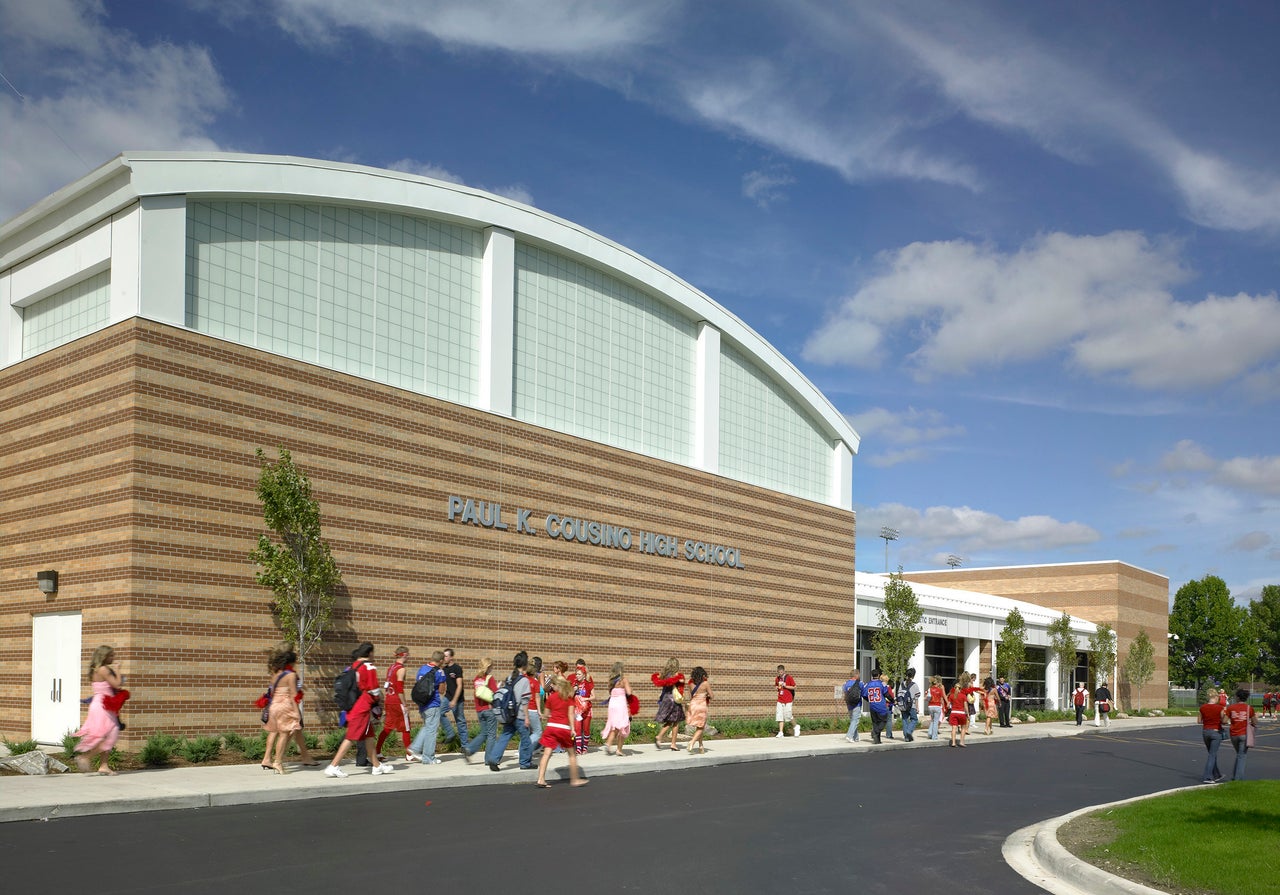 After a girl was allegedly sexually assaulted in the boys locker room of Thornton Fractional North High School in the Chicago area in September 2014, the accused perpetrator was kept in the same class as the accuser, a federal lawsuit against the school district says. The principal knew about the assault, the suit says, and told his supervisors. But still no restrictions were put on the alleged offender, and there was no information disclosed to community members that a rape was reported on school grounds.
The school responded in court that keeping the alleged assailant and the girl in the same class and on field trips was not a problem because she wasn't sexually assaulted again. It wasn't until the boy threatened to shoot her in the head a couple of weeks after the alleged assault that he was expelled, according to court papers.
Many schools misunderstand whether they legally can remove a student accused of sexual violence, because most states require minors to be in school, said Bruno, of the Victim Rights Law Center.
"I think that is the singular most difficult thing for high schools and below to deal with," Bruno said, "because they say, 'Well I can't remove this student, he's under 18 and he has a right to go to school and so I can't restrict access, I can't do all these things, because the kid has a right to be here.'"

But if a student came to school brandishing a weapon, Bruno said, "you would think about the safety of the other student -- you wouldn't think this kid has a right to be here. I think that is the disconnect."
Expelled After Reporting An Assault
In a case out of Warren, Michigan, Dea Goodman said her daughter, who we'll call Kena, was expelled after she was forced to perform oral sex on a boy at the school.
Goodman said Kena was kicked out of Cousino High School after an older boy brought her out to a car and forced her to perform oral sex on May 14, 2015. The day after the incident, Goodman said, her daughter was pulled out of class and questioned about rumors she'd had sex in the school parking lot that previous morning. Kena told the school she had been forced to perform oral sex by the boy, who had locked the doors, according to a police report. The school brought in its on-site police officer.
The boy was later questioned by a detective, and he said it was consensual and planned, police records show. He had recorded a 15 second video of the incident, police said, and had photos of other females performing oral sex on him.
Joseph Konal, a spokesman for Warren Consolidated Schools, told HuffPost that Kena "did not 'report' a sexual assault," though the police report is labeled a "sexual assault" report, alleging an act of "forcible sodomy," which under Michigan law includes coerced oral sex.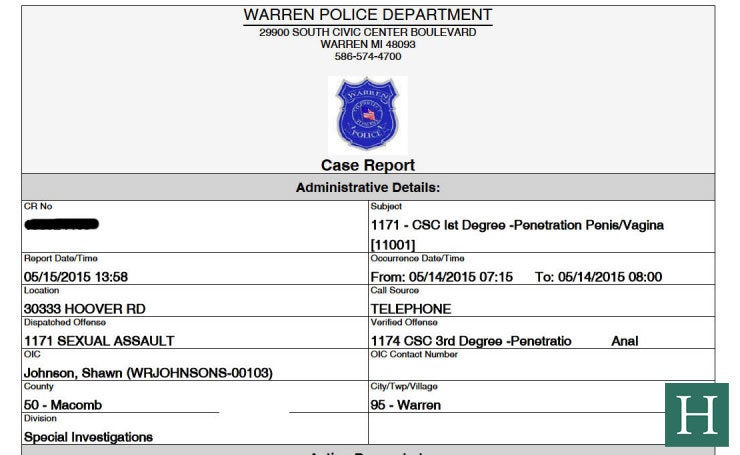 The school apparently decided to go with the boy's side of the story, and considered the sexual encounter consensual. Cousino put Kena under temporary expulsion for 180 days, according to letters from Warren Consolidated Schools sent to Goodman. The boy Kena accused was suspended, and on his return to school he continued his academic career and went on to graduate, according to Goodman.
"The discipline imposed by the District was not based on the fact that the student participated in the sex act," Konal said.
However, that's not what a letter sent to the Goodman family would suggest. Kena was charged by Cousino with "sexual misconduct," because she "admittedly engaged in oral sex" during instructional time and impeded a school investigation, according to a copy of a letter Goodman received from Cousino. The school board upheld the decision to expel her, school documents show.
"That is the definition of retaliation," said Adele P. Kimmel, a senior attorney at the firm Public Justice. "When you report that you are a victim of gender violence by another student, the school cannot punish you, even if they ultimately find that the perpetrator that was accused is not responsible for sexual misconduct and they think it's consensual. They're not permitted to punish the alleged victim."
As surprising as it may seem to expel an alleged victim of sexual violence because a school decided it was consensual, Kimmel says she's seen that before. In one case she's currently working on, a girl reported to administrators that she was sexually assaulted at school by a student right after classes. Kimmel said the school, which she's declined to name publicly at this point, suspended the girl and the alleged perpetrator. That's against the law, according to Kimmel, because reporting that someone sexually assaulted you is a protected civil rights activity.
"How is that fair to a victim of sexual assault to continue to punish the victim?""
"I see that a lot, unfortunately," Kimmel said. "This has a terrible chilling effect."
The Education Department said in a 2014 Q&A document that whenever a student "complains formally or informally about sexual violence … the school is prohibited from retaliating" against them because of the complaint to the school.
"Yes, reporting a sexual assault is a protected activity. However, that is not what happened here, nor was the student disciplined for doing so," insisted Konal. "Her claim was thoroughly investigated but was not the basis for her discipline."
Detectives referred the case to prosecutors, who declined to charge the boy accused by Kena, simply citing "Prosecutor discretion, consensual act" in the police report. The prosecuting attorney's office did not respond to multiple requests for comment.
Goodman filed a complaint with the Education Department on behalf of Kena, against Cousino. The department opened the complaint for investigation in October.
Kena is currently home-schooled while Goodman searches for another school for her daughter to enroll in, but Goodman worries about whether Kena will be accepted to a college with her disciplinary record.
"This is going to follow her, and she will have to explain all over again why she was expelled," Goodman said. "[The school is] going to continue to revictimize her for something that wasn't her fault. You're an education system. You're supposed to help students not hurt them."
"Every day when she's at home, she sits behind a computer to do her school work and has to constantly be reminded why she's at home, why she's here," Goodman added. "How is that fair to a victim of sexual assault to continue to punish the victim?"
The Huffington Post used pseudonyms in this story to protect the identity of minors who have said they were sexually assaulted.
Clarification: Language has been amended to provide more specific details involving the reporting and location of the alleged assault.
View The List Of K-12 Schools And Districts Under Title IX Investigations For Sexual Assault Cases:
Popular in the Community