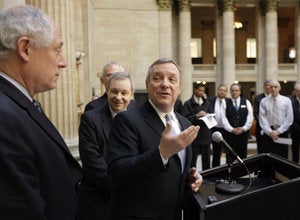 CHICAGO - Illinois leaders want stimulus money to develop high-speed train travel between Chicago and St. Louis.
Gov. Pat Quinn and U.S. Sen. Dick Durbin say the priority is to upgrade Amtrak's existing service between the cities so trains can travel at up to 110 miles per hour. That could cut travel times to under 4 hours from the current 5.
Quinn and Durbin met with other officials Monday at Chicago's Union Station to discuss an Illinois request for some of the $8 billion set aside for high-speed rail in the federal stimulus bill.
They didn't offer a price tag for improving the Chicago-St. Louis line. But it's expected to run into the billions.
Several states also want money for high-speed routes, so competition for the stimulus money will be stiff.
Watch Durbin and Quinn discuss the plan:
Popular in the Community