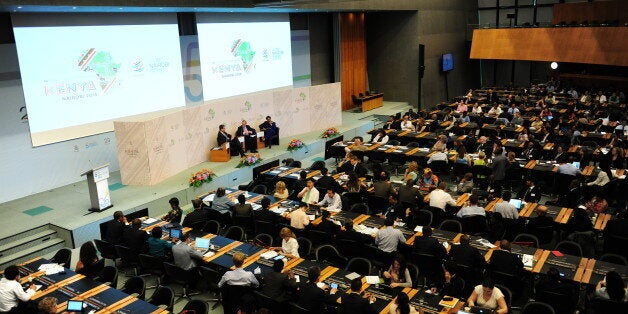 In less than a week trade ministers from across the world will come together at the 10th Ministerial Conference of the World Trade Organization (WTO) in Nairobi, Kenya from 15 to 18 December 2015. As the Chair, I am very excited by the hope and promise of this meeting.
Just over 14 years ago, the WTO launched the Doha Round of multilateral trade negotiations. It was officially launched at the WTO's Fourth Ministerial Conference in Doha, Qatar, in November 2001. The 9/11 atrocities had occurred a mere two months before. Those events strengthened the resolve of WTO members to show that economies with varied priorities and interests could come together with a shared purpose.
The Doha Round was crafted with ambition and optimism. Despite prolonged and continuing efforts, progress has been less than modest. A notable exception is the agreement on trade facilitation that cuts red tape at the border to reduce trade costs. This was adopted at the Ninth Ministerial Meeting in Bali at the end of 2013.
That was a high water mark for the Round, but it did not inject fresh momentum into long-stalled negotiations. In two weeks from now, the Tenth Ministerial in Nairobi is the last chance for some time to come for the WTO to dig itself out of its negotiating stasis.
Governments are encountering real difficulty in finding common ground on the way forward. Yet the stakes could scarcely be higher for what over the years has proved to be one of the most successful international economic institutions. Why is progress proving so difficult now? There are several reasons.
The world is striving to adjust to shifting power relationships. Such situations have proved challenging throughout history, sometimes resulting in war. At times like these, the need for far-sighted and enlightened leadership is critical.
Things have been significantly more difficult since the financial crisis and sharp recession of 2009. Its aftermath has proved punishing, ushering in a period of considerable uncertainty. Trade has been sluggish, even before the 2009 crisis. This has broken a long period when trade growth exceeded output growth by a factor of two.
Economists debate whether the causes of slow trade growth are merely cyclical or more structural in nature -- the difference between a passing phase and a "new normal." Whatever the reason, sluggish trade and slower growth generally have fed protectionist pressures. Many governments have been disinclined to resist these pressures.
At the same time, in part as a result of the logjam in Geneva, most governments are investing heavily in building alliances through preferential trade agreements outside the WTO. More than 400 such deals exist, and every WTO member on average belongs to more than a dozen.
Despite their discriminatory character, Preferential Trade Arrangements( PTAs) can complement the multilateral trading system. But they can never provide a substitute. One is forced to wonder whether there are not too many decision-makers around who have lost sight of the importance of a non-discriminatory multilateral trading system. In my view, all these factors -- geopolitical rivalry, the threat of protectionism, and increasingly fragmented trade relationships -- make a strong case for putting aside differences and revitalizing the WTO. Neglecting the mother ship of the WTO is a path fraught with danger.
The world has become dangerous enough of late, and would be even less stable and more uncertain without a functioning institutional base for trade. Disorderly trade relations crimp opportunity and undermine development, jobs and growth.
The Nairobi meeting offers a real opportunity to reverse the rot. This is the first WTO meeting to be held in Africa. The continent is the future. It is the next growth frontier. But Africa also faces formidable development challenges and needs trade to build prosperity. Think of the injustice of denying Africa the stability in trade relations enjoyed by other continents over the years as they have developed and grown.
Africa's opportunities are the world's opportunities.
The issues that divide governments are surmountable. In the larger scheme of things, they pale beside the deeply adverse consequences of undermining a successful post-war institution -- one that has presided over trade relations in a remarkable period of economic progress. We know that Nairobi cannot complete the WTO's current negotiating agenda. With goodwill, we should be able to make progress on a few issues. But the key challenge for Nairobi is to forge agreement on how the WTO can move forward after Nairobi.
This will only happen if WTO Members think past their differences and look at the bigger picture. Failure to do so will impose a heavy burden upon those who stand in the way of constructive engagement.
In an uncertain and politically troubled world, a clear demonstration of the capacity of governments to look beyond their differences and fight for the larger prize would transcend the immediate economic advantages of a successful Nairobi outcome. The WTO did that at the beginning of the century in Doha. After years of dithering and disagreement, it is surely time to do so again. It is essential to support growth and development for all members. This can happen with flexibility and political will. We must work towards a meaningful declaration which is binding, and we can.
Popular in the Community