My mom moved to Naples, Florida a few years ago and thus we go visit her there at least once, if not twice, a year. We decided to go for Easter break and as soon as we told our children, the first words out of my son's mouth were, "Are we going to have that DELICIOUS steak at Strip House?"
Our good friends, Peter and Penny Glazier, own the restaurant, so we know it well and make a point to go whenever we are in Naples. I cannot argue with my son that the steak is out of this world. "Surely there can't be just one great steak restaurant in Naples," I said to my son who asked why we couldn't go to Strip House every day. "We like Charlie Chang's too, mama," said my eight-year-old daughter Isabelle. "Peking Duck and dumplings!" I smiled and agreed but was still determined to check out the restaurant scene.
With the kids and my mom in tow we set out each night to try something new. We were told about Chops, a fusion steak house, Roy's (not worth a return visit) and Sea Salt in downtown Naples where my husband and I enjoyed one quiet tête-a-tête dinner over a bottle of Whispering Angel Rosé, Truffle Ravioli and Grilled Branzino. Our first family dinner was at Chops and we agreed to order a variety of meats. "Don't order too much," said my mom. "It's an occupational obligation, Mom," I quipped back. "I have to evaluate and taste as much as possible." We decided to share a Porterhouse, a Filet Mignon and Ribeye with a number of side dishes and salads. The room is very family friendly and casual, as was the service. The food arrived as ordered -- our steaks were rare. Everything was quite good and the meat was tasty and satisfying but didn't get any guttural moans out of us. It lacked that expert steakhouse char and seasoned crust we crave. "When are we going to Strip House?" demanded my son as he finished his last bite of steak. "Can we also get the giant cheesecake and profiterole when we go?" chimed in Isabelle. "The apple doesn't fall far from the tree," said my mom laughing. What can I say, they know what they like and clearly, while Chops is perfectly respectable and promises a satisfying meal, it didn't live up to our Strip House standards.
After a glorious week of perfect weather and quality time en famille visiting several of Naples' exquisite beaches our night at Strip House finally came. The kids were buzzing about it all day and didn't even argue when we asked them to dress for the occasion. Everything about the restaurant, including the location at the newly named Waldorf Astoria hotel, is transporting and magical. The sultry yet swanky décor with its tasteful vintage black and white photos of 1920's and 1930's 'strippers' bring you back in time to an era of elegance and grandeur. "I'm having a Martini," I exclaimed much to the surprise of my husband and mother. "Doesn't this room just make you want to have a Martini?" I giggled feeling just as happy and giddy as my kids to be there.
The servers are perfectly accoutered in white Eton jackets and expertly tend to their lucky patrons' needs, describing in delicious detail the superior cuts of meats and other delicacies offered on the tempting menu. We finally agreed on the Fresh Burrata as well as the out-of-control-delicious Bacon Salad, quite simply a big slab of flawlessly seared thick cut sweet and chewy bacon served with perfectly dressed baby arugula and grape tomatoes. "We should have ordered two of these," said Pascal as he and JB fought over the last bite of bacon. "Calm yourselves," said my mom, "there's half a cow coming." "Not to mention Steamed Lobster, Black Truffle Creamed Spinach and Whipped Potato Puree," I added gleefully.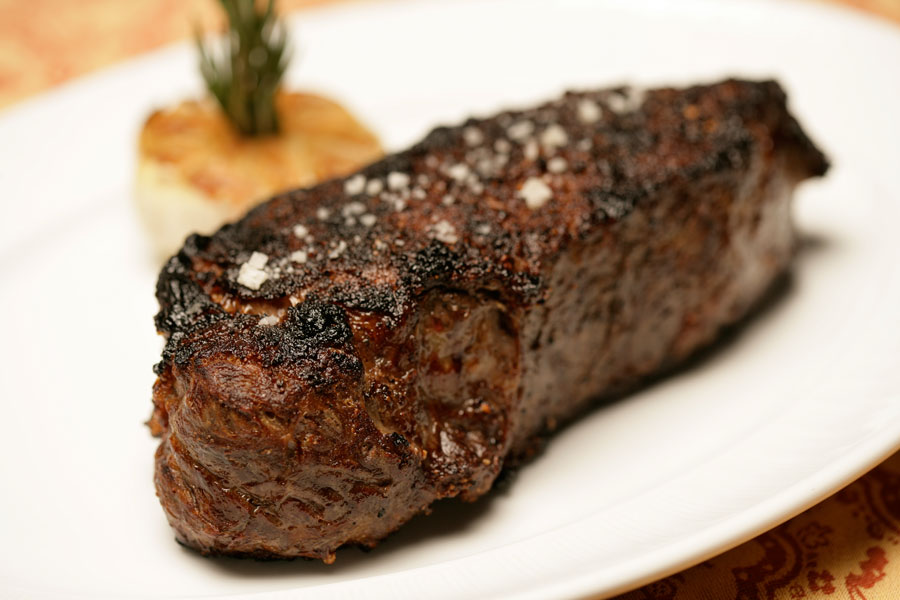 Photo Credit: Strip House
We all agreed to do a steak taste test and compare the different cuts of meat, which were the same we had ordered at Chops. The Porterhouse and Filet Mignon were outstanding, incredibly tender and so expertly seasoned we almost forgot about the gorgeous Béarnaise and Bordelaise sauce. "Take human bites," I said to JB who couldn't contain his voracious desire for the meal he had waited all week to have. But it was the Ribeye that hit the million-dollar jackpot! "What does Chef Bill Zucosky put on the Ribeye to make it so incredibly good?" I asked the manager Ravi. The answer was simple enough, "EVO, freshly ground black pepper and sea salt." Really? That's it? Well, all I can say is the Ribeye was just heavenly -- charred to a crisp perfection on the outside and super tender and juicy on the inside with a mouth watering flavor in a league all its own. Luckily I was able to have a couple of bites as my little piranhas, not to mention my husband and mom, clamored for more. "You see? I told you this was the best steak restaurant in the world!" said JB triumphantly as he hugged the waiter and told him to save us a piece of twelve-inch high cheesecake. "Out of the mouth of babes," said my mom cleaning her plate, "Can't argue with him on this one!" I smiled, satiated and happy and texted the Glaziers telling them this was, yet again, our best meal ever. "Put your phone away mama," scolded my daughter with an ear-to-ear grin. "Here comes the giant profiterole!"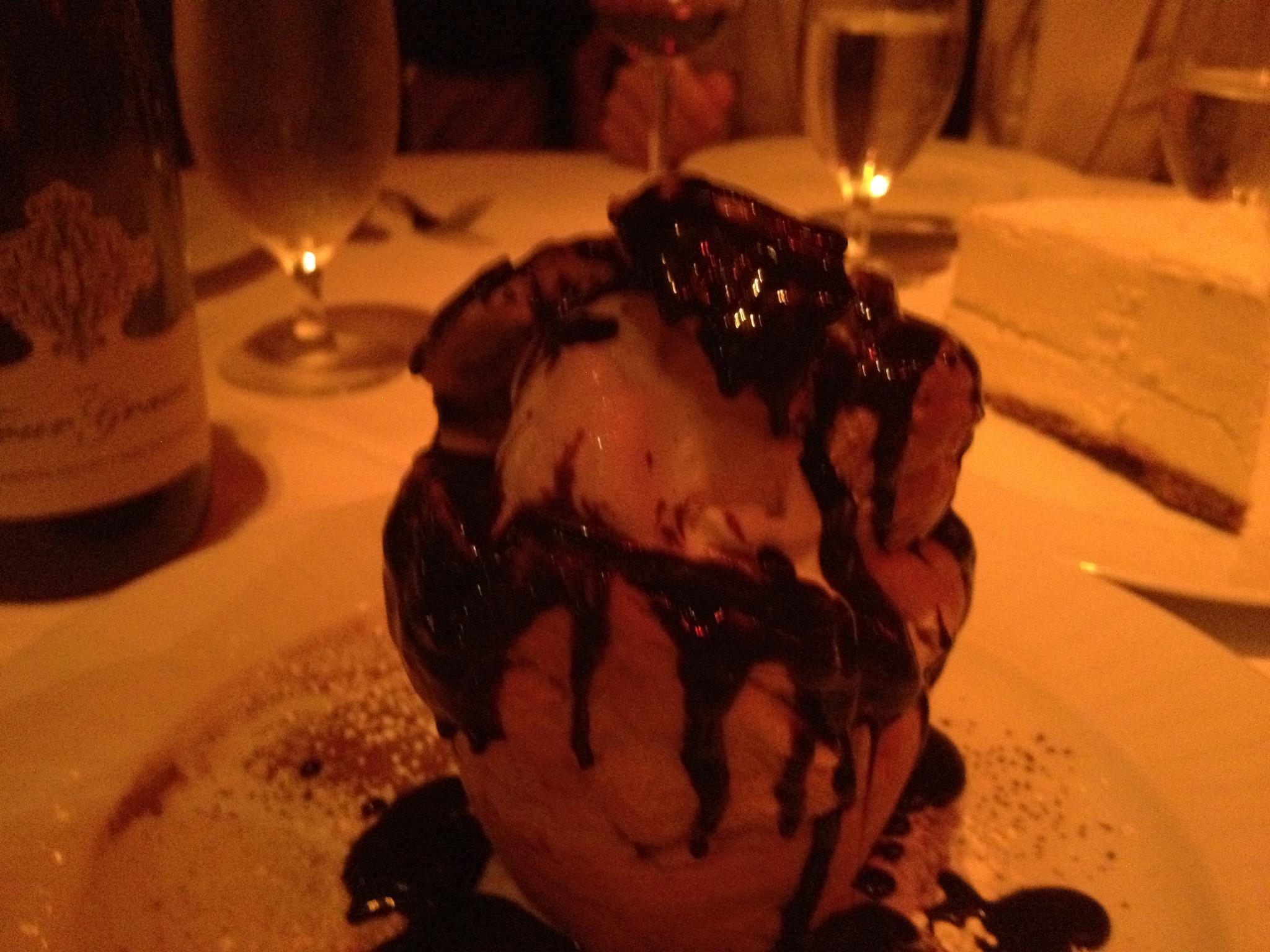 REAL LIFE. REAL NEWS. REAL VOICES.
Help us tell more of the stories that matter from voices that too often remain unheard.