There is a button you must push to enter China. The guard at Hangzhou passport control is pointing. I am in a fog from jet lag after flights from Boston, Vancouver, and Hong Kong, but I must press.
"You are very happy with this desk?" he asks. "Not too long checking?"
Uh, just about right, I say.
He points to a tiny customer-service circle with a smile. I choose it over not-so-happy buttons, over one that frowns. And once my selection is made, the guard smiles, too. He beams. He is blushing beneath his cap as he motions me through.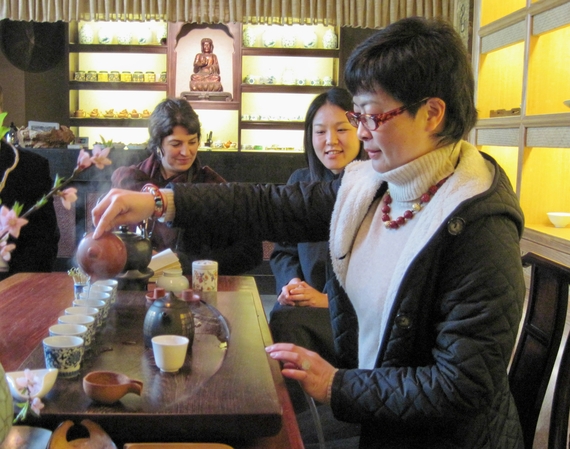 Here in the city of Hangzhou a few years back, in Zhejiang province, I will be seeing lakes and bamboo forests. I'll climb to a temple that I hope will house monks. About 120 miles from Shanghai, the city is famous for its tea gardens and is counted as one of the seven ancient capitals of China. Kevin, the tour guide who picks me up, is anxious to explain.
"You see this highway, the modern buildings?" he asks. We roar past glassy structures with Disney-castle tops. If elves had headquarters they might look like this.
"No one work there," says Kevin, one of many locals who seem to have Western names. "Notice. Each one have a garden for family growing. These are not for factory. They homes."
I soon find out that Hangzhou is jumping and wiggling with new wealth. Full of former tea farmers used to green space, the area is sprouting apartments built for Beverly Hillbillies, with bok choy fields right in back.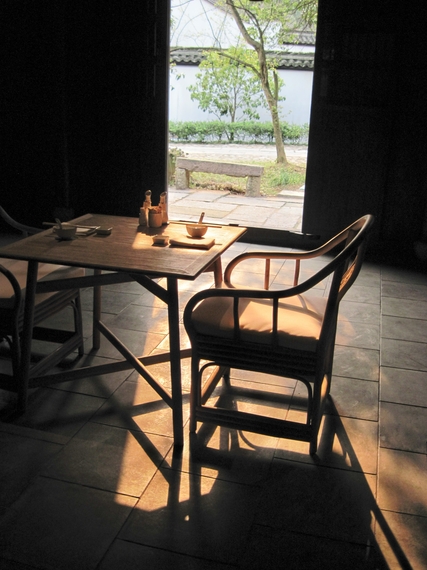 On an introductory tour, Kevin pilots me around in a car with other tourists. Along a busy boulevard, we pass a flickering sign: "CITY," it blinks. "CITY . . . OF CARTOON." When I ask about it, Kevin shrugs. "New," he says. He doesn't know what it means.
Same goes for a glittery, floodlit store called Trendy Way. A mystery, as is the multi-story I Feel hotel. Kevin smacks his forehead apologetically. He could be a tourist just like us.
"Last year," he notes, "Hangzhou already have the Burger King, the Pizza Heart." But when we're thinking about lunch, he suggests the nearby First Grade Restaurant instead. We approach a building sheathed in mirrored panels. "Sounds like a school cafeteria," someone gripes. "Looks like a casino," adds someone else. Kevin slaps his forehead. We settle for takeout and drive on.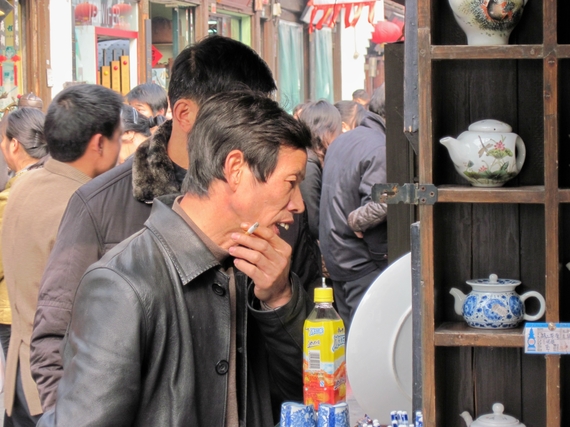 For a later meal, we park near Hangzhou's West Lake, a turquoise basin reflecting the lampposts and trees around its shore. "Louwailou Restaurant," says our guide with a squint of satisfaction. "It has a history of 100 years."
According to what we've been told, the local Zhejiang cuisine is known for fish. West Lake fish in sweet-and-sour sauce. West Lake fish in vinegar. West Lake fish with no sauce at all. A flier someone's picked up has this to say: "You have not really understood Hangzhou if you have not eaten shrimp and fried eel."
No one wants to risk the eel, but we bite into some shrimp fried with Longjing tea leaves. Longjing, or "Dragon Well," a specialty of the region, is one of China's most delicate green teas.
Next comes a dish that arrives with an air of mystery. Has it been mailed to us from the kitchen? There is a wrapping that peels off. We pick at it. We taste. It is tender. "Beggar's Chicken," explains our waiter. It's an entire bird baked inside a ball of newspaper and mud.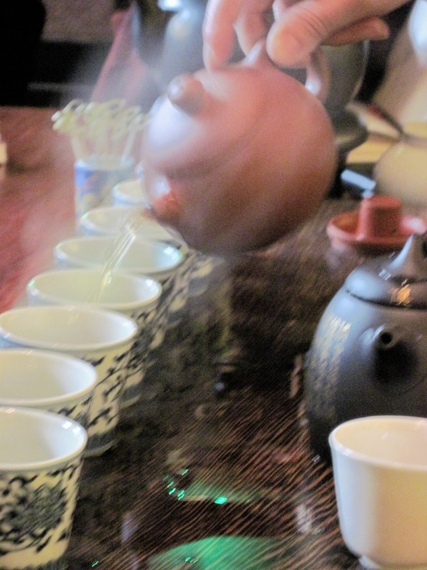 After our lunch, some of us feel that we need a rest. We take naps in our hotel, because the plan for tomorrow is to make an early pilgrimage to nearby Yongfu Temple to watch the monks take part in daybreak prayers.
In fact, when we arrive at the village of Fayun Nong, it is still completely dark. We stagger up the temple hill in blackness, and it is not until an hour later, toward the end of the monks' measured chanting, the thumping of a resonant drum, that a thin chip of dawn begins to show beyond the sanctuary door.
No one says a word about our presence in the back of the hall. We are noticed, this is clear. But once we begin to lower ourselves when they do, and rise on cue, the service goes like clockwork. There is a bang on a gong. On our way out, from a monk who can't be 20, we receive a bow.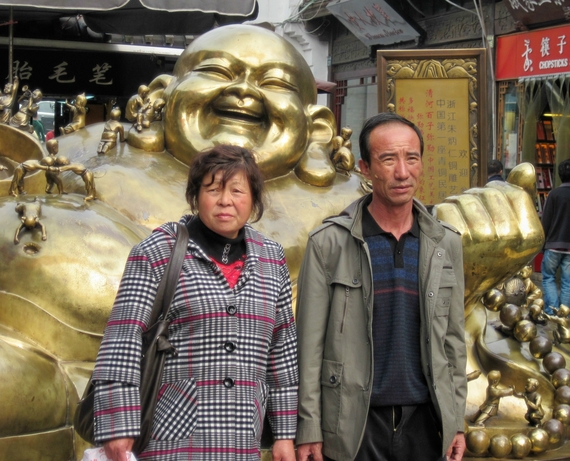 This is one of those mornings when guests are invited to the temple breakfast. Tables are shared and so are bowls of noodles, nuts and tofu. Cashews are in demand -- everyone's chopsticks stretch for them, clashing like brittle swords when the bowl is nearly empty.
There is one nut left. My chopsticks retreat. A monk captures the prize. Just then, I hear a plink, plink, plink. Conciliatory nuts from other monks are dropped onto my plate. I am surrounded by smiles.
* * *
It is time for an excursion to the country. On the main street of a tea village called Meijiawu, there are no English words on the signs. I am beginning to breathe. The air smells cleaner. Maybe it is all the Longjing tea leaves that are dried here and poured into wide, shallow baskets for display.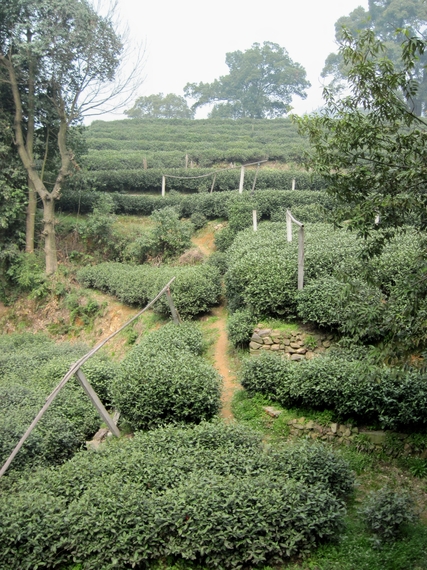 Where the shops along Hangzhou's Hefang Street -- the Wangxingji Fan Store, the Zhang Xiaoquan Scissors Store, and the Wanlong Ham Store, to name just three -- had been busy with shoppers, here in Meijiawu, the sidewalks are quiet.
Village roosters walk and peck in random patterns. The pavement is dusty. I head off for a stroll in the tea fields right at the edge of town.
Tea plants, I decide, are tidy objects. Round and puffy like the tails of poodles, they carpet the ground around Meijiawu as far as you can see. Beyond the rows of puffballs rise jagged hills that look as though they were inked in by an artist, one who has started to erase his work just slightly, using dabs of fog.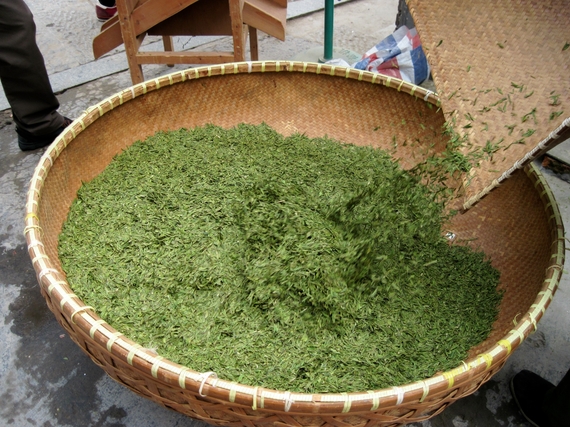 Since it is spring, the tips of the tea branches are turning green. These are the shoots that are picked to make delicate Longjing tea. Kevin has informed me that a cup of the finest hand-picked Longjing can cost about $73. Once they're dried in town, the fragile-looking leaves I'm passing will bring more than $1,000 per pound in Shanghai.
To taste the tea, I head for Mrs. Pang's Tea House, a small, wood-beamed cottage on the grounds of the Amanfayun Resort in Fayun village, operated by Pang Ying. Ian White, the Amanfayun's British-born general manager, says that his plan was to keep as authentic a tea-drinking experience as possible. "Mrs. Pang knows tea," says White. "So she is in charge."
Examining me over horn-rimmed glasses, Pang begins her work. "You must wash the tea," she says through an interpreter. "And you must rinse the pot." Boiling water is poured. There is overflow as the tea and the pot are sluiced. Tides of tea, a cascade that bubbles, ebbs and flows.
Mrs. Pang partially disappears in a cloud of steam. Is this some teahouse magic? There is a sudden scent of blossoms. Liquid -- light as April -- fills my cup. I take a sip.
Mrs. Pang is watching. She is back now. All the steam has cleared.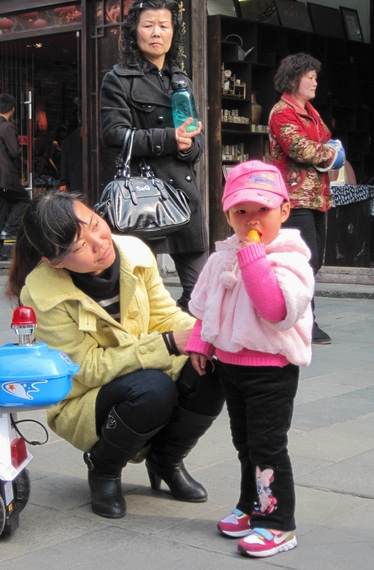 I taste. It isn't tea, exactly. Tea is strong. Longjing is like a taste of something growing. A blade of grass, some grains of rice, a petal in a cup.
I think of the Disney-castle gardens in Hangzhou. The City of Cartoon, the First Grade Restaurant are out of mind.
My head is full of farmers who grow tea and don't want to leave the land.
I smile at Mrs. Pang. She pours again.
At last, when it comes to family growing, I understand.