Over the past 7 years, FashionWare, a runway show for tech enthusiasts, has come to represent a blend of pioneering designers in the world of high tech fashion garments and makers of high tech accessories. The result is a blend of aesthetics and functionality that wows audiences. Just back from CES Asia, where the show was seen by hundreds of attendees, here's a walk down this year's runway.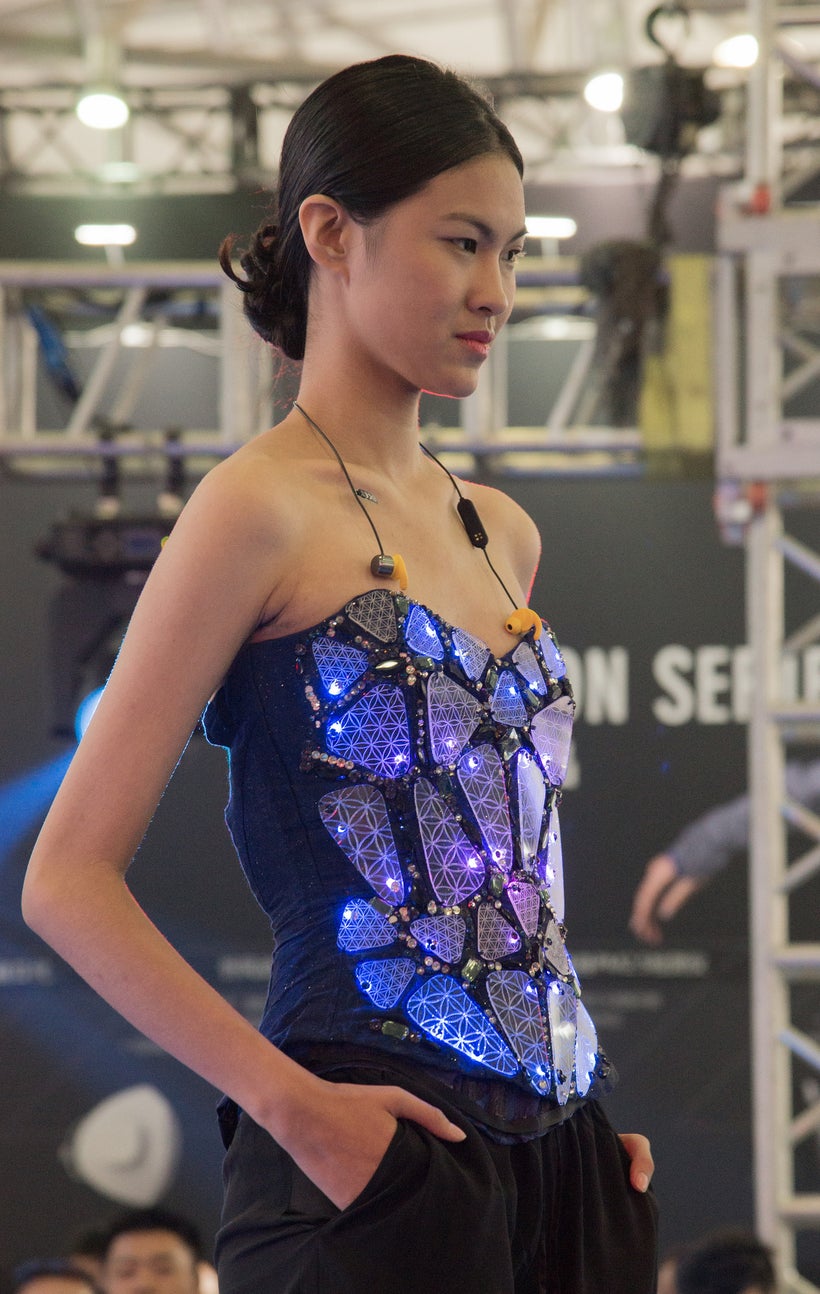 Eye-catching, but subdued, this corset is made from laser cut acrylic panels which diffuse light from individually addressable LEDs. Created by MakeFashion's Phi Illuminated team, the corset is inspired by shapes and sacred geometry found in nature. The model is also wearing MOPS PULSE earbuds that feature a personal training coach and heart rate monitoring.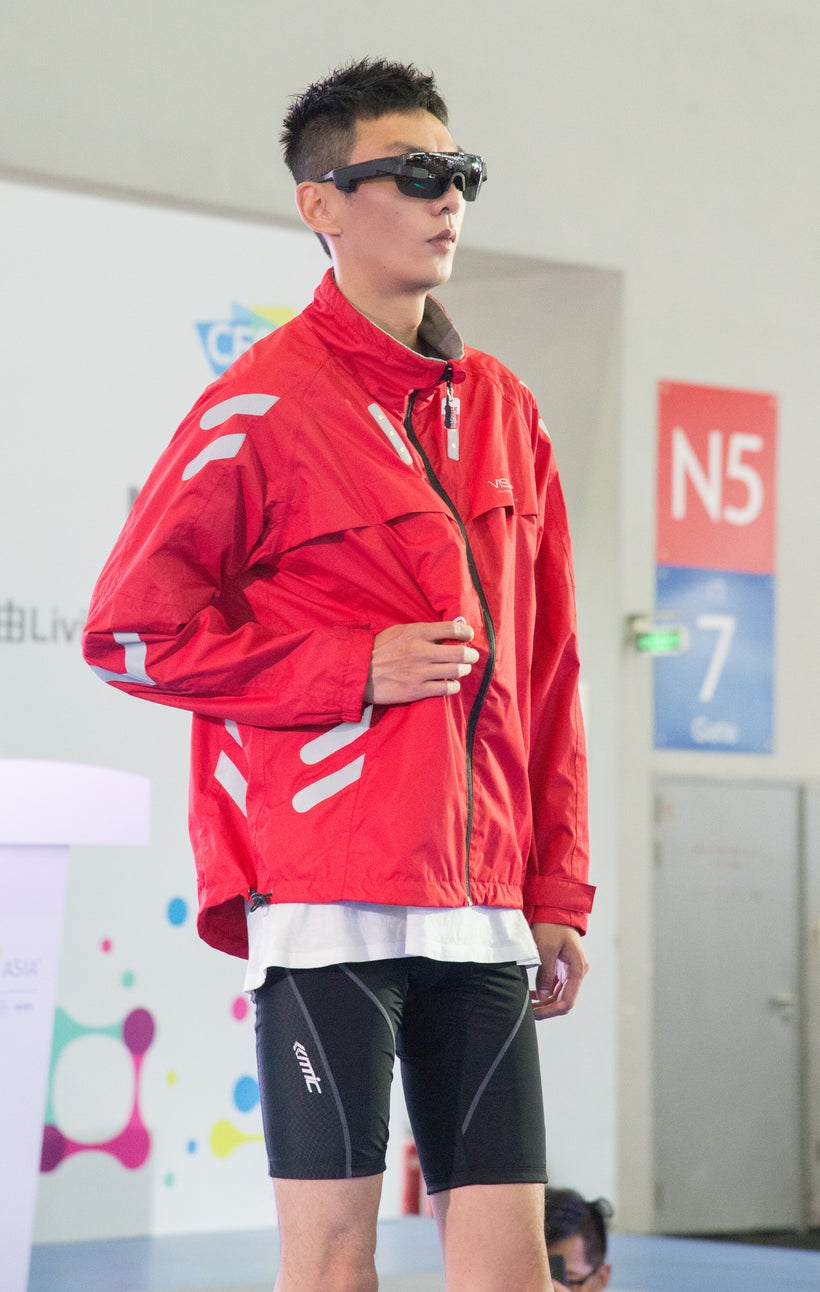 The Visijax bicycle jacket is perfect for safe bike riding. LED lights on the jacket indicate stops and turns so that all can see the rider's intentions. Kopin's Solos glasses, built for biking, are the world's smallest heads-up display. The Solos pairs with your phone for performance tracking, precision training tools, and tons of everyday useful features like making calls, and getting route maps for bikers.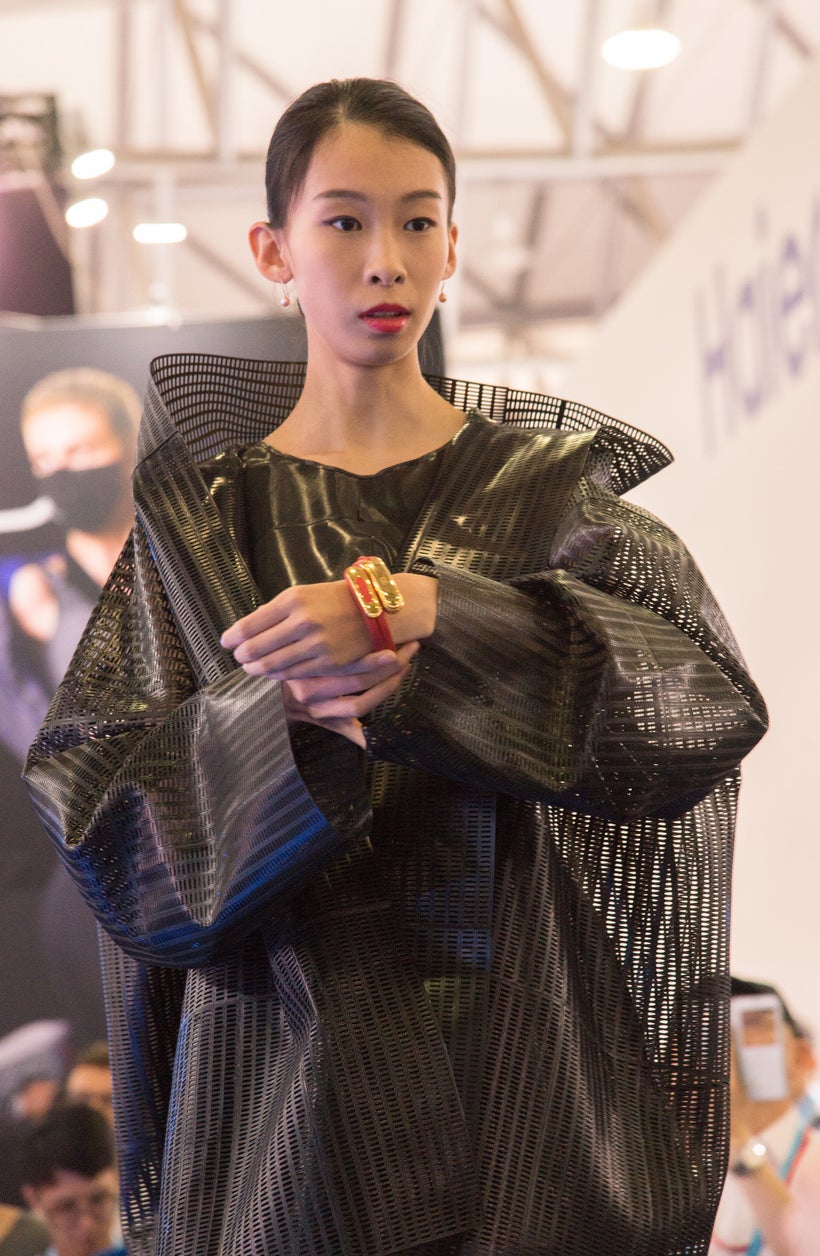 Sylvia Heisel uses 3D printing technology and new materials to create sustainable, functional and truly wearable garments. The NinjaFlex flexible filament is printed on a 3D printer and then welded together, making a sleek, futuristic and zero-waste statement. On her wrist the model wears Ashley Chloe's Helix Cuff, the world's first wearable bracelet with extractable Bluetooth® headphones. It fashionably solves the problem of dealing with tangled and easy-to-lose headphones.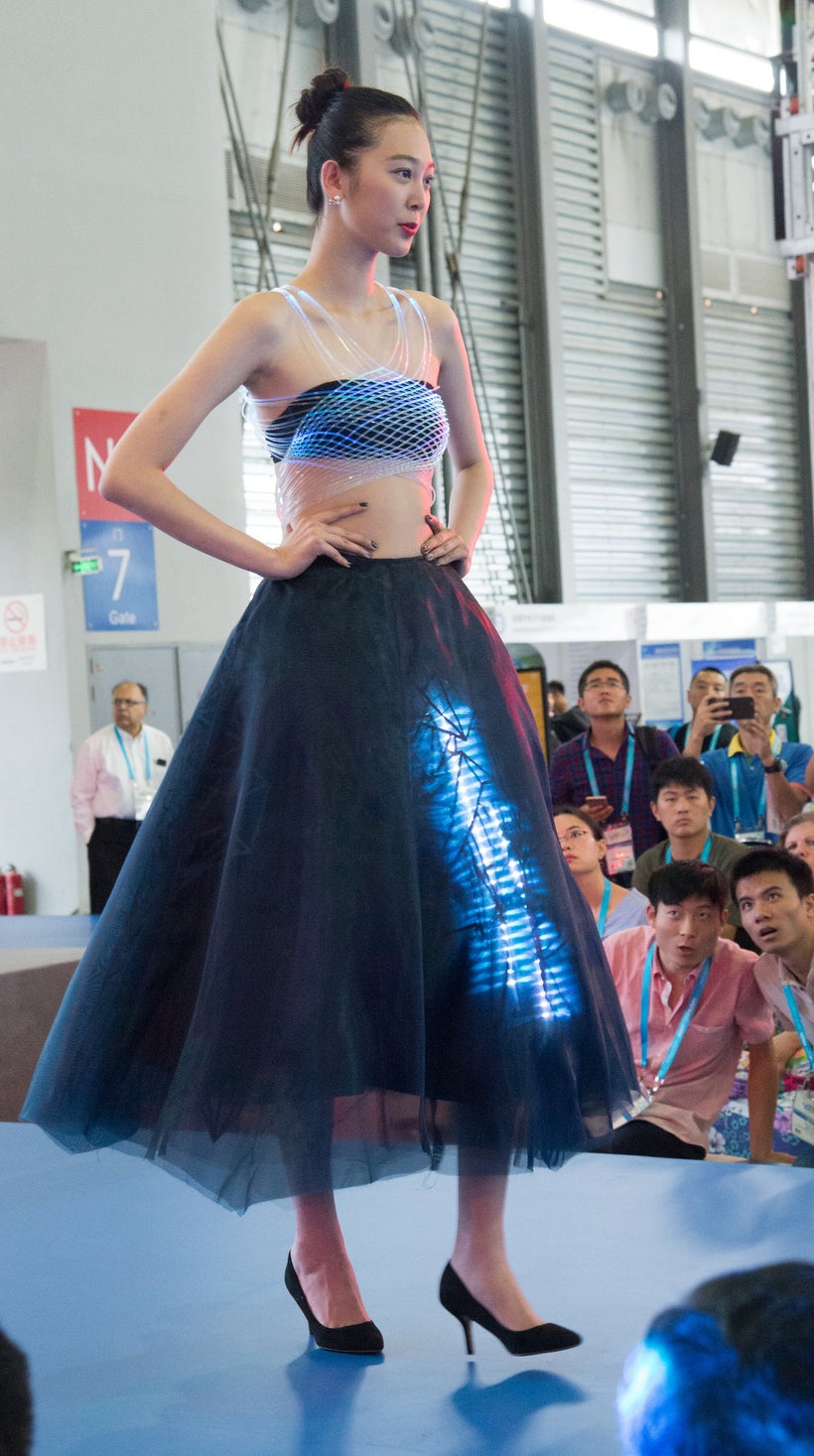 True North by the Canadian team Phi Illuminated in association with MakeFashion is a skirt that features over 600 individually addressable LEDs. True North was inspired by magnetic fields and the Canadian climate. The dress uses fiber optic tubes and an absolute orientation sensor so the LED light is always facing North.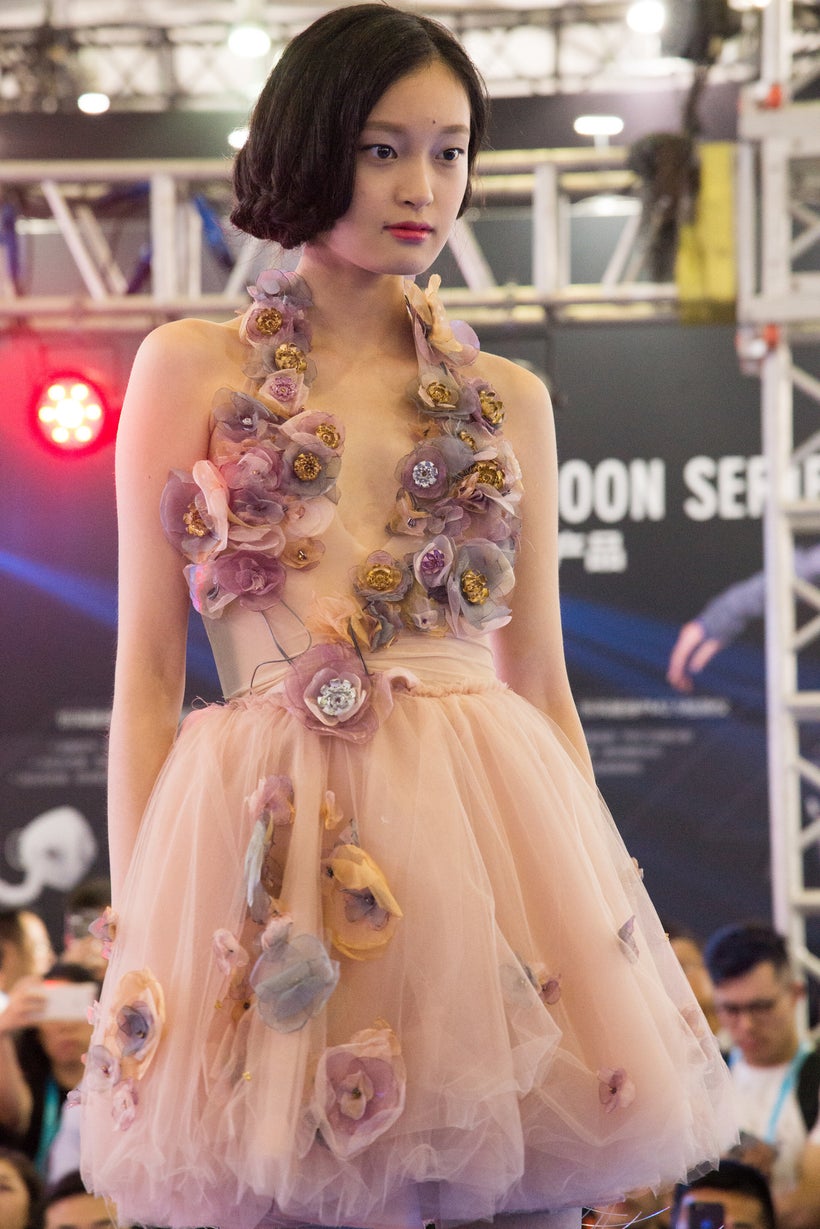 This dress by Maria Orduz Pinto uses a combination of low tech artisanal work and high tech components. It features handmade fabric flowers as well as 3D printed flowers that gently twinkle. The skirt's bottom is woven with sound-sensitive optic fibers to create a subtle colored glow effect as the room's sound changes.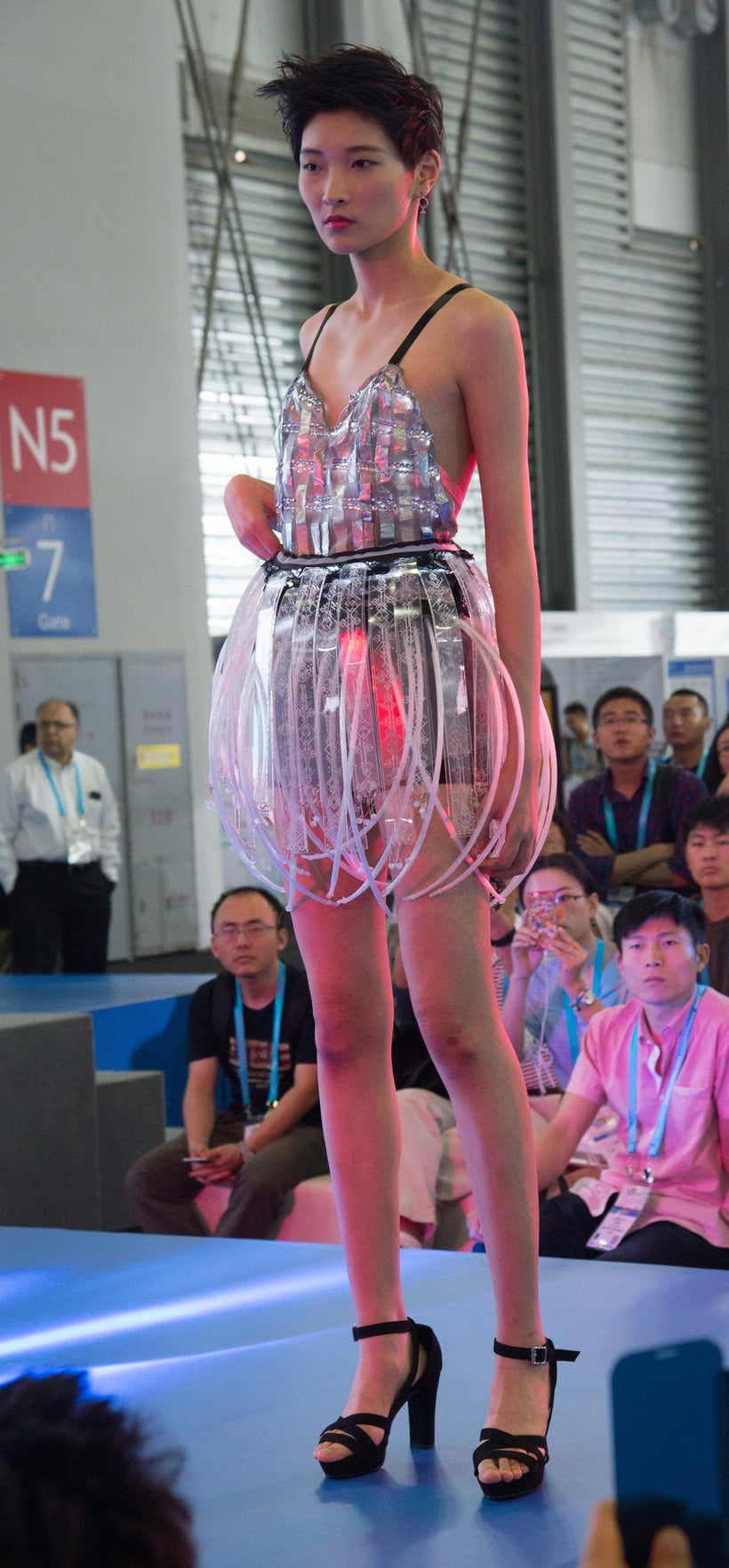 Another Maria Orduz Pinto creation has over 45 individually assembled etched acrylic panels, atop a bed of glowing fiber sparkle tubes. The skirt is paired with a coordinating, hand woven, reflective, illuminated top. The dress has over 500 customizable LEDs and is driven by the MakeFashion custom FashionTech Board. On her wrist is the stylish Withings smartwatch. It subtly tracks her steps and measures her heart rate without looking geeky.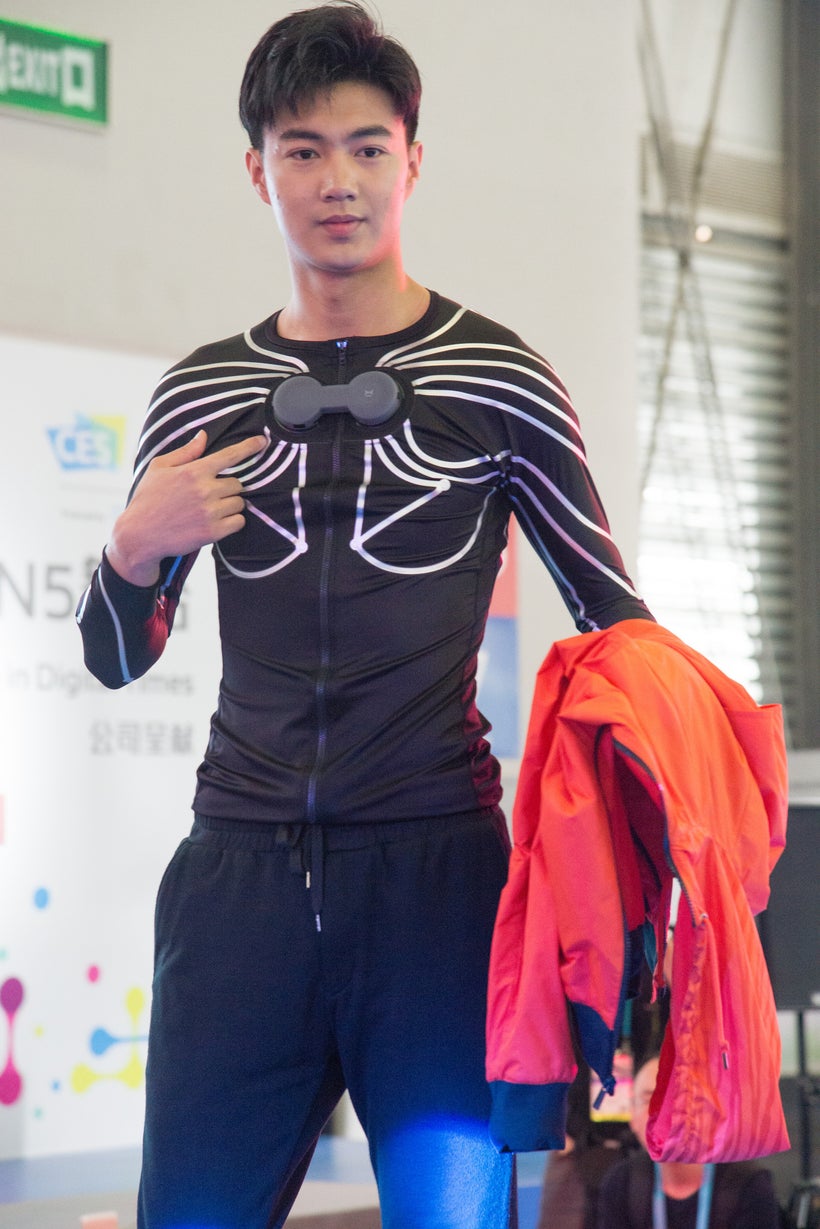 Xenoma's e-skin is a printed circuit board with motion sensors that you wear as a shirt. It turns your body into a "human joystick" sensing all of your movements as well as monitoring your health. Best part? It's machine washable. On his wrist, the model wears PK Vitality's K'Watch Athlete, the world's first real-time lactic acid monitor.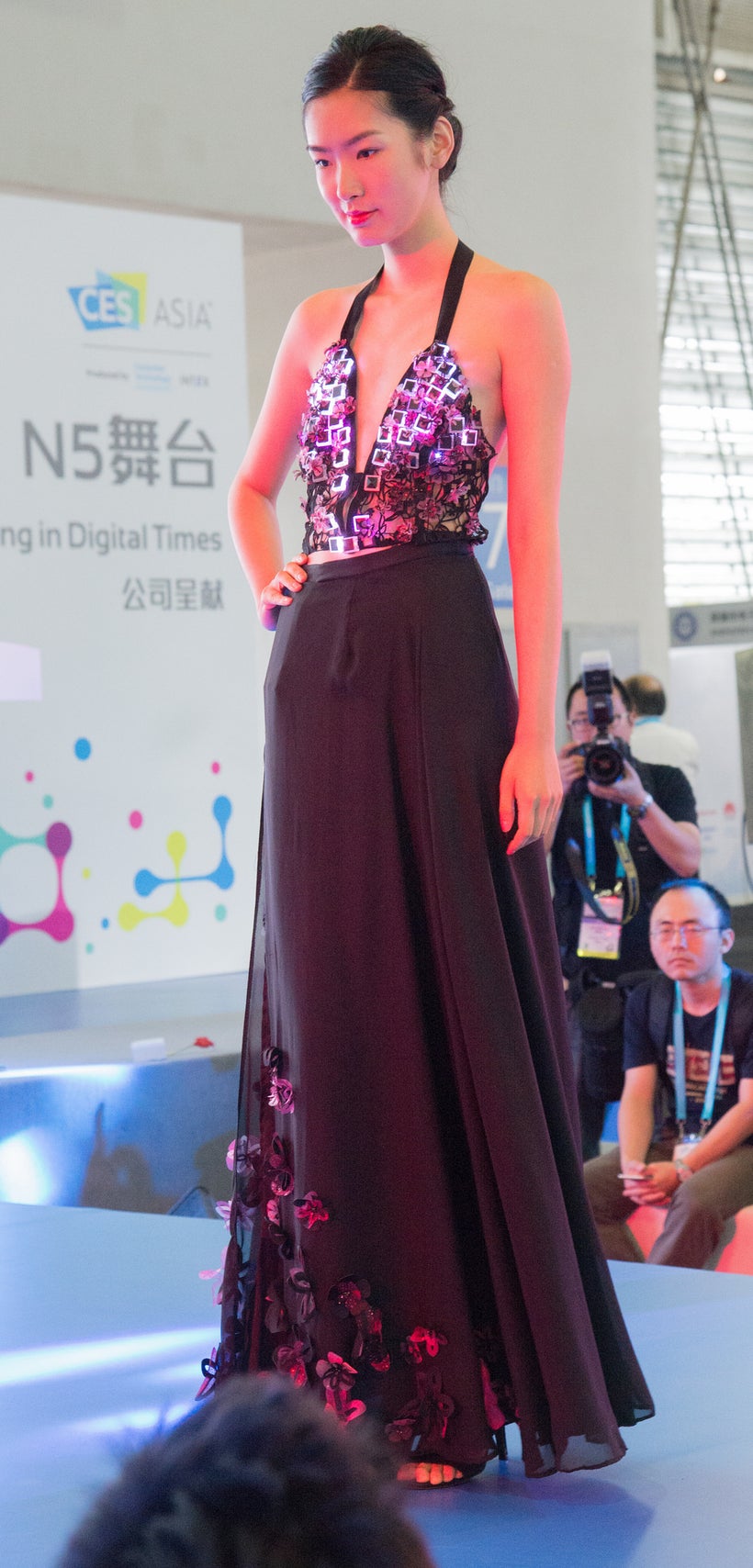 This gorgeous maxi dress is another Maria Orduz Pinto creation. She integrates laser-cut fabric and 3D printed elements with LED lights.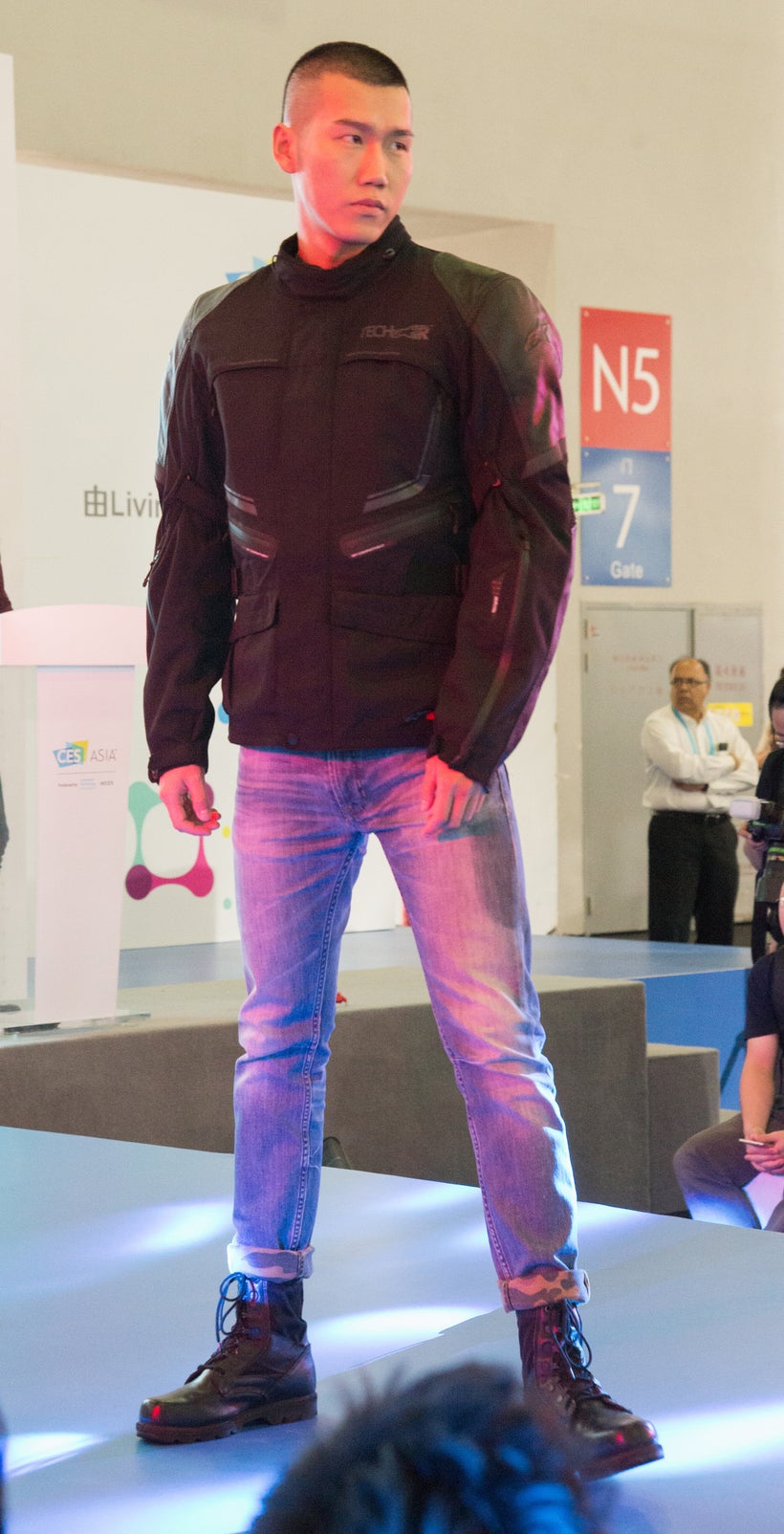 The Tech-Air jacket protects riders during a motorcycle crash by becoming a human airbag. It deploys instantaneously by using predictive analysis to assess a potential crashes. Because Alpinestars' Tech-Air places the sensors close to the rider's body instead of the bike, it can be used both on-road or off-road adventure touring.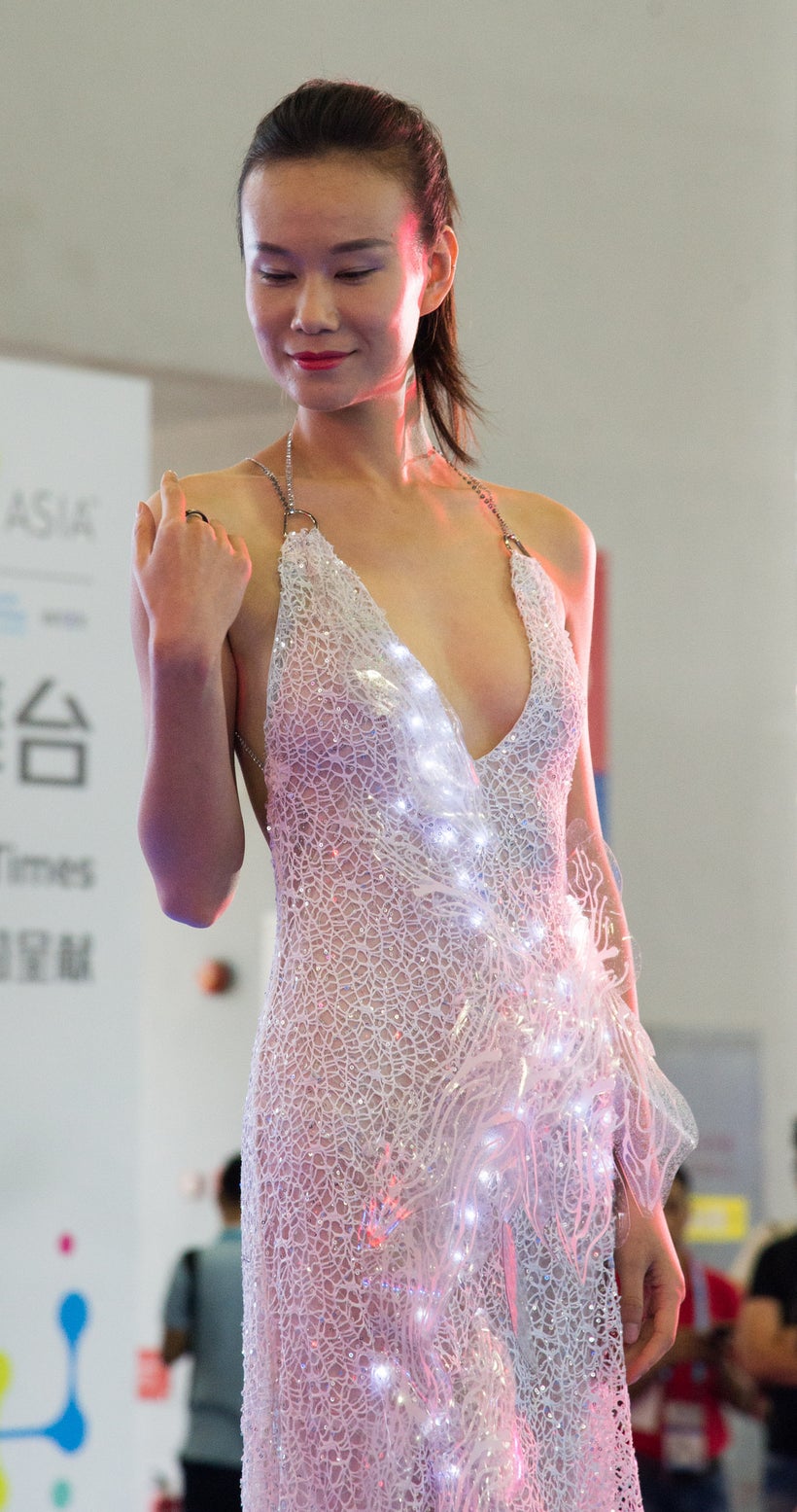 The PULSE dress is part of Jazsalyn McNeil's Bioluminescence collection, sponsored by the NEXT Research Group (Nano Extended Textiles) at North Carolina State. It is embedded with lights that respond to the wearer's pulse which is transmitted via fabric biosensors. On her hand, the model wears the Motiv ring which unobtrusively monitors activity and sleep.
Robin Raskin is founder of Living in Digital Times (LIDT), a team of technophiles who bring together top experts and the latest innovations that intersect lifestyle and technology. LIDT produces conferences and expos at CES and throughout the year focusing on how technology enhances every aspect of our lives through the eyes of today's digital consumer.
Calling all HuffPost superfans!
Sign up for membership to become a founding member and help shape HuffPost's next chapter
This post was published on the now-closed HuffPost Contributor platform. Contributors control their own work and posted freely to our site. If you need to flag this entry as abusive,
send us an email
.