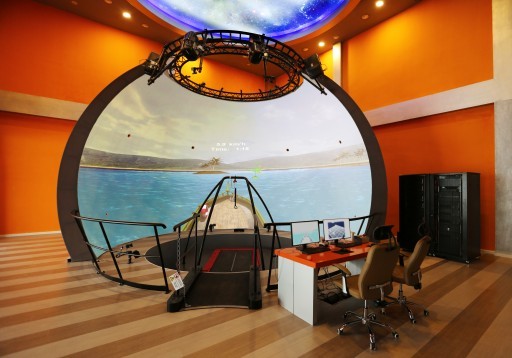 CAREN at Bayi Hospital in Chengdu, China
Photo Source
Walter Reed's Military Advanced Training Center (MATC) features computer-assisted rehabilitation environment (CAREN) technology. CAREN is a simulated environment programmed to meet the needs of each individual patient. Only a handful of these systems are in use around the world.
CAREN may share some of its motion technology with virtual rides, but that's where any similarity ends. Invented by Motek (now Motekforce Link), the first CAREN system was deployed for clinical use in Israel in 2006, and the U.S. military began using the technology in 2007.
What is CAREN?
In the simplest terms possible, CAREN consists of a motion floor patients control with their movements, a support harness to prevent injury, and a life-size virtual reality screen that curves around for an immersive experience. It provides a safe, controlled environment where patients interact with a virtual world to work on balance and gait, develop stress coping skills, and learn to use prosthetics after losing a limb.
Infrared cameras placed at every angle capture the patient's movements. Movements and gait are analyzed and corrections are suggested in real-time. Technicians see a 3-D representation of the patient's musculature onscreen as they move, and use visuals and data to pinpoint problems and identify degenerative conditions.
Who is it for?
For injured veterans, CAREN can be a life-changing experience. The wide range of applications effectively treats injuries ranging from PTSD to learning to walk with a new prosthetic leg.
And that's not all. CAREN is useful to rehabilitate sports injuries, accident victims, elderly patients, and people with neurological diseases improve their mobility, coordination, and balance.
When the system is widely available to the public, the applications may prove to be endless. Currently, only one private facility, the New York Dynamic Neuromuscular Rehabilitation (NYDNR), run by Dr. Lev Kalika, offers CAREN physical therapy for public use.
Will CAREN go public?
The cost of owning and operating such a system is prohibitive for most private rehab facilities, and the unit itself takes up a lot of floor space. But as results start to become clear, more private facilities may be willing to invest. For now, availability is limited even to veterans because so few facilities offer VR therapy. Like all new technology, however, the cost will likely come down and the training options become more available as it grows in popularity.
CAREN technology may seem like something out of science fiction (the Enterprise Holodeck comes to mind), but it is very much a reality. In the future, these systems may be common fixtures at rehab facilities across the country, for people with diabetic nerve damage, arthritis, head trauma, or even people seeking to counter the effects of aging.
Calling all HuffPost superfans!
Sign up for membership to become a founding member and help shape HuffPost's next chapter