Every summer, parents grow a bit apoplectic thinking about the hours their kids are likely to spend doing the couch potato, screen-gazing thing. Some clever manufacturers are dreaming up alternatives to screen time by incorporating screens and tech directly into more physical play. In other words, if the kids hate leaving their tech behind, they can take their tech with them.
Technology Will Save Us, a whimsical British company that makes DIY kits for kids and Springfree Trampoline, a traditional outdoor trampoline company are two that are on a mission to get your kids moving, the high tech way.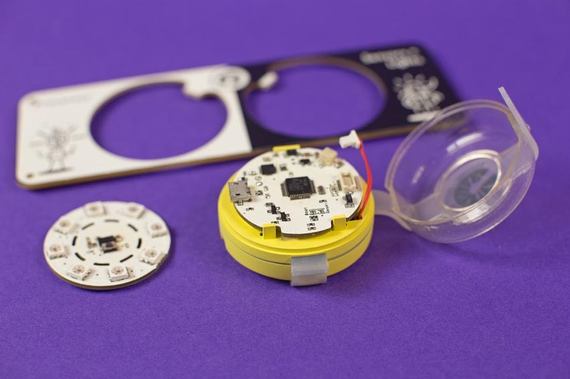 Technology Will Save Us' Mover Kit lets kids whip up their own wearable device, turning the finished product into an outdoor toy that rewards physical movement. The kit comes with everything you need to build a blinged-out wearable including motion sensors, a controller, a compass, and a bunch of colored LEDs. Once assembled (15 minutes from opening the box) the play pattern is pretty simple. The more you move the more the LEDs light up in rainbow colors. Accessories for hanging the wearable on your bike, a lanyard and bracelet come included in the kit. According to the company, during early focus groups, ingenious kids are creating everything from games where you throw the Movers sky high, to pet accessories, to even using them to time a vigorous tooth brushing session. Mover Kits are available on KickStarter this week for shipping later this year. They will cost about $30.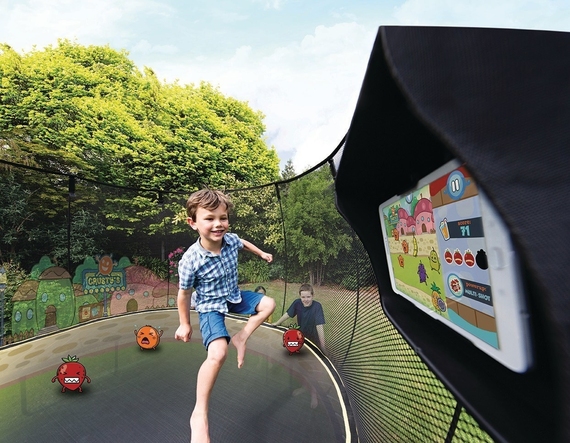 Backyard trampoline-loving families are going to love the high tech twist announced by Springfree Trampoline, a maker of quality trampolines for kids. Springfree Trampolines take your basic trampoline and tricks it out with a complete outdoor digital play system called tgoma ("take gaming outside and make it active"). The system includes motion sensors affixed to four points on the trampoline and an attached case to hold an iPad or tablet. Using Bluetooth, the sensors communicate with the tablet. By jumping on the trampoline kids are using their bodies and getting a physical workout while they're playing some intriguing video games.
The included games feature all kinds of jumping experiences from simple counters that measure the height and frequency of jumps to math and reading games where scoring a point often means jumping on the right answer. There's a sticker game designed for younger jumpers to create shapes and sounds and an Alien Stomp game reminiscent of Whack-A-Mole.
The company says it will keep creating and delivering new games to tgoma owners. Scores can be shared with social groups (tgoma is fully compliant on COPPA laws) so you can take the lead in shared games with friends and family. The tgoma kit ($499) kit can be added on to any Springfree trampoline which start at $1,495.
Whether you're bouncing your way through tgoma's trampoline games or moving around with your rainbow colored Mover Kit creation, these clever products were designed to combine kids' delight and high tech with moving physical experiences.
Robin Raskin is founder of Living in Digital Times (LIDT), a team of technophiles who bring together top experts and the latest innovations that intersect lifestyle and technology. LIDT produces conferences and expos at CES and throughout the year focusing on how technology enhances every aspect of our lives through the eyes of today's digital consumer.
Popular in the Community