A few months ago, a drive-thru restaurant called Fresa's opened in the heart of downtown Austin that broke the mold on the familiar, cheap, quick and processed fast food model. With an entrepreneurial spirit and an 8-foot neon chicken high in the air out front, Fresa's began serving up all-natural Mexican style charcoal chicken meals, organic egg breakfast tacos and fresh salads and simultaneously became part of a complex conversation about authentic flavor, the price of high-quality food, loyalty to the original ethnic venues and something much bigger than excitement over swanky drive-thru chicken.
The idea for Fresa's, Spanish for "strawberry" and a rough equivalent to a cheeky slang term for "yuppie," started about two years ago when restaurant veteran Margaret Vera wanted to create a hormone-free, fresh, Central Austin version of her favorite charcoal chicken meals easily found in well-loved restaurants on the outskirts of town. She teamed up with Tracy Overath and Larry McGuire and Tom Moorman of Austin hot spots like Perlas and Lamberts, who had recently scored a two-story drive-thru space nestled next to the upscale Clarkesville neighborhood.
With the right geography, restaurant expertise, trademark boutique-style branding and a Texas farm lined up to supply 800 hormone-free chickens per week, the stars aligned and together Vera, McGuire, Moorman and Overath were able to offer the kicked-up, healthier, delicious charcoal chicken concept in a convenient, charming drive-through/walk-up experience.
From a macro perspective, it was also good moment to introduce another alternative to processed fast food into the Austin landscape. Consumer consciousness toward local, non-processed foods is on a steady rise thanks in part to movies like Food Inc., Jamie Oliver programs and White House initiatives. And according to the National Purchase Diary (NPD) Group, there were 12.4 billion visits made to drive-thrus last year. Plus, the line at P.Terry's, the only other locally owned, 100 percent natural meat drive-thru in town, is perpetually around the block. In Austin and beyond, customers seem to be moving in a new direction and the time is right for locally sourced, healthy drive-thru menus to expand.
As for Fresa's, so far the results have been excellent. The chicken comes in two seasonings and each meal includes homemade tortillas and salsas, rice, beans, grilled onion, jalapeños and lime ($12 for half chicken, $24 for whole). The achiote bird captures a succulent smokiness and citrus flavor, the warm corn tortillas are memorable and I could eat the spicy green salsa made from emulsified onions, jalapeño and canola oil slathered on anything. The large chopped salad ($8) with chickpeas, red onion and spinach tastes fresher than most any I've had from the to-go section at Whole Foods and in true form, the watermelon agua fresca ($4) is a nectar-of-the-gods situation. Further, orders I've had from Fresa's (1/2 chicken and salad, $23) amounted to two or three sizable meals. The drive-thru takes about six minutes and the feel-good knowledge about where it came from coupled with convenience make it worth stopping for even if I had to exit the car to get it.
But publicly, the Fresa's effort has been met with both praise and skepticism. Fans of Fresa's applaud the flavor, appreciate the use of remarkably fresh, local ingredients and find value in the hormone-free health benefits and get-what-you-pay-for satisfaction. It also emerged victorious in charcoal chicken taste test/throw-down hosted by a well-known Austin food critic, and its convenience proves ideal for take out for picnics, busy people on the go, and family night take-out.
Its detractors, however, worry the upscale version is simply "watered down street food" compared to the original, and they are understandably put off by the fancy prices for what seems like simple Mexican fare. Some don't see hormone-free birds as an important differentiator or know about the potential effects and bemoan their smaller size. Others perceive the gourmet version as straight up out of their price range, only realistic as an everyday meal to the affluent set, claiming that charcoal chicken meals don't belong at $24 under any conditions.
In the end, however, it is not an apples to apples comparison between Fresa's and the original spots. The flavors are quite similar, but the textures and driving focus are different. As such, the Fresa's team takes pride in adding higher quality offerings to the Austin food spectrum but can appreciate that it's not for everyone. "We love El Pollo Rico too," McGuire says. "We're not trying to replace them ... but we do want to offer another option."
Despite the perception of high prices and their struggle keep up with customer demand, Fresa's has not been a cash cow just yet. McGuire says, they are losing money right now, which he attributes largely to standard inefficiencies that come with opening a new restaurant, but neither he nor Vera seems worried. In fact, they already have their eye on a second drive-thru location in South Austin where a Popeye's stands today.
Overall, Fresa's is part of an important discussion and helps plant the seed for a huge shift in the culture of fast food, despite those who don't find the concept appealing. And this is only the beginning. A former president and CEO of McDonalds is in the process of opening Lyfe Kitchen: a sustainable, seasonal, hormone-free chain of affordable gourmet restaurants based on fast food efficiencies. With that kind of muscle behind it, the movement toward quality, healthy, accessible food has incredible potential and indicates that it's only a matter of time before drive-thrus aren't dominated by crap anymore.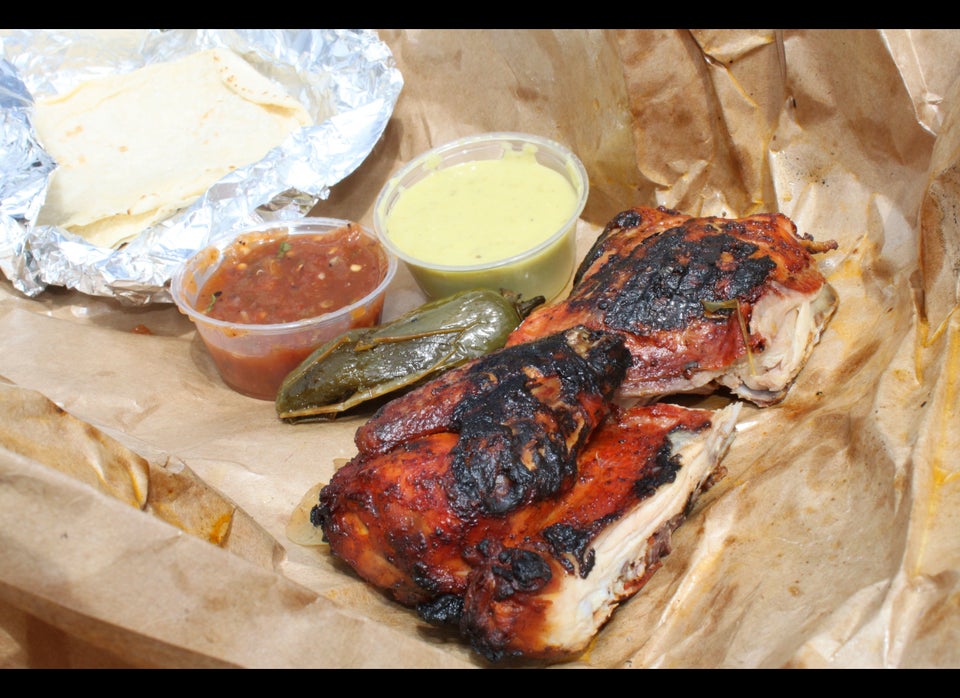 Not Your Avergage Drive-Thru
Related