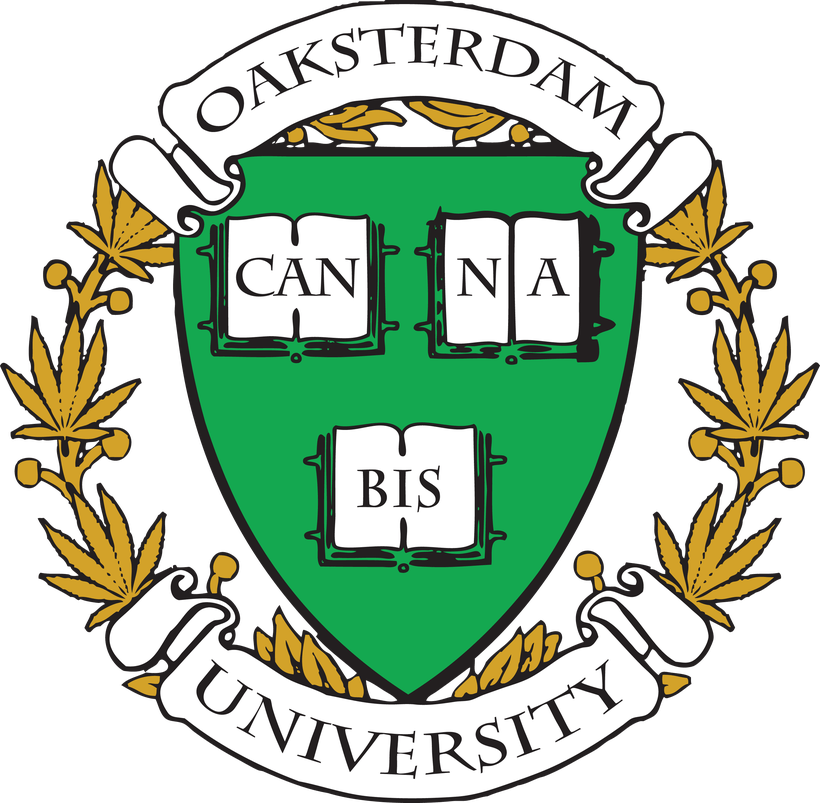 The cannabis industry is new and exciting, but there's so much information out there, how do you know what's accurate and reliable? The best way to become an expert in any field is to take a class, and that's exactly what you can do at America's first cannabis college, Oaksterdam University.
Located in downtown Oakland, California, Oaksterdam was founded almost ten years ago by cannabis activist Richard Lee. He was inspired after visiting the Cannabis College in Amsterdam and wanted to educate "good people who want to work in the cannabis industry in a professional way, who want to pay taxes and obey regulations and help improve their community." Since then Oaksterdam has expanded in size and curriculum, offering classes on every aspect of the new cannabis industry.
Oaksterdam is most known for its horticulture program, which is in-depth and fantastic, but it's so much more than a place to learn how to grow marijuana. Interested in the business, legal, science, history, advocacy, or economics side of things? Oaksterdam has all the bases covered, offering beginner and advanced classes in all things marijuana related. Classes start next week and it's not too late to sign up!
From budtending training to writing legislation, from methods of extraction to dispensary operations, Oaksterdam classes are taught by the leading experts in their fields. Take Ed Rosenthal, for instance, author of numerous books on marijuana including Medical Marijuana Handbook and Marijuana Garden Saver. He's been studying the plant and writing books for over 35 years and his books have sold over 2 million copies. A member of the International Cannabinoid Research Society, he currently teaches Horticulture 102. Oaksterdam also employs many cannabis-specialist lawyers like Edie Lerman, Eric Sterling, and Amanda Connor, among others, who teach courses like Legal 101, Cultivation Law, and Politics & History. These lawyer-professors are pioneers in the legalization movement and are more than happy to dedicate time out of their busy schedules to teach Oaksterdam students their rights and responsibilities under state and federal law.
With so many of the top minds in cannabis in the same place, it's no wonder Oaksterdam is often at the root of change, conversation, and new legislation within the legalization movement. After California's big victory with recreational cannabis in November, the professors, students, and alumni at Oaksterdam are gearing up for the next big change in the industry.
One way they're preparing is by hosting the International Cannabis Business Conference (or ICBC, for short), on February 17th at the Hilton Hotel in Union Square, San Francisco. This huge one-day cannabis event will bring together industry leaders, state regulators and lawmakers, bipartisan congressmen, and celebrities, like keynote speaker, Henry Rollins, to educate and connect people in the industry. Talks on regulations, licensing, distribution models, cannabis stocks, consumer tech, and branding will be given along with plenty of time to network with other leading professionals in the cannabis space. Early bird tickets are on sale now.
Oaksterdam is not your regular college, nor are its professors, students, or alumni your average "stoners". It's the most well-rounded, informative, and professional cannabis education in the United States, and it's open to anyone over the age of eighteen. Looking for a career change or foot in the door in the fastest growing industry in America? Just try to check out their course catalogue without signing up for something, we dare you.
This piece was created by Michelle Janikian for BrainBuzz.
Calling all HuffPost superfans!
Sign up for membership to become a founding member and help shape HuffPost's next chapter
This post was published on the now-closed HuffPost Contributor platform. Contributors control their own work and posted freely to our site. If you need to flag this entry as abusive,
send us an email
.