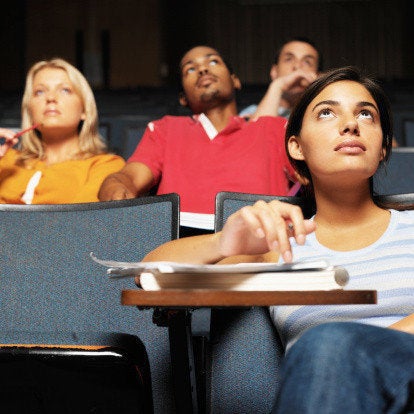 It certainly feels like the national spotlight is on higher education. And to the general public, it may even appear that we are marching bravely toward meeting the country's needs for higher education in the 21st century. But are we? Many faculty on college campuses around the country are not convinced.
Recognizing the need for a highly educated workforce to ensure the country's global competitiveness, President Obama, for instance, set an ambitious goal for the nation -- to have the highest percentage of college graduates of any country in the world by 2020. At the state level, a number of state governors have committed to increasing graduate rates in their public colleges and universities as their part in this national project. Foundations have funded initiatives to increase graduation rates. And the heads of many state college and university systems have followed suit.
What's not so clear is how we are going to meet these specific goals or the country's general economic and social needs for a more highly educated population in the 21st century.
In fact, increasingly, faculty members at the colleges and universities where these plans will actually play out, worry about a counter-trend working against the quality of higher education in the 21st century, one that could set us back for generations if we don't take it on now.
The deep concern stems from this fact: at a time of unprecedented de-funding of American higher education, a wave of "solutions" and "innovations" for how to increase access and student success have been proposed, mostly without evidence, sufficient forethought, and stunningly little debate.
I'll deal with specific proposals in future postings, but the brief and meteoric rise (followed by an equally speedy burn-out) of for-profit education as the "answer" to American higher education certainly provides a cautionary tale and suggests the need for a more thoughtful discussion of all proposals before they are implemented.
The details about recruitment, financial aid, and student loan practices in the for-profit sector are still coming in, but this much is clear: what was touted as a quick, easy (and cheap) answer to America's shortage of higher education capacity has resulted in financial disaster for millions of students and a potential loan default problem rivaling the mortgage loan crisis.
A year ago, wild enthusiasm (and savvy advertising) made questions about the practices of for-profits or their appropriate role in meeting the country's education goals impossible. Today, the damage is done.
The painful and rather obvious lesson here is that proposals touted as magic bullets or simply proclaimed, without evidence, as desirable "innovations" need scrutiny, analysis, and public debate. Faculty members around the country believe that, without more thoughtful discussion and more careful assessment of proposals for "fixing" American higher education, we risk failing students' needs and the public's expectations yet again.
Seventy faculty members from 21 states met last weekend in Los Angeles to discuss these and other issues. The attendees represented over 225,000 faculty members who teach more than 3 million students in colleges and universities of every type from Hawaii to New York. Some representatives were members of higher education unions; others were not.
The common denominator was a shared concern about the future of higher education and a commitment to making sure we engage in a national discussion that ensures the very best quality higher education possible in the 21st century.
A number of immediate actions to improve the public conversation about higher education's future garnered universal support. Among them were three immediate needs to be addressed:
1) We need principles to guide policy and to help us evaluate proposals for change.
Participants reviewed a draft document, agreed to circulate it widely on their campuses and in their communities for comment, and to report back in March. Readers can review the document and make their own comments here.
2) We need a broader range of voices in the conversation about higher education and its future.
Attendees agreed to begin outreach to others who have too often been absent from the discussion of higher education's future--students and parents, for instance.
3) We need a campaign for the future of higher education that ensures a solid future for students, for their communities, and for the country.
Higher education is a "hot topic" and the centerpiece of many an advertising and political campaign these days, but it will take a broad, grassroots effort to provide the level of access, quality, and affordability this country will need if we are to avoid betraying coming generations.
Participants left the meeting committed to joining with others to launch such an endeavor.
Higher education is at a crossroads. What kind of college education do we, as a country, need? Who will have access to it? How can we assure to students access, quality, and affordability? How will we decide among the many proposals being proffered almost daily?
If we fail to exercise the same critical thinking we claim higher education is about in discussing its future, we surely risk losing the very features of American higher education that have made it the envy of the world.

Calling all HuffPost superfans!
Sign up for membership to become a founding member and help shape HuffPost's next chapter