A growing number of American colleges and universities are in real financial trouble, and Bain & Company says if trends continue we'll have a higher education system that won't be able to "meet the diverse needs of the U.S. student population in 20 years."
Almost two out of three colleges are in bad shape according to a new analysis of nearly 1,700 public and private higher education institutions by Bain. One third are considered to be on an "unsustainable financial path," while 28 percent are "at risk of slipping into an unsustainable condition."
Since 1983, college tuition has increased three times faster than inflation. Bain estimates that under current conditions, they'll grow to increase 6.5 times more than the Consumer Price Index by 2030. As government funding declined in recent decades, higher education institutions have taken on more debt "without the revenue or the cash reserves to back them up."
Jeff Denneen of Bain & Company and Tom Dretler of Sterling Partners explained in their report, colleges and universities have been following the "Law of More":
Many institutions have operated on the assumption that the more they build, spend, diversify and expand, the more they will persist and prosper. But instead, the opposite has happened: institutions have become overleveraged. Their long-term debt is increasing at an average rate of approximately 12 percent per year, and their average annual interest expense is growing at almost twice the rate of their instruction-related expense. In addition to growing debt, administrative and student services costs are growing faster than instructional costs. And fixed costs and overhead consume a growing share of the pie.
Bain noted colleges will need to trim administrative costs, so more money is available to fund student services and instruction.
"Boards of trustees and presidents need to put their collective foot down on the growth of support and administrative costs," Denneen and Dretler write. "Those costs have grown faster than the cost of instruction across most campuses. In no other industry would overhead costs be allowed to grow at this rate — executives would lose their jobs."
This is something that's been noted before by the Goldwater Institute. From 1993 to 2007, college administrative costs grew faster than any other expense at higher ed institutions -- almost twice as much as research or instruction.
Richard H. Ekman, president of the Council of Independent Colleges, told the Chronicle of Higher Education analyses like these may not tell the whole story because they rely on data from a certain period of time.
The report didn't make distinctions between the different kinds of colleges either. The Chronicle also noted the report "classifies wealthy institutions such as Cornell, Harvard and Princeton Universities as being on an "unsustainable path" alongside tuition-dependent institutions like Central Bible College in Missouri."
Bain also recommended universities look to consider converting "even a small portion of an institution's real estate assets to cash" to improve their finances.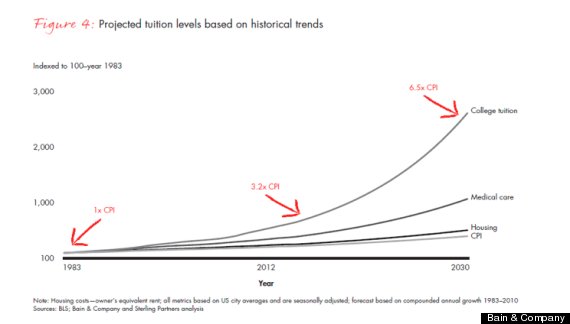 Calling all HuffPost superfans!
Sign up for membership to become a founding member and help shape HuffPost's next chapter
BEFORE YOU GO
PHOTO GALLERY
Tuition Hikes Around The Country In 2012