"It feels like a once in a lifetime experience...this has just expanded my mind beyond reason," Christina Gilmore, a Millennium Delegate from Shaw University remarked on campus at Howard University. For five days in early August, the iconic capital of the United States served as the backdrop for the eighth annual Millennium Campus Conference (MCC). Over 250 attendees, including youth from over 30 nations (64% female, 30% first generation college students) and higher education administrators from 27 institutions, convened to share stories, make connections, and develop skills to launch undergraduates' social impact careers. The theme of this year's conference was #itstartswithempathy, challenging Delegates to approach every level of their global impact work from a baseline of acknowledging human dignity. In her awards speech, Dr. Helene Gayle, the CEO of McKinsey Social Initiative and MCN Advisor, affirmed that "empathy is the most important ingredient for being a whole adult."
Throughout conference sessions at Howard University, undergraduates convened for impact studios, debates, plenary sessions, and an advocacy day on Capitol Hill. They practiced skills from networking to ethical storytelling. They wrestled with big questions, like: should we be focusing our energies on Aid or Justice? And who is responsible for leading global development, the Global North or South? They also celebrated as two global campaigns were launched:
• Pédrisson and Emmanuelson Bernard, brothers from Port-au-Prince, Haiti, won the Millennium Oceans Prize for their campaign to reduce ocean pollution through proper waste management.
• Thabu Mabula (from Zambia, studying at EARTH University), Beryl Nana Ama Akuffo-Kwapong (from Ghana, studying at Ashesi University), Jessica Russo (from USA, studying at the College of the Holy Cross), and Tanyaradzwa Chinyukwi (from Zimbabwe, studying at EARTH University), won the Millennium X-Factor Prize for their joint campaign - they are creating the Gender Network to tackle forms of gender inequality in their respective communities.
Student leaders also honored three extraordinary leaders who serve as role models for their global impact: USAID Administrator Gayle Smith, OPIC President and CEO Elizabeth Littlefield, and McKinsey Social Initiative CEO Dr. Helene Gayle.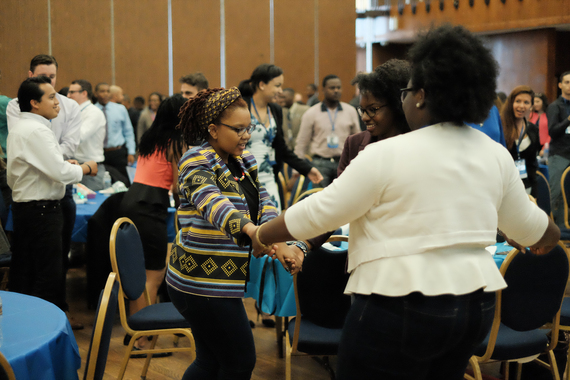 Delegates connecting at MCC16 at Howard University
Meanwhile, higher education administrators and key stakeholders convened during a concurrent Executive Track at the White House, the U.S. Department of State, and Howard University to explore their role in leading global social impact. Five noteworthy innovations to ensure student success stood out:
*Becker College, a Millennium Campus in Worcester, Massachusetts, Becker has partnered with Nobel Peace Laureate Muhammad Yunus to create the first Yunus Social Business Centre in the United States. For student leaders, this includes the opportunity to travel to Haiti to study social businesses in the country in 2017.
*The Jenzabar Foundation supported the participation of dozens of students and administrators in MCC16, continuing its long-standing partnership with MCN - and has transformed student organizations in the sector through its Student Leadership Awards. The annual Awards have supported campus-based organizations and national organizations advancing students' extraordinary efforts at the local, national and international levels.
*ONE Campus has over 100 campus chapters across the United States - enabling campus leaders to use their voices to ensure global development is a foreign policy priority. ONE Campus brought 52 Millennium Delegates to meet with policy makers on Capitol Hill during MCC16 and share their passion for fully funding the Global Fund to fight AIDS, tuberculosis and malaria.
*The US Government: The White House and the U.S. Department of State hosted MCC16 Executive Track sessions. At the White House, Tina Tchen, Chief of Staff of First Lady Michelle Obama, highlighted Let Girls Learn - closing the education gap for 62 million girls across the globe. At the U.S. Department of State, Assistant Secretary Evan Ryan spotlighted the Gilman International Scholarship - enabling student leaders with financial constraints to study and intern abroad.
The Jenzabar Foundation, the Landry Family Foundation, the Remmer Family Foundation, the Cordes Foundation, the Ansara Family Fund, ONE Campus, Millennium Campuses, David Bernstein, END7, Strength of Doves, and more than 50 organizations have combined efforts to make MCC16 a reality.
Gayle Smith, Administrator of USAID, made a powerful point during the final day of the conference as Delegates reflected on the power of empathy in this work: "Talk to people where they are, and not where you think they should be." Administrator Smith went on to share in her remarks that, "if you could just force multiply around the world and every Friday, get thousands of people together to celebrate empathy, this world would be what we want it to be. And I think we can get there." The responsibility to make this vision reality - expanding the MCN community and cultivating a generation of ethical, effective, engaged leaders - is a shared opportunity for all of us.
REAL LIFE. REAL NEWS. REAL VOICES.
Help us tell more of the stories that matter from voices that too often remain unheard.