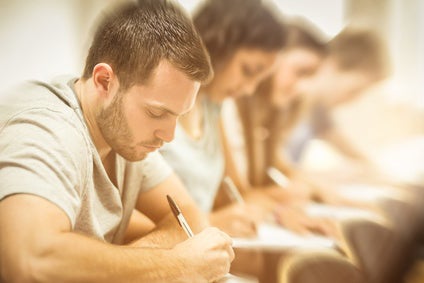 Along with much, if not most, of America, higher education seeks to gain a clearer picture of trends with the Trump administration. As the six-month mark of his presidency passes, colleges and universities await understanding of what impact the administration will have on a number of fronts affecting our campuses — from proposed cuts to student aid to possible rollback of some current regulations.
Many of my colleagues seem to have adopted an extended wait-and-see period or a practice of treading carefully until more is known.
So far, the news isn't totally grim, but in other ways, there isn't a lot of news.
Our colleagues at the National Association of Independent Colleges and Universities have expressed concern — which I share — about the administration's proposed cuts to federal student aid. If adopted by Congress, the cuts would significantly impact lower-income and what NAICU terms "working class" students and their accessibility to college. Many of these students qualify as first generation, the first in their families to enroll in higher education.
According to Inside Higher Ed, the administration "estimates that $143 billion would be saved over a decade by allowing the Perkins Loan program to expire and phasing out subsidized federal student loans and Public Service Loan Forgiveness after next year. It promises another $76 billion in savings from streamlining income-based repayment programs for student loans."
The budget would eliminate the Supplemental Educational Opportunity Grant and would cut federal work-study funding by almost half.
As we educators have witnessed in the past, short-term budget savings can lead to long-term denial of opportunity, and we wonder whether the new administration has thought about what that could mean to individual student success and America's global competitiveness.
Regarding regulations, the U.S. Department of Education has invited comments on the deregulation of higher education. For its part, NAICU is submitting a task force report that contains suggestions to "consolidate, streamline and eliminate burdensome regulations."
Stating that "oversight of higher education by the Department of Education has expanded and evolved in ways that undermine the ability of colleges and universities to serve students and accomplish their missions," the task force outlined several areas of concern.
They include "problematic financial responsibility standards, confusion and inconsistency in reporting requirements for campus crime, overreach in authorization of distance education programs, inefficient rules concerning verification of financial aid eligibility, counterproductive micromanagement of the accreditation process, and policies that result in consumers being inundated with information of questionable value."
Most of my colleague presidents agree that clarification and simplification — if not outright rollback — of a number of regulations are desirable goals, and we welcome the opportunity to comment.
For smaller institutions such as Virginia Wesleyan, directing more and more resources to compliance can indeed be burdensome. Moreover, too often in recent years, Washington has signaled that it knows better than we do how best to manage our campuses. We hope for a positive outcome in the interest of better serving our students at affordable rates of tuition.
More than anything, I will be watching for a clearer view of President Donald Trump's fundamental attitudes about higher education. Congress can help to ameliorate some of the proposed student-aid cuts, and it may be some time before the government's conclusions become policy.
But in an age of "America first," it seems essential to offer a coherent vision of using our colleges and universities to attain important firsts in America. Those would include research, innovative teaching and inspiring students to become engaged citizens.
I'm not suggesting that we rely on the government to lead the way to accomplish this. I am recommending, however, that we determine what government can do to support our own goals in basic research, social inclusiveness, cultural diversity and intellectual capital — among the most important prerequisites for advancing the vitality and relevance of higher education here in Hampton Roads and throughout the nation.
As we know all too well here in our home region, the government can give, and it can take away. Trump is proud of our military here. Let's hope his pride also extends to an investment in students and in a climate of non-interference in their success.
So far, we are still trying to read his intentions.
Dr. Scott D. Miller is President of Virginia Wesleyan University in Virginia Beach, Virginia. Previously, he served as President at Bethany College in West Virginia (2007-15), Wesley College in Delaware (1997-2007) and Lincoln Memorial University in Tennessee (1991-97).
He wrote this for the July 30 issue of The Virginian-Pilot (Norfolk, VA)
Calling all HuffPost superfans!
Sign up for membership to become a founding member and help shape HuffPost's next chapter
This post was published on the now-closed HuffPost Contributor platform. Contributors control their own work and posted freely to our site. If you need to flag this entry as abusive,
send us an email
.