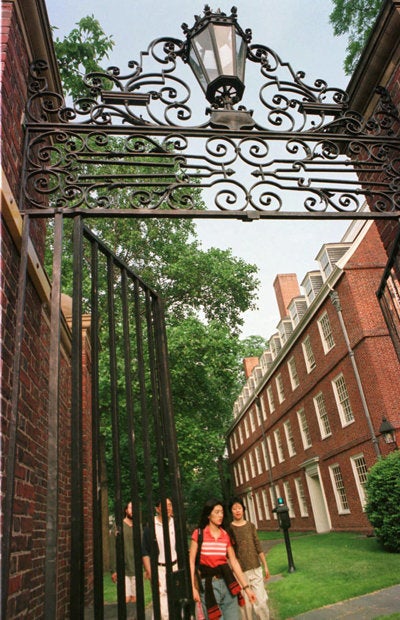 Over the past few months, college presidents from across the country have founded a unique literary genre. Writing separate but nearly identical letters to their respective communities, countless presidents have hailed the virtues of a liberal arts education and the inherent strength of their institutions. They have lauded their resilience and their hope for the future. And then, mixed in there somewhere, they slip in another little detail: "We're out of money."
One cliché employed by all of these presidents is that the ivory tower is not immune to the economic recession. Indeed, colleges and universities--private and public, large and small--have quite a bit to worry about these days. With the declining markets, they are seeing higher costs of borrowing, an impact on the size and quantity of donations, and sinking endowment revenue. Revenue from endowments often account for a sizable chunk of operating budgets, often covering about one-third of annual expenses. Many colleges and universities have set records in the last couple decades for generating unprecedented returns from an asset-allocation mix that looks very different from what most individuals typically maintain. Many of the wealthiest institutions tend to be light on blue chip stocks and treasury securities, and heavy on illiquid assets, such as private-equity, hedge funds and real estate and commodity holdings. This means that returns are heavily correlated with market performance; when times are good, their endowments swell. But nowadays, not so much.
Colleges who promise need-based financial aid will also see unpredictable rises in spending as individual families find it increasingly difficult to pay steep tuitions. Compound all of this with the escalating costs of energy--the energy required to heat countless dormitories and academic buildings through a cold winter--and you begin to see a bleak future for America's colleges and universities.
In some ways, the financial crisis is more difficult for these non-profit educational institutions than for businesses. Colleges are held to higher moral standards than businesses--perhaps rightfully so. Students and faculty are hesitant to apply corporate models to their beloved institutions. Many view universities as havens from the world of fiscal concerns, where the life of the mind and the lives of students are protected above all else. They are even more uncomfortable with the traditional corporate solutions to balance budgets: increase prices, cut programs and layoff workers.
College administrators are thus faced with some difficult decisions. Even Harvard University, with an endowment greater than the GDP of some small countries, is facing the largest budget shortfall in its 372-year history. Harvard College will have to trim its 2009-10 operating budget significantly, to the tune of $100 million, freezing salaries and postponing searches for most tenure-track faculty.
Similar concerns exist at smaller liberal arts schools. At Vassar College, I am Editor-in-Chief of The Miscellany News, the campus newspaper since 1866 (www.miscellanynews.com). Vassar has lost about $250 million from its endowment over the past few months, and like many comparable institutions (Amherst, Williams, and Wesleyan) it will need to trim next year's operating budget accordingly.
This is the difficult part.
Conversations about budget cuts almost always create sharp divides between a college's constituencies. Faculty members suddenly distrust administrators, administrators begin to fear alumnae/i reactions, and students may begin to resent their alma mata for cutting a particular office or program.
Despite student protest and complaints, Arizona State University will unceremoniously end contracts with more than 200 adjunct instructors. At Williams College, athletes are worried that budget cuts would affect their equipment and travel costs. Bowdoin College plans to freeze non-essential campus construction beginning next year. At Wesleyan University, the administration has made a controversial proposal to increase its enrollment by about 120 students over four years in order to take in an additional $3.9 million in revenue. Many students and alumnae/i fear that this will mean larger class sizes and a diminished quality of education.
Vassar, too, has been forced to make controversial budgetary decisions. Last week for example, some alumnae/i and students questioned a plan to not renew the contracts of two adjunct professors in the English Department. These professors were liked by students, and specialized in the popular area of creative writing. The elimination of these two positions, the College has said, is part of larger need to reduce spending on faculty salaries by about $750,000 in 2009-10. While some have complained that the move will harm the creative writing program, administrators maintain that the staffing plans will only mean a reduction in 70-80 courses out of the 1,200 or more that Vassar offers, and that this move is necessary to balance the budget.
After interviewing students, staff, administrators, faculty and alumnae/i, I find myself at somewhat of an emotional crossroads on the issue. On the one hand, I see students rightfully indignant when the economy threatens their favorite professors or programming. "Why would they cut something so essential? Why can't they cut something else, anything else?" Part of me starts to get angry right along with them.
A few hours later, I'll interview an administrator, chomping at the bit to ask them pressing questions. Then I'll notice their slumped posture--visibly exhausted and anxious, bags under their eyes and coffee cups overflowing their trash bins. They are, I quickly realize, working themselves as hard as they can to ensure the financial future of the College, often staying late hours and weekends. Suddenly I become empathetic. After all, aren't these administrators being asked to do the impossible, to balance budgets that cannot possibly be balanced?
Everyone has watched the news for the past few months, but somehow few people expect national events to affect students' experiences in America's colleges, or students' ability to afford those colleges. Tufts University has not only given up construction of new sports and laboratory facilities, but its chief financial officers are considering eliminating the school's need-based admissions policy. "The target of being need-blind is our highest priority," Tufts president Lawrence Bacow told The New York Times in November. "But with what's happening in the larger economy, we expect that the incoming class is going to be needier. That's the real uncertainty." The University's latest prediction is that the financial aid budget will need to rise by about $4 million next year. Students have been up in arms about revoking financial aid, but the administration feels like it has its hands tied. "Everyone is going to have to sacrifice," Bacow told the school's concerned student government. Schools of all sizes will almost certainly have to become more need-sensitive in their admissions this year, and will likely be offering smaller aid packages. Tuition will likely increase at many schools too, making it increasingly difficult for many to achieve a college education.
Kalyani Phansalkar, a sophomore at William & Mary College, knows that first hand. Phansalkar was unable to register for spring semester classes because the College was quickly forced to raise tuition as the economy sank. "My parent's budget is still tailored to the former tuition," she wrote in her college newspaper. "The difference between the two prices remains outstanding."
Her sense of hopelessness was matched only by that of William and Mary's President Taylor Reveley. "No other college or university in America has had to overcome more adversity than William & Mary," he wrote in his community letter, as if trying to reassure himself as much as the students and faculty. "We will be fine."
Higher education will be hurt by the economy. Students will receive less aid, non-tenured faculty will be let go, and support staffs will shrink. But the key to mitigating these truly unfortunate financial realities will be communication and discussion between administrators, employees, graduates and students. One letter from the president bemoaning the loss of the endowment--along with vague predictions of budget cuts--is not enough. College administrators should make sure to be as transparent as possible. Despite the crippling decline of Wesleyan's endowment, their president Michael Roth has met with the student government multiple times in the past few months, and issued information through blogs, letters and even Web site dedicated to the financial situation with an informational video. Wesleyan will be forced to make extensive budget cuts, but at least no one will be kept in the dark.
Seeing the early effects of the financial crisis on the macro and micro levels, I'm reminded of a lecture I saw at Vassar in 2006 by Williams College economist Gordon Winston, discussing research on the economics of higher education that he completed with Vassar president Catharine Bond Hill, argued that colleges are "part church and part car dealer." (The more technical term is donative commercial non-profits). On the one hand, colleges are businesses that charge prices for their services and operate under financial constraints. On the other hand, they are charitable institutions that receive donations and subsidies from individuals and the government. Though they charge a price for their product, that price (tuition) is heavily subsidized and does not nearly cover the production costs (hiring the faculty, heating the buildings, etc.) Fundraising professionals will frequently remind students that although the sticker price of an education might be between $30,000 and $40,000, the actual cost of delivering that education is closer to $60,000 or $70,000.
As Winston implied, institutions of higher education do not, and should not, emulate a corporate economic model. Colleges and universities not only are driven by financial concerns; these institutions are driven by idealism. Dedication to financial aid, to public service, and to ideas--all of these attributed strengthen education in America, even if they don't necessarily benefit colleges' bottom lines. While hastily announced price increases or layoffs might be acceptable in the corporate world, they do not apply so neatly to the realm of higher education. Even in a time of economic peril, liberal arts education demands discussion and debate. Difficult choices will certainly have to be made, but administrators across the country should remember to balance their role as church and car dealer.
These lofty moral standards demanded by students, faculty and the public are costly to institutions, but they ultimately help college administrators set priorities in a time of fiscal crisis--because unlike AIG, Lehman Brothers or General Motors, America's colleges cannot afford to fail.

Calling all HuffPost superfans!
Sign up for membership to become a founding member and help shape HuffPost's next chapter