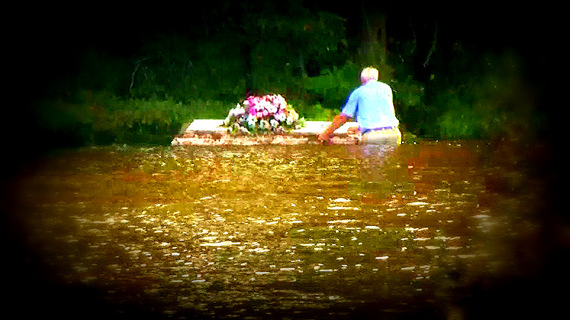 Higher Ground.
Dire situations sometime call on us to be heroes...such as here.
Pastor Wayne H. Reeves in Ridgeville, SC, near Summerville, SC, watched the rain fall all day, like so many in Carolinians...but he had a different view than most. He watched as a casket slowly made its way to the surface, buoyed by the floodwaters, the flowers atop intact.
He was told not to go out into the waters...they were unsafe due to snakes, wildlife, sewage issues....he was told by his family, the police, the sheriff. In the end he didn't listen to any of them. He waded into the cemetery and guided the casket to Higher Ground.
The thing I like about this is that he could have been any one of us, rescuing a parent, a child, an aunt, a friend, an uncle...who had just been buried. As he said, "I waited all day, and nobody did anything, so I decided, out of respect for this family, I would do whatever's necessary."
I hope that confronted by a similar situation that I would act in a loving instinct such as this man. When told not to go, he replied, "But that's not who we are. This is America, and we're not like that."
He continued his quest of taking others to Higher Ground.
REAL LIFE. REAL NEWS. REAL VOICES.
Help us tell more of the stories that matter from voices that too often remain unheard.