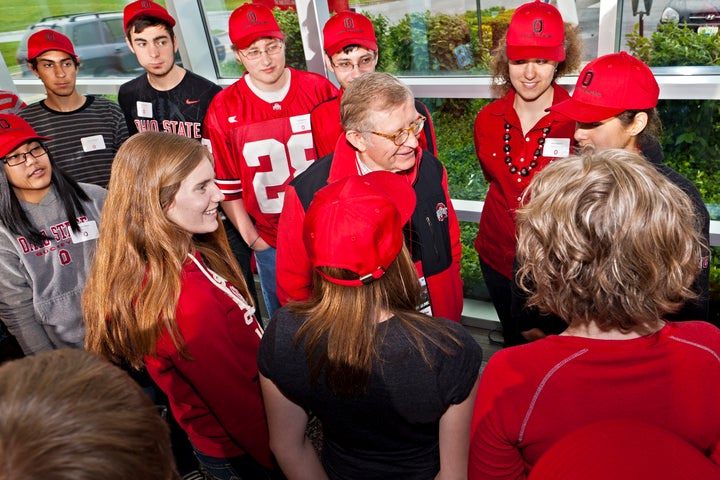 Public universities may be suffering disinvestment from state governments, but their presidents are still taking home hefty salaries.
According to a newly released survey by the Chronicle of Higher Education, the median total compensation for public university chancellors and presidents rose 3 percent from $409,483 in FY 2010 to $421,395 in FY 2011. At the same time, states cut back on support for public universities by nearly 8 percent, according to a separate study.
The compensation not only includes six-figure salaries, but often times allowances for cars and housing and five or six figure contributions to pensions.
As student debt continues to rise, topping $1 trillion and surpassing all other consumer debts, college presidents are beginning to take some heat for their high salaries.
President Obama has spent much of 2012 speaking about the cost of college, beginning in his State of the Union address in January. The president put universities on notice that if they didn't reign in the price to go to school, the federal government would take away aid.
Michael Young, president of the University of Washington, sharply criticized Obama as not understanding how public universities work. Young said the president's veiled threat was "nonsense on stilts."
"They really should know better," Young said at the time. "This really is political theater of the worst sort."
The California State University faculty union endorsed a walkout next fall if the administration continues to hold off on pay raises for professors while increasing executive pay. Students at Cal State also went on a hunger strike demanding, in part, that CSU administration officials take a pay cut.
Representatives from schools argue the high compensations are needed to attract top talent to run the universities. Sometimes the funding doesn't come from tuition or tax dollars, and instead is drawn out of funds that would've otherwise been used for things like scholarships and campus construction.
Yet, at schools like Ohio State University, where they are considering selling off property while their president enjoys nearly $2 million in compensation, critics see a disconnect.
"[For] students and their parents who are struggling, not just with coming up with the money, but paying off the debt," Dale Butland, a spokesman for Innovation Ohio, a nonprofit policy research group, told the New York Times, "I think there is a disconnect between what they are being asked to do and what they are seeing the leader of the university doing."
The 14 Highest Paid Public University Presidents:

PHOTO GALLERY
The Highest Paid Public College Presidents In FY 2011
Calling all HuffPost superfans!
Sign up for membership to become a founding member and help shape HuffPost's next chapter