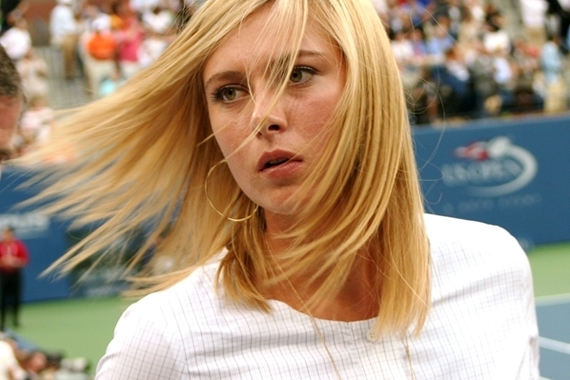 We often hear about the astronomical salaries in men's sports, but we hear little about the top female sports earners. The main reason is the greater popularity of men's sports and the corresponding TV and merchandising revenue. There is no women's counterpart to the NFL or Major League Baseball. In sports where there are counterparts, such as the WNBA in basketball, women's salaries lag far behind.
As a result, we find the majority of top female sports earners in non-team sports, especially in tennis. Prize money and sponsorship opportunities for female tennis players are nearly equal to that of men (and occasionally greater). Otherwise, equality is elusive. First place on the women's list of sports earnings only merits 26 place in the overall sports earnings list.
Accordingly, the Forbes list of the top 10 highest-paid female athletes for 2015 (using values from June 2014 to June 2015) features seven tennis players, and three athletes from other non-team sports -- auto racing, golf, and mixed martial arts (MMA). Here are the top 10 ladies:
1. Maria Sharapova - Serena Williams may be dominating on the court, but Sharapova (pictured above) dominates on endorsements. Her total earnings of $29.7 million include $23 million in endorsements from Nike, Porsche, and a host of other companies. Sharapova also has her own line of gummy candies, appropriately named Sugarpova.
2. Serena Williams - Williams (pictured below) is on a tear through the majors. She has won four this season (and only narrowly lost out on a fifth) at the U.S. Open 2015. Williams earned $24.6 million with a tour-leading $11.6 million of that in winnings. Sponsors include Chase and PepsiCo products including Gatorade.
3. Caroline Wozniacki - Wozniacki comes in a distant third at $14.6 million in earnings. Her sponsors include Adidas and Godiva (including the perk of free chocolates). Wozniacki also likely raised her name recognition beyond tennis by making an appearance in the Sports Illustrated swimsuit issue.
4. Danica Patrick - Patrick (pictured below) has yet to break through to the Chase for the Sprint Cup, but does have six top-ten finishes in her career. She has earnings of $13.9 million, a renewed contract with Stewart-Haas Racing, and a new racing sponsor in Nature's Bakery.
5. Ana Ivanovic - Ivanovic reached $8.3 million in earnings, driven by $6.5 million in endorsements from Adidas and other sponsors. She was 5 in 2014 world tennis rankings as well as earnings.
6. Petra Kvitová - Sponsorship from Wilson and Nike helped Kvitová to $7.7 million in earnings, as did a Wimbledon victory in 2014.
7. Simona Halep - Halep's $6.8 million earnings mostly came from $5.3 million in tennis winnings, but she does enjoy significant endorsement contracts in her Romanian homeland.
8. Ronda Rousey - Arguably MMA's most popular figure in either the men's or women's division and known for putting away MMA opponents in a matter of seconds, Rousey (pictured below) earned $6.5 million. Her company endorsements include Reebok and Carl's Jr. She also appeared in three movies and wrote a best-selling book. That will be a hard year to top.
9. Stacy Lewis - The only golfer on the list, Lewis earned $6.4 million with $2.4 million in prize money and a wide variety of sponsors from Mizuno to Marathon Petroleum to Pure Silk to FootJoy.
10. Agnieszka Radwanska - Radwanska rounds out the top ten with $6 million in earnings thanks to sponsors such as Lexus and Lotto. Her peak performance in Grand Slam events was a Wimbledon finals loss to Serena Williams in 2002.
While times are changing in women's sports, it seems unlikely that the composition of the Forbes top ten highest-paid female athletes list will be changing anytime soon. It will likely be dominated by tennis players and only contain athletes in non-team sports. The biggest question may be who eventually dethrones Maria Sharapova as the earnings queen. Will it be Serena, some other tennis player, or will Ronda Rousey "fight" her way to the top? If she does, it will be a much longer battle than she usually has.
Maria Sharapova by Boss Tweed (Maria Sharapova at the 2007 US Open) [CC BY 2.0 (http://creativecommons.org/licenses/by/2.0)], via Wikimedia Commons | Ronda Rousey by Bill (DSC09787) [CC BY 2.0 (http://creativecommons.org/licenses/by/2.0)], via Wikimedia Commons | Serena Williams photo by Jimmy Baikovicius from Montevideo, Uruguay [CC BY-SA 2.0 (http://creativecommons.org/licenses/by-sa/2.0)], via Wikimedia Commons | Danica Patrick by Emetsger [CC BY 2.0 (http://creativecommons.org/licenses/by/2.0)], via Wikimedia Commons
Related
Popular in the Community