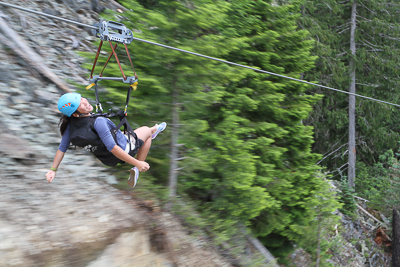 Now I know how an eagle feels.
Launching into thin air, I zoom at high speed across the mountain valley, flying past the treetops of old growth forests in the backcountry alpine of Cougar Mountain in Whistler, British Columbia.
While airborne I even have time to stretch back, relax in my harness and spread my 'wings' - my outstretched arms flapping in the wind as the wilderness blurs by. For nearly a minute, I'm soaring along Canada's longest zipline, nearly a mile long and 600 feet above the valley floor.
Even more thrilling (or terrifying, depending on your constitution), you can accelerate to speeds of over 60 miles per hour, depending on your weight (heavier people are faster). It's no wonder they call this new addition to Whistler's ever expanding year-round adventure offerings Superfly.
Superfly's engineers built six parallel cables, ranging in length from 900 feet to nearly a mile, slung across breathtaking Coast Mountain backcountry terrain. They then added an innovative new smooth braking system - especially comforting since the previous method I had to employ while ziplining in Costa Rica involved an old leather work glove, a hope, and a prayer.
The cutting-edge harness assembly, designed to mimic a paraglider pilot's seat, can transport everyone from children to guests with accessibility challenges. And Superfly's expert (and exuberantly friendly) staff make sure to check every clip and safety strap twice before releasing you into the void.
With all that fancy technology and focus on safety -- plus the bragging rights that go with offering Canada's two longest zip lines -- it's not surprising that after just two months of operation Superfly is one of Whistler's top attractions.
For some, this adrenalin-fueled, non-polluting outdoor adventure also offers an opportunity to face down some long-held phobias.
"The best part was getting over my fear of heights," said teenager Anna Coleman, here on holiday with her parents and sister, Amy, from their home in St. Louis.
Anna and Amy got to share their exhilarating high wire adventure side-by side, shrieking in unison as they hurtled along, zipping high over creeks and rivers between Cougar and Rainbow mountains.
For their father, Daryl, who has tried ziplining once before in Eastern Canada, the new Superfly experience more than exceeded his expectations.
"This one had much longer lines, was far easier, much more scenic and, most importantly, safer," he said as we waited for the shuttle bus to take us on the 15 minute ride back to Whistler.
In addition to the high-speed ziplines, Superfly also features a Treetop Adventure Course that is particularly fun for families. It consists of a series of challenges or games that go from tree to tree. Participants wear safety harnesses and are always double-clicked in as they navigate bridges, swings, tight ropes, monkey bars and ziplines - all strung high up in the treetops.
Whether you're zipping, climbing or swinging through the forest, Whistler's new Superfly outdoor adventure adds up to a day of high flying fun where once only eagles dared soar in one of North America's most picturesque natural settings.
Superfly Zipline adventure near Whistler, British Colombia