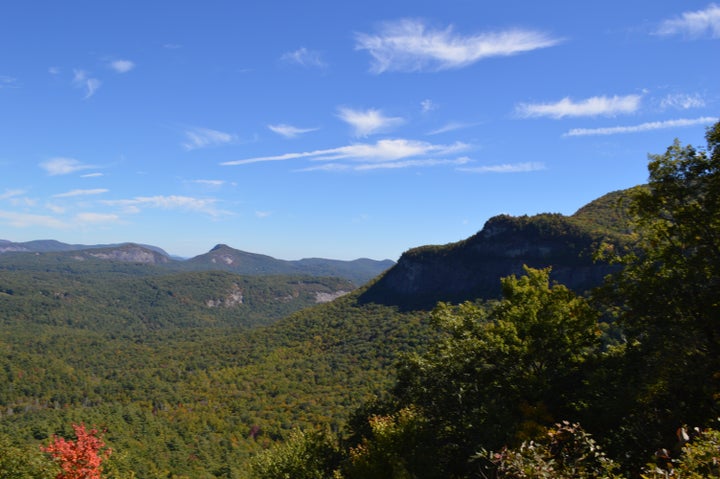 My hands tightened on the old steering wheel of my car as it tore up the imperviously curvy Whitewater Falls Road towards Highlands, North Carolina. I had plugged in my GPS coordinates accordingly before the trip, only to discover mid journey that cell-reception was a mysterious force that quivered and shook before dying completely as I drove alone in the orange and red tree-topped woods.
I was peacefully disconnected. I can't remember the last time I felt completely free like this. It was as if I could feel the invisible wireless strings be cut and felt utterly euphoric during my drive to Highlands, NC and at 4118 feet above sea-level, the visit can be quite literally breath-taking.
It's a feeling that many who visit Highlands can connect with. The historical town is situated in Macon County with full-time population of 3200 and economically anchored by Old Edwards Inn. The reported population is grossly misrepresented though, as the town lends itself to the seasonal refuge of some of the most elite and wealthy in the country. In the past five to seven years, Highlands has undergone an era of transition resulting in the resident number swelling to 20,000 during their peak Fall season.
Which is why Highlands created a Culinary Weekend ten years ago in 2006 in order to extend the shoulder season. It became a celebrated tradition, each year pulling more and more visitors up the windy road from neighboring cities such as Atlanta, Charlotte and Greenville.
This year, it's ramping up and switching gears. While we mostly attribute risk-takers with individuals, I think it's fair to acknowledge that an entire town is equally as capable of taking leaps of faith as well. After ten years of a tried and true system, Highlands Chamber of Commerce took a true jump with the Culinary Weekend and went through and intensive re-branding and re-working of the festival to see just how far they could take an idea and make it reality. From this emerged The Highlands Food and Wine Festival.
Former Chairman of the Chamber of Commerce and Old Edwards Inn General Manager Jack Austin states, "We already had great representation, but this has added a whole new musical and entertainment component to the mix. All in a small, natural and beautiful setting of Highlands and makes it that much more special. It seems to be the case that it's involving the whole community. The locals, the second home-owners, the visitors, the retail shops, the restaurants. My hope is that it is a galvanizing thing for the Highlands community. "
With the addition of four events to the roster, celebrity chefs and participating award winning wineries such as Laurent-Perrier and Cliff Lede, the Highlands Food and Wine Festival is on the trajectory to become a regionally renowned event. The additions to this year's event line up include Rockwood Rocks, a private concert with Bruce Hornsby where 30 ticket purchasers are chauffeaured in Maseratis and Landrovers at sunset up to Rockwood Lodge as well as Truckin', The Main Event and Gospel Brunch.
The Highlands Food and Wine Committee specifically created Truckin' to appeal to an entirely new demographic that most food and wine festivals tend to forget- the day trippers. It is designed for the younger, more budget conscious crowd and day-trippers from neighboring cities. "Think glamping. We'll have food trucks in the middle of a forest with a live band. We'll have a hidden beirgarten and huge wooden tables where our guests can kick back, enjoy a good beer from Satulah Mountain Brewing Company while jamming to The Lone Bellow and Nitrograss," said Christy Medford, who in partnership with Casey Reid owns Eleven Events, charged with planning the overall newly imagined festival.
Grammy winning singer and banjo player Rhiannon Giddens is playing at the Main Event. She was recently inducted to the North Carolina Music Hall of Fame and received the Steve Martin Prize of Excellence in Banjo and Bluegrass Music. Attendees will feast on small plate dishes created by Chef Justin Burdett of Local Provisions in Asheville, NC and Chef Johannes Klapdohr of Library Kitchen and Bar opening this winter in Sapphire Valley.
"We've designed the festival to attract different demographics. We wanted to appeal to all age groups and pull in new visitors to Highlands," said Reid.
The rebranding must be working. Until this fall, I had never been to Highlands. My perception of it was, well a place where really fancy people went to retire. Walking down Main Street I was greeted by a biker gang of middle age men disembarking from thundering Harley Davidsons in matching leather jackets.
One of them noticed low air pressure in my left tire and pointed it out before taking a pressure gauge from a zippered pocket and checking. "Yep, you need some air."
I breathed in the fresh mountain air. Check.
"We're gonna get some Ugly Dog." The motorcycle gang lumbered on up the street leaving me wondering what the heck was an Ugly Dog, until later that day when I found the Ugly Dog Pub and their mysteriously delicious tater tots.
The Highlands Food and Wine festival seems to have been redesigned with people like me in mind. The events are structured with reasonable pricing and an overwhelming amount of small dish offerings. Sunday mornings Gospel Brunch will be even more exciting with a performance by the Blind Boys of Alabama.
Mary Adair Trumbly, co-chair of the Highlands Food and Wine Festival adds, "Everything needs re-energizing every now and then. Culinary Weekend was a wonderful event that extended the Highlands season and now it was time to boost our award winning restaurants to another whole demographic."
The Highlands Food and Wine Festival is running on a current of energy that is altruistic and beneficial to the Appalachian community in which it will reside by partnering with the Food Pantry of Highlands, NC. Each event will have a creative fund-raising process to both raise awareness of local hunger and help support the Food Pantry's initiatives. Such as the Grand Tasting using interactive paint by numbers and auctioning off the final product to the highest bidder, or Truckin' trading raffle tickets for a Highlands Food and Wine merchandise basket in exchanged with listed canned items. The Main Event will be selling $100 raffle tickets for two tickets to the Rockwood Rocks event, a prize with a total worth of $5,000 and Gospel Brunch will play to its theme by passing around an offering tray from a local church during a hymn sung by gospel singers, The Blind Boys of Alabama, who in and of themselves, are an incredible story for another time.
In my research for this article, I found that tender pride in each Highland's residents heart regarding both the town and the upcoming festival. Every store owner and chef I spoke with was here to stay, with an undying loyalty to one another. In an era of competition and self-promotion, it was refreshing to see store owners refer one another and sing each other's praises.
I closed out my day by hiking to Sunset Rock at 4:30 PM, just in time to sit and reflect while watching the sunshine wash over the valley and understood finally how precious small towns are and the innovative approach this town is taking to put itself on the map.
"The excitement that is building in Highlands in the days before the event is really palpable," said Austin smiling, " This event will really put Highlands on the map as a regional culinary destination. Unlike events of this nature in bigger cities, this is really involving the whole town of Highlands and has become a true community event."
For more information about the Highlands Food and Wine Festival this Thursday- Sunday, click here.