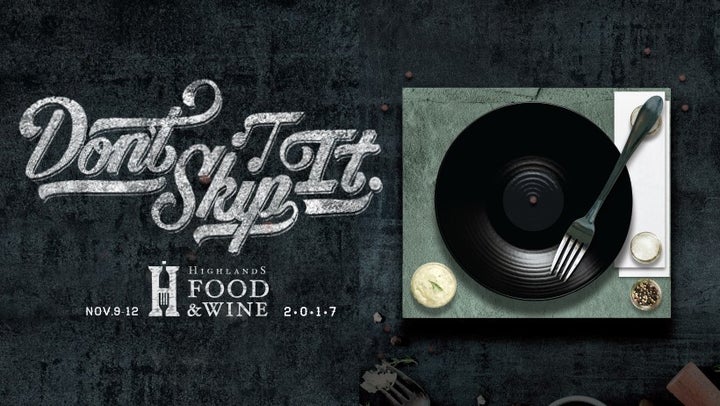 The 3,300 year-round residents of Highlands, NC have been sitting on a secret for far too long, that is, the secret of how extremely high quality the food scene is in their treelined town. This once historical "summering" destination for the wealthy and affluent in the 19th century has transformed itself into a culinary hotspot, stealing attention from its flavorful neighbor to the East, Asheville.
More and more "foodies" are traveling to Asheville to enjoy the numerous James Beard recognized culinary talents such as Meherwan Irani of Chai Pani, or Elliot Moss of Buxton Hall Barbecue, however, these foodies have begun finding themselves on an unexpected detour down Route 64, day tripping from Asheville to the newest foodie mecca of Western North Carolina, Highlands.
In recent years, the Highlands Chamber of Commerce has begun increasing its efforts to be recognized for it's residing culinary talent through the installation of Highlands Food & Wine Festival, formerly known as Highlands Culinary Weekend. Now on it's eleventh consecutive year, Highlands Food & Wine has become a magnet for tourist, foodies, winos and outdoorsmen and women alike. Town guests are encouraged to explore nearby trails and waterfalls in between local dining or food driven events such as the Highlands Food & Wine Festival. During this year's festival, local restaurants are hosting individual wine dinners in partnership with attending culinary talent and wine partners such as Old Edwards Inn and Spa's Farm Harvest Dinner prepared by Chef Chris Huerta with produce grown locally by Ezra Gardiner or The Ugly Dog Pub's wine dinner with Justin Wines and Landmark Vineyards.
This year's Highlands Food & Wine Festival showcases the musical talents such as JJ Grey & MOFRO, Dawes, Love Canon, Liz Vice and the iconic Preservation Hall Jazz Band from New Orleans. Culinary headliners include James Beard "Best Chef" Recipients Steven Satterfield of Miller Union and Susan Spicer of Bayona. In addition to Dickie Brennan of Dickie Brennan's Steakhouse, whose steaks were recently named one of the best in country by Travel + Leisure.
Gary Crunkleton of The Crunkleton will be at Thursday's Grand Tasting and Joe Dimaio of The Darling Oyster Bar will be serving up low country oysters at The Main Event and Johannes Klapdohr of Library Kitchen + Bar will be serving venison chili. Local Highlands based participating talent includes Adam Lewis of Mountain Fresh Grocery, Andrew Figel of On the Verandah, Chris Huerta of Madison's Restaurant and Wine Garden, Gabe Murray of The Ugly Dog, Jerry Moore of Kilwins of Highlands, Kevin Paoletti of Paoletti's, Lakeside Restaurant, Michael Alton of Meritage Bistro, Walter Shepheard of Cyprus and Wolfgang Green of Wolfgang's.
The Festival has partnered with ZeroHero to eliminate waste through recycling and composting all leftover materials to ensure that Highlands Food & Wine Festival remains eco-friendly and leaves a zero impact footprint on the pristine beauty of the Highlands plateau.
Additionally, sommeliers will be on site per event to answer any and every question pertaining to wine and to provide insightful education to ticket holders.
Ashley's Can't Miss Highlands Food & Wine Events
GrandTasting, November 9th, 7PM
Sip and savor your through many of Highlands' and surrounding area's illustrious restaurants with global wines from Tryon Distributing, Landmark Vineyards, Justin Wines, Empire Distributing, Mutual Distributing, Highlands Wine Shoppe and Grapevine Distributors. Enjoy cocktails by Tito's Handmade Vodka and The Crunkleton. Somms on Site will have a table presenting all of their wine knowledge. Love Canon and Silly Ridge Round up will perform on the Highland Hiker stage.
Truckin', November 10th, 12 PM
Folks, park your appetites right here. A wide array of food trucks, such as Farm to Fender, Brined and Cured, Backwood Bakery, Bun Indended and The Velvet Cup will be feeding the masses. James Beard nominee and Garden & Gun's famed Elliot Moss will be cooking signature bbq with Buxton Hall Barbecue. Enjoy Tito's cocktails, craft brews by Oskar Blues, wine and sweet tunes by Dawes and Futurebirds and having a truckin' good time!
Main Event, November 11th, 11 AM
Enjoy oysters roasted by The Darling Oyster Bar of Charleston with additional food experiences including; Dickie Brennan, Chai Pani, HUSK Greenville, Never Blue, Lazy Goat, Library Kitchen + Bar, Gourmet Food International and Chocolate Heaven. Virgil Kaine and Cathead Vodka will be served up in small batch bourbon and curated cocktails along with Tito's Vodka bus and craft brews by Brooklyn Brewery while patrons enjoy JJ Grey & MOFRO and the Dead27s.
Sip & Shop, Friday and Saturday, November 10th + 11th 11 PM
Shopping & Wine What could be better? Grab your complimentary wine glass at the Festival Box office and set out on a wine adventure that includes stops around Main Street. The wine will pour and be paired with perfect accoutrements, thanks to Gourmet Foods International and Tryon Distributing.
A Generous Pour, Saturday, November 11th, 7 PM
Highlands Food & Wine and partners are proud to present this charity concert featuring the iconic Preservation Hall Jazz Band. All net proceeds will benefit the Highlands Food Pantry. Please join us on this memorable night and consider giving generously to the Highlands Food Pantry, our festival charity partner.
Gospel Brunch, Sunday, November 12th, 12 PM
Kick off Sunday Sunday with Miller Union's Steven Satterfield, Canyon Kitchen's Adam Hayes, Bayona's Susan Spicer and Callie's Hot Little Biscuit serve up a hot little piece of heaven. Add in a Tito's Bloody Mary bar of your dreams and live gospel by Joyful and Liz Vice and well, we have ourselves a praise worthy event!
For festival details or more information, please visit www.highlandsfoodandwine.com.
Related
Popular in the Community